Meghan Markle's Real First Name Isn't Meghan — And It Could Affect Her Royal Title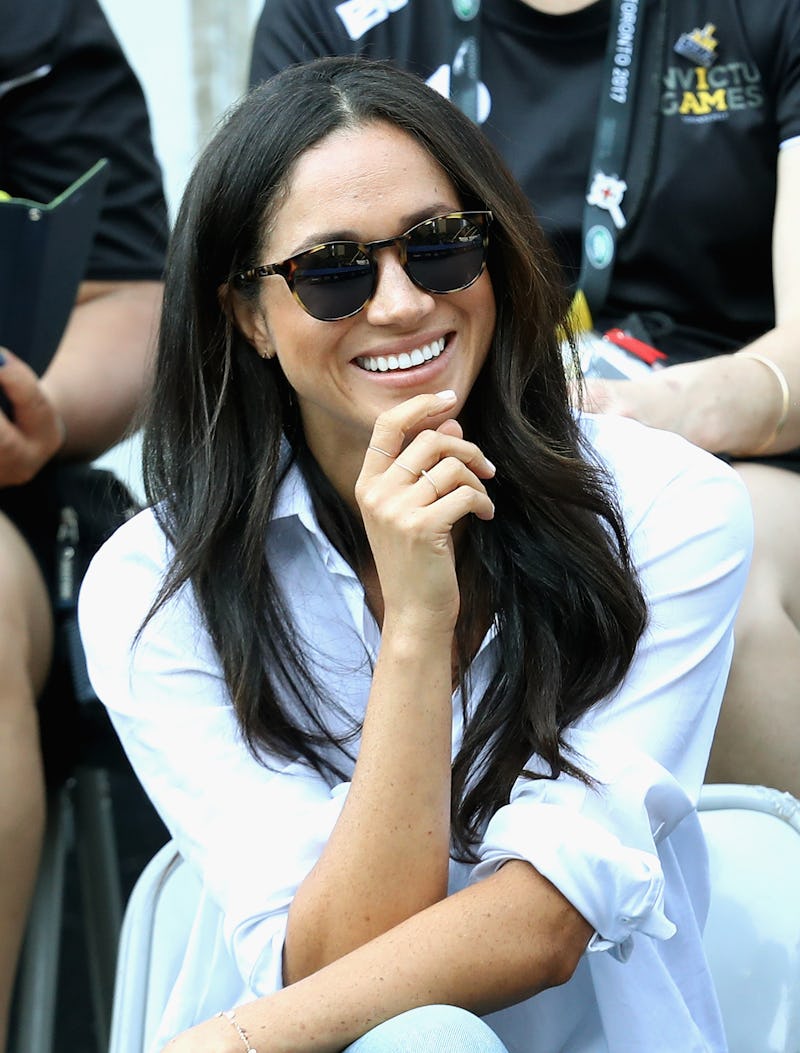 Chris Jackson/Getty Images Entertainment/Getty Images
There's something about Meghan Markle you need to know — and it just might shock you. Markle's real first name isn't Meghan. She revealed the fun fact in February 2016 while chatting with Dave on UKTV Play. After being asked if she had a middle name, Markle replied, "Yes, it's Meghan. My first name is actually Rachel." If you are just learning this piece of information about the soon-to-be member of the royal family, you're not alone, and now you just might be wondering if it's going to affect her title once she marries Prince Harry.
There's been much wonder and speculation surrounding what the Suits star (by the way, her character's name on the USA drama is also Rachel) will be called once she and Harry officially marry. First of all, according to The Telegraph, it seems more than likely that Queen Elizabeth II will bestow Harry with the title of the Duke of Sussex upon his marriage. In turn, that would mean Markle would go by Her Royal Highness the Duchess of Sussex. However, if the Queen doesn't grant them dukedom on their wedding day, then Markle would be known as Princess Henry of Wales, since Harry's current title is Prince Henry of Wales, according to the Evening Standard.
To be clear, Markle won't officially be a princess, but would only retain the title since she is a princess through marriage, as reported by the Evening Standard.
However, would her real first name, Rachel, affect her title at all or how she is officially addressed? The Telegraph also reports that seeing as the 36-year-old actor was referred to as "Ms. Meghan Markle" in the engagement announcement that came straight from Clarence House on Monday, "she is unlikely to revert to Rachel when she is married."
It's unclear if "Meghan Markle" is her stage name, if it's a nickname, if she legally changed it, or if she goes by her middle name like many individuals do. Whatever the case, it also remains unknown if she'd have to legally change her name to "Meghan Markle" in order to take on any royal title. Seeing as Harry is a nickname and his real name is Henry hasn't affected how he is addressed or his title, the same can probably be said of Markle.
With all of this name confusion, there are many Twitter users who are not only surprised by the fact that neither Harry or Markle go by their real first name, but are also trying to figure out what the heck they should call Markle. Here are just some of the reactions:
It's All About The Kids, Anyway
Don't even try to act like you're not thinking about them as parents — and what they'll name their possible future children.
Somebody Hire A Private Investigator
Seriously, let's get to the bottom of this, stat.
The Typical Reaction
"What will it be?" huh? Just tell us all already!
When In Doubt, Look To The Power Rangers
They don't even know.
Is She Too Good For Rachel?
What gives, Meghan? The Rachels of the world want to know.
Their Couple Name Is Already Great
It's also what everyone knows them by now, so they'll probably continue going by "Meghan and Harry" — or let's hope.
The Hardest Equation Ever
This perfectly describes how perplexing this name issue truly is.
It's the great name and title debate of 2017, so let's hope the royal family addresses it soon enough. Until then, go ahead and continue to wrap your brain around the fact that Markle's real name is Rachel.