Queen Elizabeth Just Nailed One Of The Hottest Spring Trends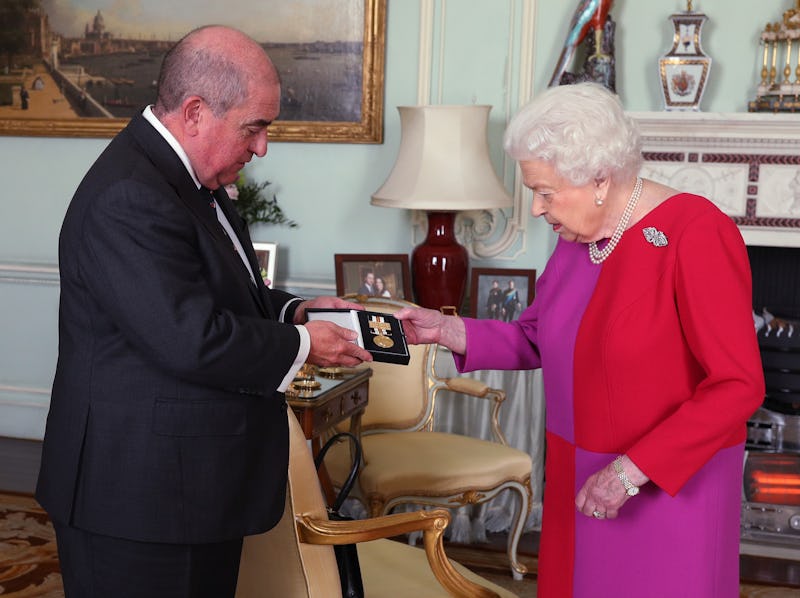 YUI MOK/AFP/Getty Images
Meghan Markle and Kate Middleton aren't the only royals with an enviable fashion sense. Queen Elizabeth has been color coordinating and pattern mixing like a pro for decades. Most recently, the 93-year-old monarch proved that she still has serious style cred. In fact, social media fans are currently fawning over Queen Elizabeth's color block dress.
To accept a very special award — known as the Order of St John's Service Medal in Gold — Her Majesty the Queen stepped out in a lively pink and red dress, which featured long sleeves and a sleek silhouette. She completed the look with a layered pearl necklace and matching earrings, as well as a diamond brooch, a classic wristwatch, and black block heels.
The Queen has a long history of seemingly using her wardrobe to send subtle messages, especially since her role prohibits her from speaking publicly (let alone frankly) about pot-stirring subjects like politics, religion, and, say, her grandson and granddaughter-in-law opting to step down as senior members of the British royal family.
It's no secret that Markle delivered a fashion tour de force last week during her final round of events as a working royal, including a head-to-toe green ensemble that appeared to be a nod to Harry's late mother, Princess Diana. But the Queen definitely knows how to rock some color as well, as she demonstrated when she accepted the award earlier this week.
It was just last summer when the Queen made headlines for reportedly trolling the Trumps through her fashion choices. At a state banquet held at Buckingham Palace in June 2019, the Queen wore a Burmese Ruby Tiara.
According to Vogue and the Royal Exhibitions, the Burmese people believe the tiara possesses "prophylactic properties guarding the wearer not only against illness but also against evil."
Yes, she's the Queen of the Commonwealth, but she's also the Queen of throwing epic shade. We bow down.