'Queer Eye' Got An Emmy Nom & Naturally, Jonathan Had The Best Reaction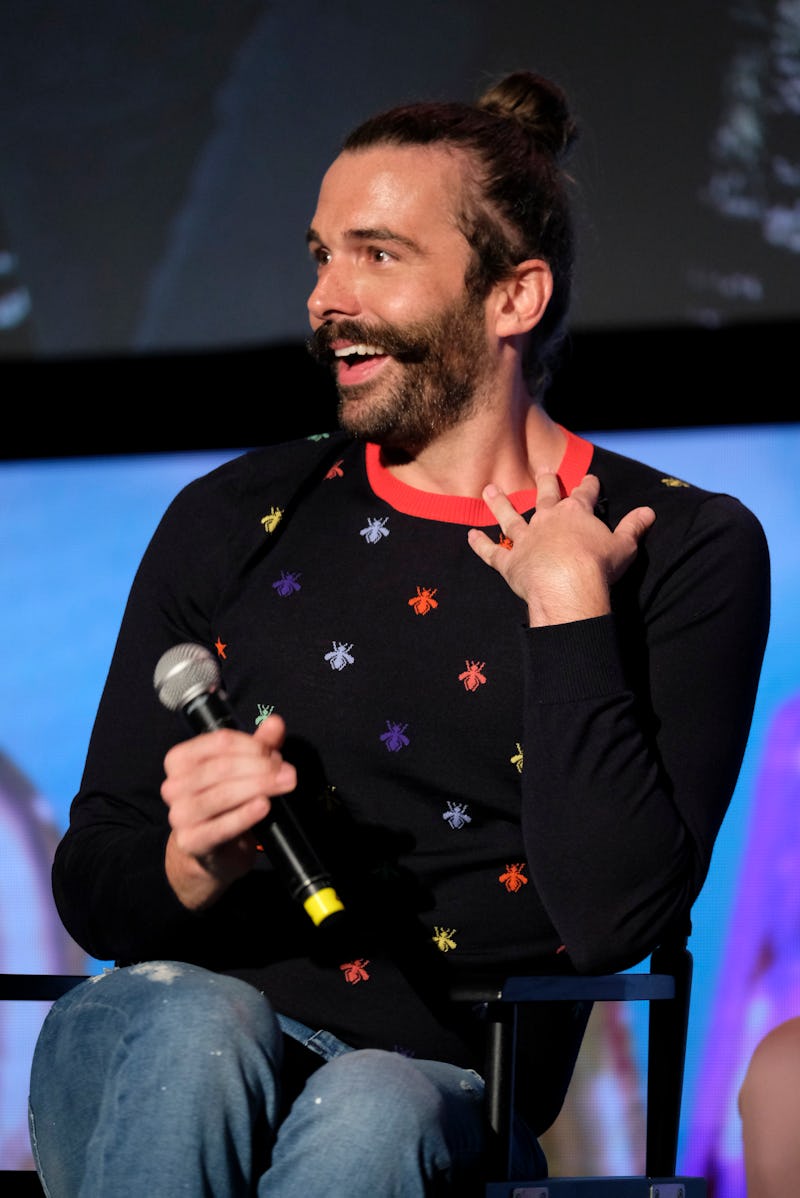 Frazer Harrison/Getty Images Entertainment/Getty Images
With the Emmy nominees announced on Thursday, July 12, it's officially the start of awards season, and all nominees are that much closer to actually winning the coveted prizes. Queer Eye, the acclaimed 2018 reboot of popular show Queer Eye For The Straight Guy, received a major nod for Best Structured Reality Show for its very first season — and the cast and crew couldn't be more excited. Each member of the Fab Five is freaking out with joy over the series' nod in his own way, especially hairstylist par excellance Jonathan Van Ness, who's also up for a separate Outstanding Short Form Variety Series award for his Funny or Die show Gay Of Thrones.
It must be an exciting time for Van Ness, and much-needed; earlier in July, the grooming guru opened up in an interview with Time Out about the difficulty of watching a loved one die, and the various ways he coped, including therapy, yoga, and medication he quit cold turkey, leading to what Van Ness called six months of psychotic depression. "The biggest thing about self-care is to be gentle with yourself and remember there's no one way up that mountain," he said. "Maybe don't take advice from this interview about what you should do with antidepressants."
Van Ness is in a much better headspace now, and completely elated to be a double-nominee. On the Instagram photo below he wrote, "To be recognized in this way moves me to tears, the gratitude, the love, gahhhhhh!! @gibblertron @funnyordie I love you all so so so much 💙💙💙💙💙🌈 so much congrats @netflix@queereye #emmys2018 #queereye #gayofthrones."
Van Ness' fellow Fab Five are feeling equally felicitous, as Queer Eye received a total of four Emmy nods, including Outstanding Cinematography For A Reality Program, Outstanding Picture Editing For A Structured Or Competition Reality Program, the aforementioned Best Structured Reality Show, and last but obviously not least, Outstanding Casting In A Reality Program, both for the fellows themselves and the people they help make over.
Each of the guys has hopped on social media to post how psyched they are, and they are feeling their victory:
Show creator David Collins spoke to Entertainment Weekly about his gratefulness at the the multiple acknowledgements from their entertainment industry peers, thanking his cast and crew. Said Collins, "We also hope that in these divisive times, in some way, Queer Eye changes the conversation our culture is having, to one of empathy and understanding. Or stated more simply, Yasssss!"
The reboot of Queer Eye took some calculated risks, like moving the filming and makeover casting from the original location of New York City to Atlanta, GA and deliberately choosing makeover targets who might not be as queer-friendly, including a Trump-supporting police officer. Speaking to IndieWire, Collins said he wants to push even further in the future, breaking the stereotypes that gays don't or can't exist in the Midwest. "I'm from Cincinnati, Ohio, born and raised. I would like to go the tristate region, Ohio, Indiana, and Kentucky...The corn-fed midwestern folk are where I'm from — and I love actually being from Ohio, it's a great place to be from," said the show creator.
In true team fashion, the Fab Five are celebrating their Emmy noms together, all in each other's celebratory photos posing, smiling, and soaking up the shock of four different nominations.
Van Ness is still freaking out the most though, and just shared the exact moment he heard about the Gay Of Thrones nomination on top of Queer Eye's.
It's no surprise the men are celebrating with each other, as it's clear the Fab Five had instant chemistry from the start. In a Bustle interview, Brown explained that it's partly because they all share an important personality trait in common. "We are so open. I don't know if you can tell just sitting here, but any of us in here, we could all be your friend tomorrow," he said. In the meantime, the TV stars are doing some well-earned celebrating today.