This 'Queer Eye' Update About Tom & Abby May Be Sad, But It's Also Really Sweet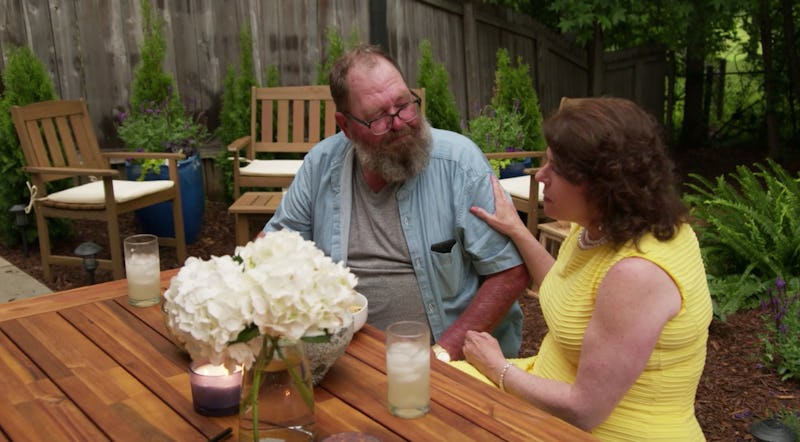 Netflix
If you're a fan of the already-beloved reboot, you might not want to read this next part, but it's true. Queer Eye's Tom Jackson and Abby broke up post-show, according to a post by the car enthusiast. But don't despair — for one thing, this isn't quite a blindside, since Tom and Abby were already divorced when we met them. But, for another, the announcement was made with so much love, respect, and appreciation that it's as heartwarming as it is tearjerking.
In a Feb. 27 tweet studded with emojis, Tom revealed that he and Abby "are no longer together," but added, "She will always be the love <3 of my life. I will always love <3 her more than anything!!!!!!!" It's bittersweet news for fans of both the series and Tom; on the one hand, it's gratifying to see him brimming with positivity for both Abby and their relationship, even if it's no longer a romantic one. But, on the other hand, it's a real bummer for anyone who might have been hoping that Tom and his ex-wife could make another go of it.
Tom and Abby had already split up by the time filming started, but you'd be forgiven for hoping that things would work out. The dump truck driver was effusive about his ex-wife throughout the episode, so it was easy to root for a reunion. Tom repeatedly called Abby the love of his life, said they still got along well, and even invited her to his car show at the end of the week, where the pair's physical and emotional chemistry was notable.
In fact, it seemed almost like every element of Tom's makeover was less for him and more for Abby. When the Fab Five's Bobby Berk redid the Georgian's apartment, it was to bring it up to the level where Tom would be comfortable having a special lady friend over. And at the end of the episode, when Abby sat in one of the leather-bound recliners that had replaced her ex-husband's sweat-stained La-Z-boy, she happily proclaimed, "His and hers!" When Tan France scaled up his wardrobe, it was to make it clear that Tom was willing to put in more of an effort. When Antoni Porowski taught him how to cut open an avocado, it was so that Tom could invite Abby over and share a meal with her in his new outdoor area for the first time.
Tom was clearly working hard to prove to his former partner that he was a changed man. And, when all was said and done, that telltale arm touch and Tom and Abby's plan to get dinner the next week sure did seem promising. In fact, it was ironic that Tom's trademark line was "you can't fix ugly," because the Fab Five and fans alike found him to be a really beautiful person throughout the entire process. And even once it had wrapped, the optimistic tone of the episode left many rooting for Tom and Abby's success.
But sometime between the time filming wrapped — at the end of Summer 2017, according to Indiewire — and the end of February 2018, the exes apparently decided to call things off again. And, in typical Tom-style, Tuesday's announcement was made with as much excitement and exclamation points as it was sadness.
So this is a bummer, yes, but Tom is clearly grateful for the experience, so fans should try to find some of that same positivity. And hey, if you need any help drying your eyes, there's one couple from Queer Eye whose relationship has taken a decidedly different trajectory than Tom and Abby's. That's Episode 3's AJ and Drey, who just got engaged following AJ coming out on the show. Not every relationship from the Netflix reboot is going to work out, but it's true what they say — things just keep getting better.