How 'Queer Eye's New Design Expert Went From Working Retail To Running A Home Decor Empire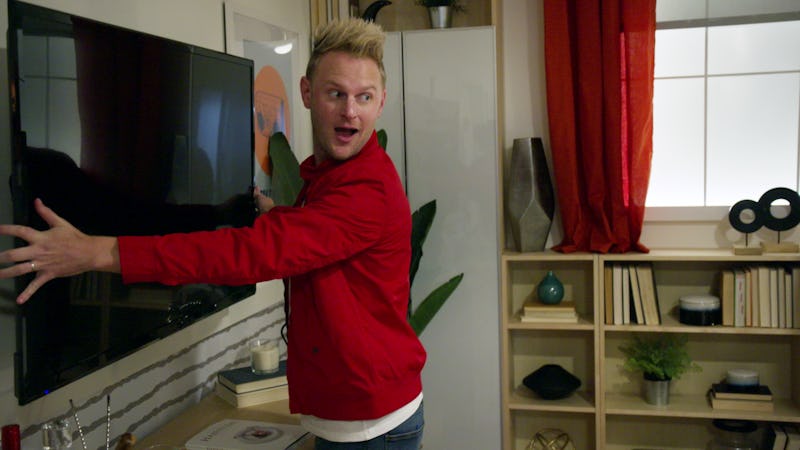 Courtesy of Netflix
Makeover shows can be addicting, whether the transformation is happening in someone's wardrobe or in their living room. However, if those two aspects (and more) are happening in one show, it may just be your next non-guilty pleasure. The reboot of Queer Eye premieres on Netflix on Feb 7 and fits the bill. It's a reality TV show that aims to better the lives of their subjects in a very all-encompassing approach. Bobby Berk, the design specialist on Queer Eye will take on the challenge of improving the aesthetics of contestants' homes, and he definitely has the track record to do so.
A reboot of Bravo's 2003 hit Queer Eye For The Straight Guy, this new show takes the shortened version of the title but basically has the same premise of the original. The cast is made up of five gay men, all with a area of expertise. They hit the road in eight new episodes to better the life of guys in need of a life makeover.
The five categories are the same: culture (Karamo Brown), food and wine (Antoni Porowski), fashion (Tan France), grooming (Jonathan Van Ness), and design (Berk). If you take a look at Berk's Instagram, you'll definitely see why he's handling furniture and decor. He currently has over 131,000 followers and posts a lot of soothing, aesthetically-pleasing images that relate to his chosen career.
According to Berk's official website, he moved to New York City in 2003 without a job set up or much money to his name. He worked jobs at Bed Bath & Beyond and Restoration Hardware, but now Berk has a huge interior design brand and online store. Since 2006, Berk's line has been "epitomizing hip, minimalist urban luxury, Berk's designs reflect a stylish and youthful spirit that perfectly fits any cool, relaxed lifestyle," per his website.
The title "Design Specialist" is also well-deserved as Berk has appeared on HGTV, Bravo, NBC, and CBS as an expert, and those are "just a few" examples listed on his online resume. His Bobby Berk Home store is such a hit that he now does an Interiors + Design section, where he does full service jobs, kind of like what we'll see from him on Queer Eye.
Aspiring interior designers will find all kinds of inspiration when scrolling through Berk's Instagram. Even if you don't have a place of your own or any real desire to redo your apartment or house, the feed is still beautiful to look at. In the below video from the official Queer Eye Twitter, he says, "People that are happy in their homes, it spills out to the rest of their lives." From his Instagram and his knowledge of design, it's clear that Berk knows what he's doing and preaches that message of beauty and comfort to others.
An interesting moment that highlights Berk in the trailer for Queer Eye is when one of the contestants asks, "Are you the husband or the wife?" when Berk says he's been married for five years to his husband Dewey. Looking semi-scandalized, Berk says that's a misconception about relationships between men, which definitely shows that the series is going to address false assumptions. Unfortunately ignorance still affects queer individuals, but these conversations may help both those having them and viewers watching at home.
Berk has another line in the trailer that ties the series mission all together. "A common thread that holds every human together is that we just want to be loved," he says. The kind and inclusive vibe of the trailer makes the show look like a must-see for anyone in need of an uplifting viewing experience. And this is one that may actually make the world a little more beautiful too.