AJ & Drey From 'Queer Eye' Got Engaged & Twitter Is Over The Moon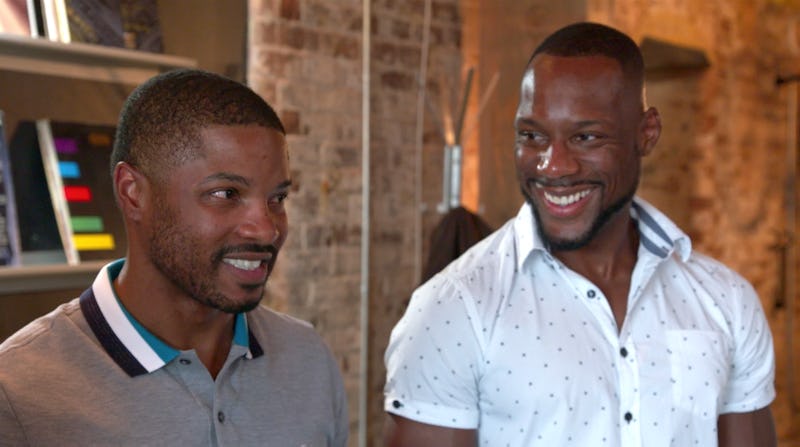 Netflix
If you haven't seen the fourth episode of the Queer Eye reboot, "To Gay or Not Too Gay," stop everything you're doing and watch it right now since it's one of the most moving 45 minutes of television to ever exist. And in news that makes the makeover of AJ Brown even more beautiful, AJ and Drey from Queer Eye are engaged. Queer Eye made the happy announcement on its Twitter account on Feb. 22 and people are over the moon for the couple. As the goal of the new Fab Five was to help AJ come out to his stepmother because his relationship with his boyfriend, Drey, was getting serious, this is the perfect extended ending to the episode — and a brand new chapter in AJ's life.
In Netflix's reboot of Queer Eye, Bobby Berk, Karamo Brown, Tan France, Antoni Porowski, and Jonathan Van Ness are the experts who assist their "heroes" in all aspects of their lives. While the show traditionally has the five gay men help a straight man, AJ in Episode 4 is gay. But his stepmother, Haide, doesn't know this and he's extremely concerned that their relationship will be negatively impacted by this revelation. The episode leads up to an incredibly emotional moment where AJ comes out to her. Despite AJ's fears, Haide accepts AJ and learns that he's dating Drey. "I just feel really good about him and I'm thinking about possibly getting married, maybe," AJ said. And now, AJ's making this thought a reality.
AJ noted at the beginning of the episode how he was keeping his private and public lives separate because he was "very self-conscious of looking gay." But that also extended to his family since he never came out to his father before he died, which AJ said was his biggest regret. As his relationship with Drey progressed though, he wanted to come out to his stepmother. "I sorta need to take this step to move forward," AJ said. "I plan on having a family and I want her to be a part of it."
Bobby, Karamo, Tan, Antoni, and Jonathan assisted with all the elements that you've come to expect from a Queer Eye episode, like a new wardrobe and an updated living space, but the episode was all about getting AJ to live his true life. And while the Fab Five helped to give him a confidence boost and some motivation, it's AJ who should take all the credit for finally allowing himself to be vulnerable and honest in front of his beloved family member — and the entire Queer Eye audience.
Through a letter that he wrote to his late father, AJ said he was gay to Haide. The emotion in this intimate scene was so raw and you could physically sense AJ's relief when Haide told him, "I'm always gonna be there for you." She also lovingly embraced Drey when she realized that he wasn't just AJ's friend, but that he was AJ's partner. The look on Drey's face at that moment also showed how happy he was.
As it's nearly impossible to get through the episode without tearing up, AJ's story understandably really affected people. So Twitter was absolutely delighted by the engagement news with many wishing the new fiancés a lifetime of happiness.
Designer Bobby had previously told Architectural Digest that AJ had already sold his beautifully renovated condo and moved in with Drey. But their engagement means they're truly ready to embark on this next step as a family. So as fans of Queer Eye continue to send AJ and Drey their congratulations, they'll also expect major wedding updates. And nobody would be mad if a Queer Eye Season 2 featured a wedding — after all, at least this time viewers will be prepared to have plenty of tissues on hand.