R. Kelly's Music Will Be Removed From Spotify Playlists Following The #MuteRKelly Campaign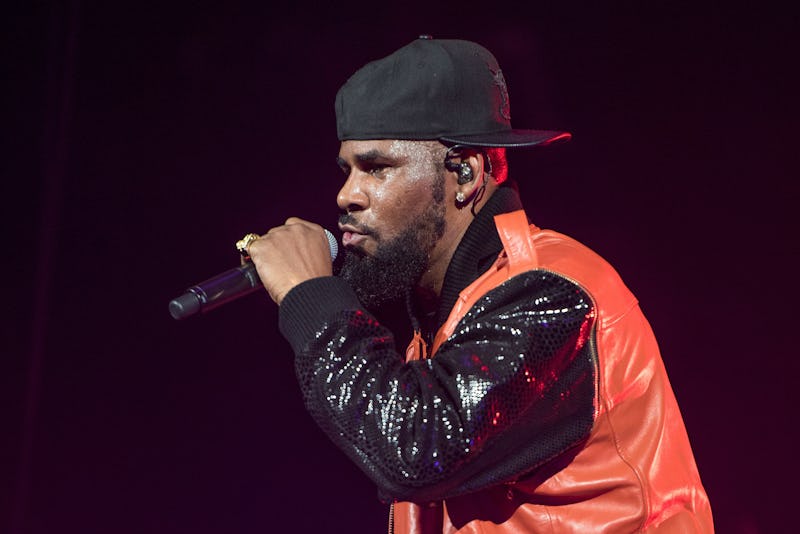 Mike Pont/Getty Images Entertainment/Getty Images
Under the terms of a newly announced Hate Content and Hateful Conduct policy, R. Kelly's music is being removed from Spotify playlists and recommendations, according to Billboard. The outlet reported the streaming service will remove the Chicago-born entertainer's songs from all Spotify-owned playlists including RapCaviar, Discover Weekly, New Music Friday, and its other genre or mood-based playlists. A spokesperson for Spotify confirmed the news to Bustle on Thursday with the following statement:
"We are removing R. Kelly's music from all Spotify owned and operated playlists and algorithmic recommendations such as Discover Weekly. His music will still be available on the service, but Spotify will not actively promote it."
Revealing that R. Kelly's music will still be available on the service, for those who wish to listen, the spokesperson's statement continued:
"We don't censor content because of an artist's or creator's behavior, but we want our editorial decisions - what we choose to program - to reflect our values. When an artist or creator does something that is especially harmful or hateful, it may affect the ways we work with or support that artist or creator."
Bustle reached out to R. Kelly's team for comment on the Spotify news, but did not receive an immediate response. This restriction on R. Kelly's music, which became effective on May 10, comes on the heels of the Time's Up Women of Color Committee's call-to-action against Kelly and aligns with the recent campaign to #MuteRKelly, which urges those in the entertainment industry to cut ties with the artist. (Bustle asked Spotify if the decision was specifically based on the #MuteRKelly campaign, but did not receive an immediate response.)
Billboard reported that the #MuteRKelly campaign was started in 2017 by Oronike Odeleye and Kenyette Barnes, and was later joined by Women of Color within the Time's Up movement, which includes the likes of Ava DuVernay, Shonda Rimes, Viola Davis, Lupita Nyong'o, and Jurnee Smollett-Bell. They teamed up to put increased pressure on Kelly's record label RCA, streaming services such as Spotify and Apple Music, and other institutions associated with the singer to stop producing, promoting, and distributing his music.
On April 30, the women involved with Time's Up's WOC committee each posted a message to Twitter, which read:
"Together, we call on corporations and venues with ties to R. Kelly to join us and insist on safety and dignity for women of all kinds."
The move comes in light of repeated claims of abuse brought against Kelly by several women over the past few decades, which the 51-year-old has denied. He's also been accused of sexual coercion and allegedly running a "sex cult," which he's also denied. According to Billboard, the singer, whose full name is Robert Kelly, was also acquitted of child pornography charges in 2008.
Though never convicted of a crime, Kelly has recently come under increased scrutiny following a July 2017 BuzzFeed report, featuring parents who allege that their daughters were being held hostage in a "cult" by the singer. Several other women who've claimed to be a part of the alleged "cult" in the past have also come forward to accuse the songwriter of both sexual and physical abuse, according to Refinery29.
Kelly has vehemently denied these accusations, calling the claims an "attempt to distort my character and to destroy my legacy." He also denied these allegations through his lawyer in July 2017, who shared that Kelly would "work diligently and forcibly to pursue his accusers and clear his name."
In April, Bustle received a statement from R. Kelly's management team, which can be read in full here. Here's an excerpt:
"R. Kelly supports the pro-women goals of the Time's Up movement. We understand criticizing a famous artist is a good way to draw attention to those goals---and in this case, it is unjust and off-target.
We fully support the rights of women to be empowered to make their own choices. Time's Up has neglected to speak with any of the women who welcome R. Kelly's support, and it has rushed to judgment without the facts. Soon it will become clear Mr. Kelly is the target of a greedy, conscious and malicious conspiracy to demean him, his family and the women with whom he spends his time."
Spotify's new hateful conduct stance is just one part of its recently instituted policy, which also includes a provision for hate content. According to a press release, Spotify consulted with several advocacy groups to come up with its definition of hate, including The Southern Poverty Law Center, The Anti-Defamation League, Color Of Change, Showing Up for Racial Justice, GLAAD, Muslim Advocates, and the International Network Against Cyber Hate. The guidelines for the policy read:
"Hate content is content that expressly and principally promotes, advocates, or incites hatred or violence against a group or individual based on characteristics, including, race, religion, gender identity, sex, ethnicity, nationality, sexual orientation, veteran status, or disability," the policy reads. "When we are alerted to content that violates our policy, we may remove it (in consultation with rights holders) or refrain from promoting or manually programming it on our service."
The company also removed white supremacist content from its catalog last August. Soon after the initial announcement, Billboard reported that rapper XXXTentacion's song "SAD!" has also been removed under the new guidelines.
In light of Spotify's recent change dedicated to providing a safer environment for listeners, other companies may follow suit in cutting ties with R. Kelly and his music.
If you or someone you know has been sexually assaulted, call the National Sexual Assault Telephone Hotline at 800-656-HOPE (4673) or visit online.rainn.org.