Rebecca Bloom Bid Goodbye To 'Crazy Ex-Girlfriend' & Rebecca Bunch With A Few Touching Photos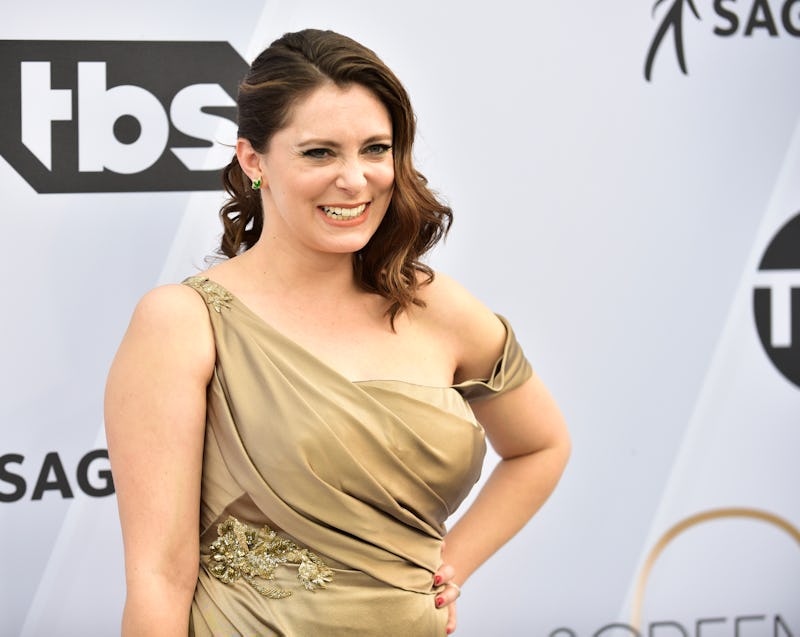 Rodin Eckenroth/Getty Images Entertainment/Getty Images
It's always hard to say goodbye, but at least fans can count on the fact that Rebecca Bunch will go out with style. Just ahead of the series finale on Friday, Crazy Ex-Girlfriend creator Rachel Bloom shared some emotional goodbye posts to the show and to the character she brought to life over the past four seasons. The show's final episode will air on The CW, Friday, April 5, followed by an hour-long live concert special, because Rebecca Bunch has never passed up the opportunity to sing and dance.
Sharing a shot of Rebecca, lying on the floor of a soundstage in a tiger-print leotard, on the day of the finale, Bloom reflected on how far both she and the character have come over the past few years. "One day, a girl named Rebecca Bunch was working hard at a New York job when some writers dropped in from the sky and forced her to make some drastic decisions for the sake of a tv show," Bloom wrote, paying homage to the hilariously meta theme song from Season 1.
"Tonight at 8/7c, you'll see those writers leave her life," she continued. "I love you, Becks. I'm sorry that we writers put you through hell, but I hope we left you in a better place than when we found you."
Bloom's touching tribute to her character is just one of several sweet posts that she has shared on social media in the week leading up to Crazy Ex-Girlfriend's final episode. On Thursday, April 4, Bloom shared a slideshow of photos of herself and co-creator Aline Brosh McKenna over the years, and revealed that the pair had been building to the perfect ending since before the show was ever greenlit. "Tomorrow night at 8pm, you will see the culmination of the conversation that @abmck and I have been having for almost 6 years," Bloom began her post, which featured a snap of herself and McKenna sitting on the floor of an office building while filming the pilot.
"The last sentence of #crazyexgirlfriend is the same last sentence that we had in the original pilot pitch," Bloom revealed. "Of course, so much has changed from that original pitch to the final product, but the fact that we've actually gotten to finish our thought in the way we wanted to and had the opportunity to stay true to our vision without being canceled blows my mind. I'm still not convinced that this whole thing hasn't been some sort of elaborate social experiment or Shutter Island- style simulation."
The writer and actress wrapped up her post by thanking Crazy Ex-Girlfriend's fans for sticking with the show and following along with Rebecca's journey. "Thank you to @thecw for believing in us," she wrote, adding, "and to everyone who has watched and will continue to watch Crazy Ex-Girlfriend."
During its time on air, Crazy Ex-Girlfriend earned praise for its frank, honest depiction of mental illness, and the show's willingness to delve into those topics has helped it gain a dedicated group of fans. According to Bloom, the whole point of the show — and sharing all of Rebecca's ups and downs in a way that's relatable, but also entertaining — is to make viewers feel seen.
"The way that I cope with things is to get them out in the open," Bloom told Bustle in 2017, speaking about how her own battles with anxiety and depression have affected the show. "Because when I've been in my worst states with being anxious or depressed, the worst thing is how alone I feel and how in my head I feel, and the more I kind of vomit it out to the world, it's sort of like letting the air out of a balloon. We are going to have these dark weird thoughts and so why not just be open about them and realize that you're not alone?"
Based on the touching reaction that Bloom's goodbye posts to the show have earned on social media, it's clear that Crazy Ex-Girlfriend has managed to make lots of people everywhere feel a little less alone. And while the show might be ending, Rebecca Bunch (and all of the wacky musical moments she's brought us) will be there forever, whenever fans need someone to relate to.