Here's How Trump Literally Ruined Rachel's Fantasy Suite With Nick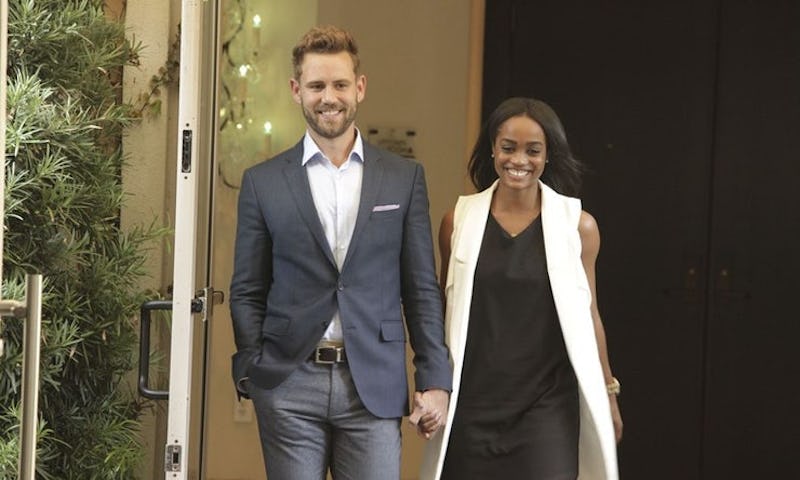 Bill Matlock/ABC
The contestants and lead on The Bachelor are completely isolated from the outside world, so the women who last a while have a lot of news to catch up on. However, there are exceptions like when Donald Trump was elected as President during filming. During the January 29 episode of the Bachelor Party podcast, Rachel Lindsay revealed how Trump's election affected her fantasy suite date with Nick Viall.
Obviously, this was never mentioned during the Bachelor episodes, but Rachel admitted that the election results were foremost on her mind in this recent interview
At the 24 minute mark of the video, host Juliet Litman asked Rachel where she was when she learned that Trump got elected. Rachel said, "I was in Finland," which isn't surprising based on the typical Bachelor filming schedule. Most Bachelor fanatics could have guessed that answer. However, it was surprising to learn how that news impacted her final date with Nick.
Rachel elaborated, "I was in Finland, jet lagged coming in. We missed our flight in New York. It was just a mess. So I land, I can't go to sleep and I'm watching BBC. They're all like 'Hillary [Clinton] is going to win by this' and you can just tell everything changes. And you're like 'Oh great. It's going to be Trump?' No one can believe it. It was so bad."
It's actually pretty surprising that Rachel was able to watch television during filming. Maybe there was an exception for such a major news story, or maybe they were just cutting her a break after many long weeks of filming. Either way, it definitely had an effect on her time in Finland, and ultimately her relationship with Nick.
The former Bachelorette star revealed, "I had my date the next day. I couldn't get in the right head space. I drank a lot. I passed out in the fantasy suite. This is my first time actually saying that."
The host pushed for clarification, asking, "From drinking?" Rachel confirmed, "Yeah. I just went to sleep. We had no quality time."
There were some obvious implications there, but instead of leaving the podcast listeners to infer, the interview got very specific when Rachel was asked: "You don't need to answer this if you don't feel comfortable, but like you just didn't have sex?" Rachel admitted, "No, we didn't. I did nothing, but sleep. I got my best sleep in the fantasy suite." On top of the Trump news, she had to be so tired from all of the traveling and the entire Bachelor "journey," of course.
Even though Trump's impending presidency was on Rachel's mind during the entire date, she never actually brought it up with Nick during their time together. Rachel shared, "We didn't talk about it. I really didn't know where he stood. I was like we can talk about this off camera, but I passed out so we didn't get to talk about it off camera."
It's a little tough to know if this is simply a joke about the election, or a joke with some truth sprinkled in, but Rachel concluded: "[Trump's] the reason I got sent home because I passed out in the fantasy suite."
Unfortunately, being awake is pivotal during that point in the season. Rachel's fellow contestant Corinne Olympios got away with her cocktail party napping earlier in the season, but Rachel's lack of quality time with Nick may have factored into his decision to send her home.
It is doubtful that Rachel has any regrets about that, though. She ended up becoming the Bachelorette, got engaged to Bryan Abasolo, and it looks like they are still going strong these days. And rumor has it that Nick is dating actor January Jones. Everything happens for a reason. Even though Rachel's fantasy suite slumber was a result of her election disappointment, it really did all work out in the end for both her and Nick.