The 'Bachelorette' Cast Is Refreshingly Diverse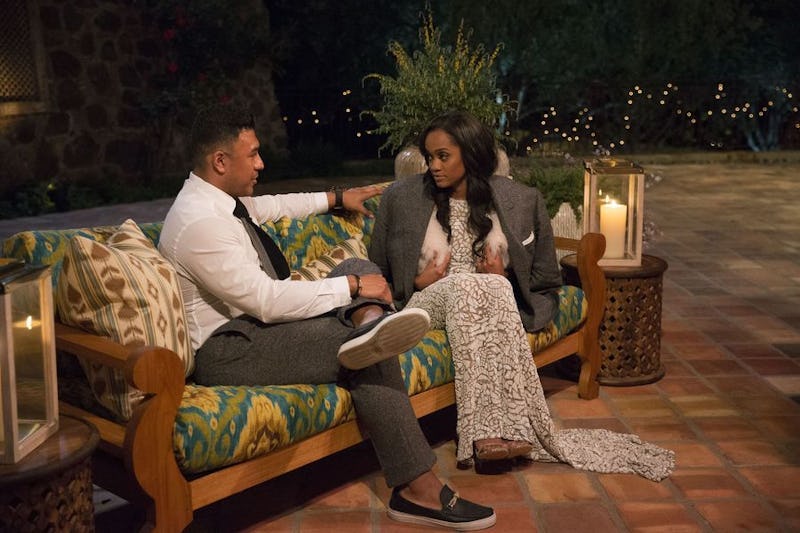 ABC/Paul Hebert
Going against the Bachelor Nation grain, Chris Harrison announced the contestants for Season 13's The Bachelorette during a Facebook Live stream on Wednesday, giving fans a taste of what to expect this go-round. From the gentlemen being a little older and more accomplished than past contestants, to rattling off need-to-know deets about this season's "Tickle Monster" (oh, it's a real thing apparently), it's pretty clear that Season 13 is going to be one to watch. However, most importantly, the diversity of Rachel's Bachelorette cast is unlike anything I've seen on the show before.
Amongst all of the attorneys, business owners, actors, and models, about half of the contestants are men of color, and they all seem to be winners to me. Like, each one of them would totally get my number if they tried. And unlike previous seasons where you're lucky if you get one or two good black men on the show, our beloved Rachel has plenty to choose from.
Out of those 14 suitors of color, 11 of them are black men — including an emotional pro-wrestler named Kenny, and a 27-year-old executive assistant named Fred who has been crushing on Rachel since he was a kid. All accomplished in their own right, fine as all get out, and actively seeking the hand of a beautiful and intelligent black woman on national television. Get those #blacklove Twitter fingers ready, because it seriously does not get much better than this.
Adding to the pool of melanated suitors, you have Blake K., a 6-foot-tall Marine veteran and Asian-American. There's also Iggy, a Latino consulting firm CEO and self-proclaimed "passionate, loyal and witty" dude who enjoys reading the Harvard Business Review in his spare time. And last, but not least, Mohit, a product manager who loves rap and country music and appears to be of South-Asian descent. It looks like the Bachelor and Bachelorette producers learned a lesson or two from previous backlash of not being diverse enough. Because, Season 13 is its most cultured yet.
Although Rachel seems to be thrilled to be the first woman of color to star on The Bachelorette, she's also made it clear that she doesn't want her season to be all about race. While on the Women Tell All special in March, Rachel said, "I don't want it to be the focus of my journey."
She's a woman looking for love just as any other Bachelorette star, and she should be treated as such. And while I totally respect that, having this diverse of a contestant pool, along with our first black Bachelorette, isn't exactly something that I can place on the back burner.
As a woman of color — a black woman more specifically — I know what it's like to try dating in the professional pool. Spoiler alert: It ain't easy. You probably heard the statistics: marriage and educated black women don't exactly seem to mix. It sounds like total B.S., and there's a community of black love enthusiasts on the web fighting to debunk the claims. Though I can't say for sure that having a degree or a career that I throughly enjoy has hindered me from meeting my one true love, I can say that it hasn't necessarily worked in my favor, thus far.
I would never admit it out loud, but even if I did, for the slightest moment, believe that educated black women aren't hot commodities in the dating space, Rachel being the Bachelorette is disrupting this thought, whether she chooses to acknowledge it or not. It's bigger than just finding love — Rachel's giving women like me hope.