What A Black Lead Means For 'The Bachelor/ette' No Matter What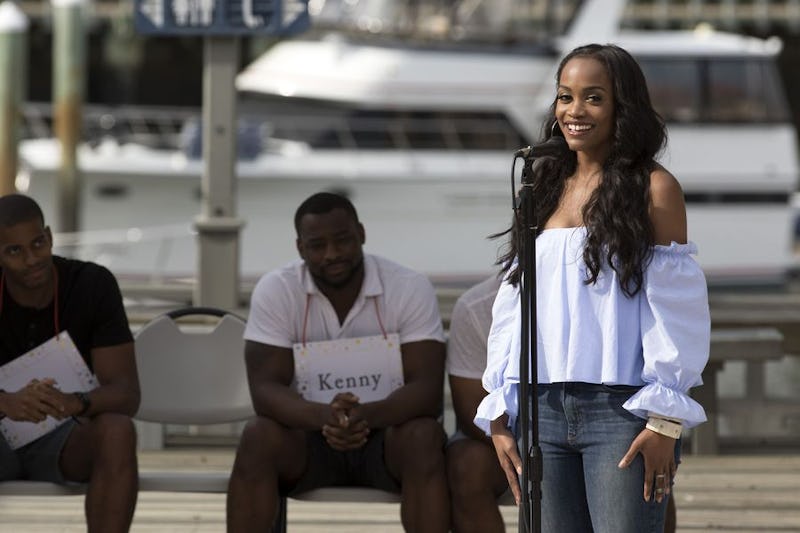 ABC/Bob Leverone
This season's Bachelorette is one of few I could see myself actually hanging out with (be friends with me, Rachel!), but that doesn't mean this season itself has been carefree and easy. I knew going into this year's Bachelorette that things would be different because Rachel Lindsay is the first black Bachelorette and with that would come conversations about race the likes of which we haven't seen on the show before. (In fact, it's hard to recall any conversations about race in this franchise before Rachel made it to the final three on Nick Viall's Bachelor season.) But something that I didn't take into account, and which hit home for me during Monday night's episode, is that Rachel's season isn't hard because she's the first black Bachelorette; it's hard because she's black, period.
It seems so obvious now, but as a fan of this show I was so focused on Rachel being "the first" that I didn't think about what comes after. After 34 seasons of this show being led by white faces, I'm conditioned to think that Rachel is just a one-off thing — or at least that the issues she'll be faced with as the first black lead are ones that won't continue with another Bachelor or Bachelorette of color. But that's not true at all, and when Rachel broke down before the rose ceremony early on in Monday's episode, I finally realized it.
Facing the camera for a confessional, Rachel, who is usually so together, had a hard time gathering her thoughts and getting out what she wanted to say. Then, through tears, she explained,
"The pressure I feel about being a black woman and what that is and how... I don't want to talk about it ... I get pressured from so many different ways being in this position. I did not want to get into this tonight. I already know what people are going to say about me and judge me for the decisions that I'm making. I'm going to be the one who has to deal with that and nobody else. And that's a lot."
It's still unclear exactly what got Rachel to this point. Considering she said, "I did not want to get into this tonight," it sounds like something specific occurred that upset her, rather than this being a reaction to the general stress of the show and her position on it. Earlier in the night, Dean told producers that he believed Lee was picking on men who were "not the people he's used to seeing from a cultural perspective," which would align with the controversial and racially insensitive tweets that were discovered on Lee's now-private Twitter account outside of the show. (When Bustle reached out about these tweets and Lee's casting on the show, ABC and Warner Bros. declined to comment.) I thought maybe Rachel had found out more information about Lee, either from Dean or the producers, which upset her and brought up her thoughts about being a black woman on the show. But then she gave Lee a rose, making things more confusing.
Still, regardless of what had Rachel upset (potential backlash for falling for a white dude named Peter, perhaps...? We all love Peter, girl!) and regardless of whether it had to do with Lee, it's been clear from the beginning that Rachel was going to feel an increased amount of pressure simply because she's black. And seeing her breakdown on this particular episode — one that featured Lee upsetting black men and finding enjoyment from it, Dean calling out Lee for seemingly picking on only the black contestants, and Lee calling Kenny "aggressive" in a move that could screw up Kenny's chances with Rachel — drove home the point that these issues aren't happening because Rachel is the first black Bachelorette; they're happening because she's a black lead on this show and has a diverse group of contestants.
The issues that are occurring on Rachel's season might not be as bad the next time we get a black Bachelor or Bachelorette — for one, I would hope in the future a deeper look is given to potential contestants' Twitter accounts to avoid the casting of people like Lee — but these issues do reflect the real world. Put a couple dozen men or women from different hometowns, backgrounds, and races in a house together and have them all "compete" for the same romantic partner and tension is going to arise from their preconceived notions of each other and of the world. When there have been seasons with primarily white contestants, yes, there was drama, but it could hardly ever be racially charged.
This is not at all to say that we should stop having diverse casts and leads on The Bachelor and Bachelorette to avoid situations like this; it's just to say that when we do, and until progress is made in the real world, some real issues are going to surface in a way that a lot of Bachelor and Bachelorette viewers probably haven't experienced. And that might be a good thing in that it helps people look outside the box and understand things like why calling a black man "aggressive" behind his back is so upsetting.
It's awful that Rachel has to feel increased pressure and feel like she's walking on eggshells because she's a black Bachelorette, and it's awful that Kenny and Eric were provoked by Lee, making their time on the show more about dealing with him than about getting to know Rachel. But, then again, it's awful what black people have to deal with all the time. Now, everyone watching a reality TV competition on Monday night's is getting a taste of it.