A Post #MeToo Study Showed Harmful Attitudes To Consent Could Prevent Convictions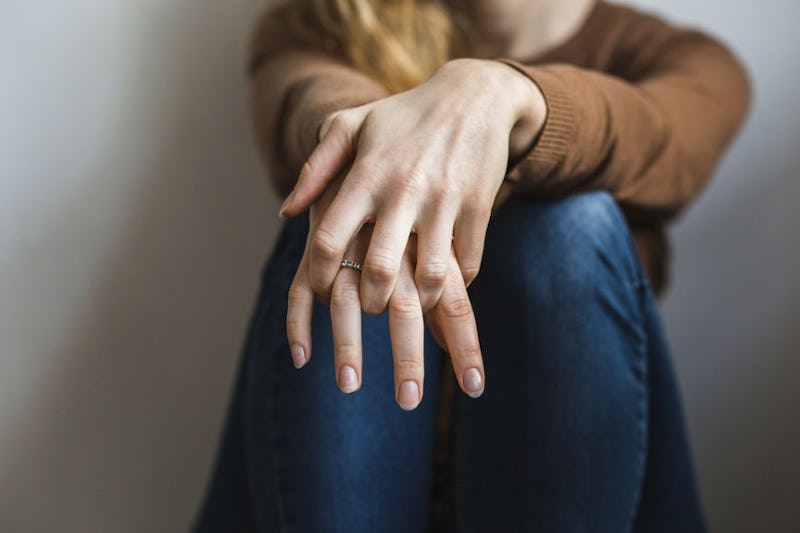 Irina Efremova/Stocksy
A third of people in Britain think it isn't usually rape if there's no accompanying physical violence. A third of men think a woman can't change her mind once they've started having sex. And just under a quarter of people think non-consensual sex in a long-term relationship usually doesn't constitute rape. As an alarming new survey from the End Violence Against Women Coalition reveals, rape culture in Britain is harmfully pervasive, with archaic myths about consent proving alarmingly widespread. This could go someway to explaining why conviction rates for the crime are so low.
Around 4,000 people in the UK responded to the survey on their attitudes to sexual violence and consent, which was commissioned by the End Violence Against Women Coalition and carried out by YouGov. The results showed that a third of men believe that having sex with a woman who's flirted on a date "generally wouldn't be rape" — even if she hasn't actually consented to sex — while 21 percent of women believe the same.
According to the survey, 11 percent of people believe a woman who's had more sexual partners will experience less harm from rape than a woman who's had fewer. 40 percent of people think "stealthing," or the act of removing a condom without consent, is "never or usually not rape." And approximately a 10th of people are either unsure or think it's "usually not rape" to have sex with a woman who's too drunk to give consent, or is asleep.
The results also indicate a stark generational divide on attitudes to rape: Over 35 percent of over 65s believe non-consensual sex with a long-term partner isn't rape, while only 16 percent of 16- to 24-year-olds believe the same. Similarly, 42 percent of over 65s think it isn't rape if a woman changes her mind during sex, while just 22 percent of 25- to 49-year-olds agree.
People in the UK also typically overestimate the support available to victims of rape, the survey found: 60 percent of people think that survivors can access free counselling services. "In reality, there is no automatic right to access counselling for victims of rape," the End Violence Against Women Coalition said, "and many of the women-led, independent rape support counselling services in our local communities really struggle to find funding to meet this demand, and are sometimes forced to close their waiting lists."
Rachel Krys, the co-director of the End Violence Against Women Coalition, said of the survey results, "These figures are alarming because they show that a huge proportion of adults in Britain — who make up juries in rape trials — are still very unclear about what rape is."
"There has been a huge increase in the number of women reporting rape and sexual violence to the police and seeking support from specialist rape support organisations," she said. "#MeToo has shone a light on the scale of sexual violence, and more women are seeking justice. Yet as a society we are failing to respond to this call for help, and this year the number of cases being taken forward by police and the courts fell."
In September, figures from the Crown Prosecution Service revealed that only 32 percent of 18- to 24-year-old men prosecuted for rape were actually convicted, as the Guardian reported. What's more, the annual Violence Against Women and Girls report from the Crown Prosecution Service showed that 23.1 percent fewer rape cases were charged in 2017-18 than 2016-17. Overall, rape prosecutions fell to the lowest number in a decade.
Labour MP Ann Coffey called for juries to be scrapped in rape trials, saying that the low conviction rates were the result of widespread rape myths, as well as a hesitance to convict young men. "A perfect storm is developing where juries are reluctant to convict young men charged with rape, the CPS are therefore reluctant to prosecute, and the police are therefore reluctant to refer," Coffey said. "The result of this is that victims will stop coming forward and justice in the criminal justice system will be denied to young women."
Rachel Krys said, "It is known that the vast majority of women who are raped know the person who raped them, but for many people, the most commonly understood scenario is a single violent incident of rape committed by a stranger on a dark street. This could help explain why juries are so reluctant to convict particularly younger men where consent is in question."
The End Violence Against Women Coalition called for an independent review of both the police and judicial system's response to rape, as well as guaranteed counselling for all rape survivors. "We've learned this year that the system which is supposed to prosecute rapists and provide justice for victims is failing badly," Krys said. "For too many women, justice is not an option open to them."