The Best Mom Moments On 'Real Housewives'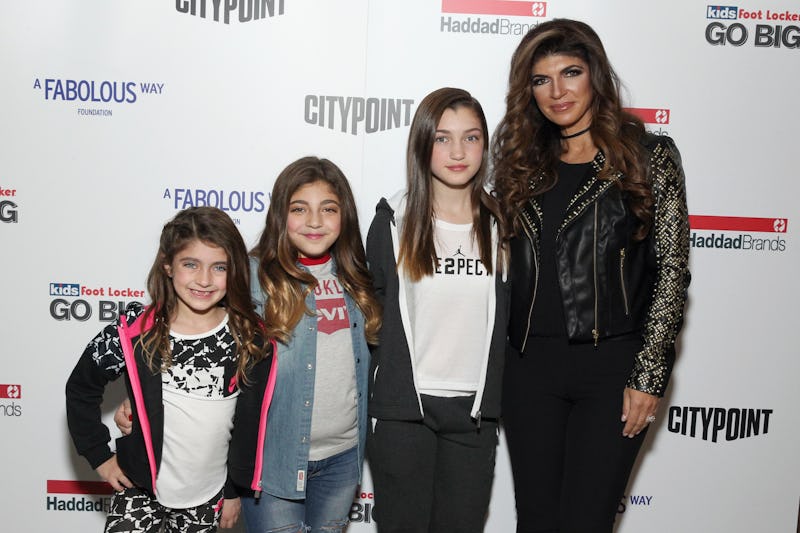 Astrid Stawiarz/Getty Images Entertainment/Getty Images
I know the franchise is called Real Housewives, but a lot of the time, the best moments don't come from the main cast members. A lot of my favorite scenes are actually with the children of the franchise, and that's because there have been plenty of moments that highlighted the Real Housewives stars being awesome moms.
I know that it's very easy to criticize the Real Housewives. I mean, they provide plenty of reasons for it, so even as a super fan, I totally get it. Nevertheless, the one category where most of them are really on point is in their mothering abilities.
I know these shows are supposed to focus on all the drama within the ladies' friend groups, but these mom moments really do steal the spotlight almost every single time. There's no way you can watch Real Housewives and not let out an audible "aww" when the cast members take a break from the controversy and slip back into mom mode.
This franchise has been on TV forever, so we have really witnessed a lot of Real Kids growing up in front of the reality TV cameras. These are some of the best Real Housewives mom moments over the years.
1. Teresa Asking Milania What She Could Do Since Joe Is Away
Unfortunately for Teresa Giudice's four daughters, their father Joe Giudice is currently serving his jail sentence. Teresa's daughter Milania is the closest to Joe, and Teresa felt bad about how his absence would affect her. Milania was trying her best to take up her dad's chores, but Teresa cut in and asked Milania what she could do that her dad used to do with her. It was really sweet of Teresa.
2. Phaedra & Ayden Making Shirts & Cookies To Benefit Kids In Flint, Michigan
Phadra Parks' son Ayden has to be my favorite Real Housewives of Atlanta cast member. He is hilarious and wise beyond his years. Phaedra encouraged Ayden to help the kids affected by the Flint Water Crisis by making them T-shirts and baking cookies to sell to raise funds. It was so great to see Phaedra teaching her son about the importance of giving back.
3. Tamra Throwing A Baby Shower For Ryan & Sarah
Tamra Judge was very shocked when her oldest son, Ryan Vieth, told her he was engaged to Sarah Rodriguez after dating her for only two months after meeting on Instagram. It's nice to see that Tamra ended up embracing the relationship and that she stepped up to throw a cowgirl-themed baby shower for the couple.
4. Lisa Encouraging Max To Get In Touch With His Birth Parents
During a Real Housewives of Beverly Hills episode, Lisa Vanderpump encouraged her adopted son, Max Todd, to reach out to his birth parents if he wanted to. I imagine that was a hard thing for her to do, but it was nice to see her being so supportive and accepting of Max's natural curiosity.
5. Luann Supporting Victoria As An Artist At Art Basel
Luann de Lesseps traveled from New York City to Miami to support her daughter, Victoria, when she showed work at Art Basel. Not only did she attend the event, but she has been on board with Victoria's career interest in the arts, which is not exactly an easy thing to navigate and be successful at.
6. Teresa Making Arrangements For Gia's Graduation Dance While She Was Away
Even though Teresa couldn't be with her kids while she was in jail, she was still running the Giudice family from afar. When her daughter Gia had her eighth grade graduation dance, Teresa managed to send her a parent-approved dress, a hair and makeup team, and flowers to make the big night special. Gia was moved to tears by her mother's efforts to be a part of the milestone occasion.
7. Cynthia Asking Noelle To Be The Face Of Her Brand
We all know that the children of famous people often get privileges that us normal folks do not, but it really did seem like Cynthia Bailey asking her daughter, Noelle Robinson, to be a part of her brand was her way of making her empire a family business and including Noelle before she passes down the torch.
8. Vicki Driving Briana & Her Sons From Oklahoma To California
Vicki Gunvalson is always talking about how busy she is with work, so it was really surprising and touching that Vicki went all the way to Oklahama to drive her daughter, Briana Culberson, and her sons on their move back to California since Briana was not healthy enough to fly.
9. Yolanda Paying For, Furnishing, & Decorating College Apartments For Gigi & Bella
Yolanda Foster went from Beverly Hills to New York City to set both of her daughters up with their apartments after they graduated high school. She fussed over every single detail and did up both apartments herself to insure that they were perfect for her daughters.
10. Lauri Quitting The Show To Help Her Son Josh
As much as I miss seeing updates from Laurie Waring on Real Housewives of Orange County, I do understand why she left. Lauri said goodbye to RHOC so she could focus on helping her son Josh with his legal issues in a more private manner. I'm sure she loved being a cast member, but she definitely did the right thing.
11. Caroline Encouraging Albie To Overcome His Learning Disability
Caroline Manzo really felt for her son Albie when he got kicked out of law school while he was struggling with a learning disability. She encouraged him to do what he wanted in life and to never give up even if he was struggling instead of just getting mad that he did not succeed.
It seems like these ladies do a lot from being business women to reality stars to wives, but they all prioritize their role as moms and have stepped up in some pretty big ways over the years of Real Housewives.