"Old Housewives" Are Returning For 'RHOC' Season 12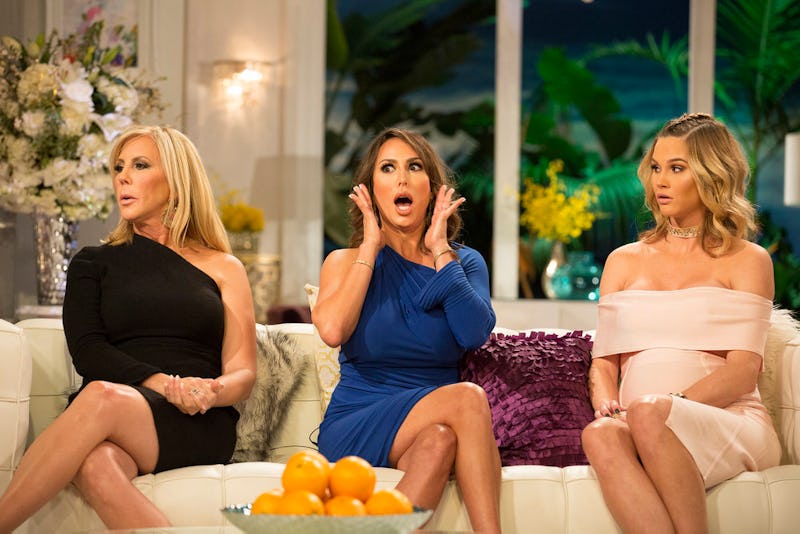 Isabella Vosmikova/Bravo
When Real Housewives of Orange County airs Season 12 this coming summer, it's basically going to be an entirely new show. As Andy Cohen told Bravo's The Daily Dish Monday at NBCUniversal Upfronts, old Housewives are returning to RHOC. What? There are going to be familiar faces coming back for the new season? Well this is seriously huge news.
"The new season is, it's shifting alliances," Cohen dished about the upcoming season. He also revealed that Kelly Dodd, who joined the franchise for RHOC Season 11 is most definitely making her triumphant return. As for whether or not she'll cause as much drama and say some controversial statements like she did during her first season, that remains unknown. Though, Cohen said fans are in for a different kind of treat with Dodd. "I think you're gonna be surprised by Kelly Dodd this season," he confessed. Who knows if that's a good or a bad thing.
The Watch What Happens Live With Andy Cohen host then added, "And some old Housewives [are] returning and it's really good." Of course, he didn't elaborate any further than that, including in what capacity, so I guess that means I'm just going to have to speculate about who could possibly be coming back to the O.C.
Now that Heather Dubrow has departed, there's an open full-time Housewife spot. There have also been rumors that Meghan King Edmonds is done with RHOC. If true, that means someone else would probably come on as a series regular. Nothing official has been announced, but I assume Vicki Gunvalson, Shannon Beador, and Tamra Judge will all be back for the new season.
Whatever the case, you heard it from Cohen's lips: "old Housewives" are joining Season 12. Now, let's predict who they could potentially be.
Bravo tells Bustle it cannot comment on casting at this time.
Gretchen Rossi
She left after Season 8, but according to an April 2017 article from All About the Tea, Rossi is returning to RHOC. This seems likely, especially since she is good friends with Dodd. Furthermore, she's become friendly with Gunvalson (shocking, I know). Can you imagine Rossi and Gunvalson teaming up on RHOC? She's also had many ups and downs with Judge. Rossi has history with many of these women and she would absolutely be a great addition — again.
Lizzie Rovsek
All About the Tea also reported that Rovsek (she appeared in Seasons 9 and 10), will show up "from time to time." Whether she's full-time or not, the fact that she is friends with Dodd could bring an interesting mix to RHOC.
Lydia McLaughlin
Last February, Us Weekly reported that McLaughlin would once again become a Housewife. Seeing as she appears to be close with Rovsek and Rossi, well, her chances of joining RHOC seem pretty high. There's no doubt that she made her mark in Season 8 (and so did her mom), so her uniqueness could definitely add some much-needed flare to the series.
Jeana Keough
Yes, it's known that Gunvalson is "the OG of the OC," but wouldn't it be nice to have another original RHOC star as a regular Housewife? What about Keough, who is still friends with Gunvalson? Plus, in December 2014, Gunvalson expressed how she wanted her good friend back on RHOC. I feel like now more than ever it's Keough's time to shine, especially since her family has expanded and she's transformed herself in great ways. There haven't been any rumors (that I know of) of her return, but here's hoping.
There are many other past cast members who could return, but these seem like the best and most likely options. Whoever does reappear on RHOC, all I know is that this particular Housewives series definitely needs a reset and there is no better way to do that than bringing back familiar faces.