Now You Can Get Red Lobster's Cheddar Bay Biscuits Delivered Straight To Your Door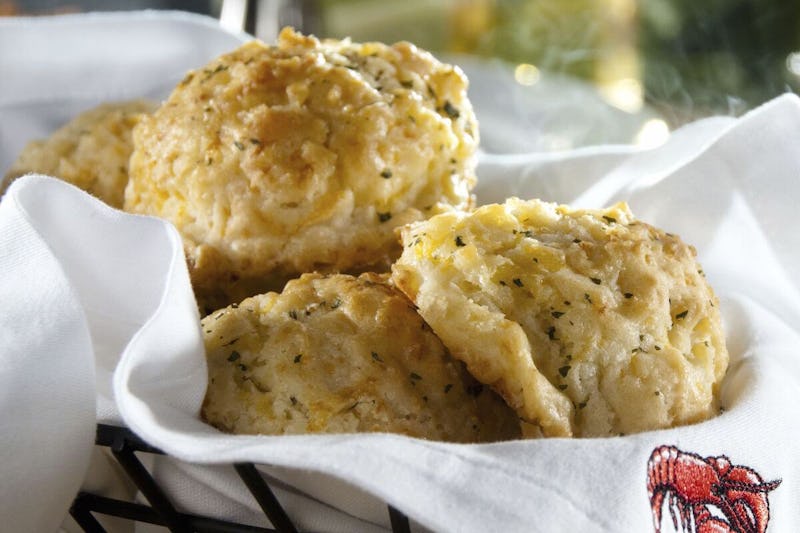 Red Lobster
Calling all Cheddar Bay Biscuit fans: Soon, you'll be able to get your favorite treat delivered right to your door. Red Lobster delivery via DoorDash is coming this summer — meaning you'll be able to place an order at your local Red Lobster through DoorDash's website or app, then have your food brought directly to you for the first time ever. Announced on Tuesday, the partnership between these two dinner giants is a game-changer: No longer will you be required to change out of your PJs and get into actual clothes in order to satisfy your biscuit and seafood cravings; instead, you'll be free to continue lounging around your home while an intrepid DoorDash driver makes their way to you, all-important Cheddar Bay treats in hand. I can think of only one word for it all, and that word is this: Bless.
The very first Red Lobster opened in 1968 in Lakeland, Fla. Lakeland might at first sound like an unlikely location for a seafood restaurant; unlike what most people picture when they think of Florida, it's inland, rather than located on the coast. That, however, was by design: According to The Daily Meal, Bill Darden and Charley Woodsby wanted to see if it was possible for a seafood restaurant to be successful if it was far away from the coast. It turned out that the answer was yes; the first Red Lobster ended up being a resounding success, leading to the development of more locations and several eventual sales.
Interestingly, though, the now-beloved Cheddar Bay Biscuits were not a staple of these early restaurants — they weren't introduced until the early '90s. Their first name, "freshly baked, hot cheese garlic bread," wasn't a hit, so in 1996, they were renamed Cheddar Bay Biscuits. And the rest… well, you know how it goes: It's history.
DoorDash, meanwhile, was founded in 2013 — and, indeed, celebrates its fifth birthday today. Andy Fang, Stanley Tang, Tony Xu and Evan Moore, then all students at Stanford University, first struck upon the idea of building an app to aid local restaurants in 2012 after talking with 200 small business owners all over Palo Alto, Calif. about the difficulties involved in food delivery. At the beginning of 2013, they launched what they called Palo Alto Delivery — and in June of that year, as their success began to mount, they renamed the whole thing DoorDash.
And now, the two things have come together: Thanks to a burgeoning partnership, Red Lobster will soon be available for delivery via DoorDash. In January of 2018, Red Lobster CEO Kim Lopdrup told the Houston Chronicle that the chain was testing a few different options for a delivery partnership, including GrubHub, Amazon Restaurants, DoorDash, and OrderUp; now, it's become apparent that DoorDash was the winner of the bunch. "We know our guests are busy, so we want to offer ways that make it easy and convenient for them to dine with us," Lopdrup said in a press release. "We're excited to expand our partnership with DoorDash as another way to grow our off-premise offerings and provide guests with an ultimate seafood dining experience, no matter where they are."
Added DoorDash COO Christopher Payne, "At DoorDash we strive to offer the highest quality and service to out merchants, and we're thrilled to scale our partnership with Red Lobster. We look forward to making it even easier for customers everywhere to get their fresh seafood fix."
As of 2013 — the most recent year from which statistics are available — there were around 700 Red Lobster locations in the United States and Canada, according to Statista. DoorDash delivery for more than 300 of those locations will be available by the middle of July. What's more, Red Lobster has updated its To-Go order packaging in order to "help maintain the integrity of the food" — and online ordering is coming to the My Red Lobster Rewards app, too. (Customers can already order online via the web; these orders are available for pickup only.)
Red Lobster had been going through a bit of a slump several years ago; then, in 2014, Darden Restaurants sold the chain to Golden Gate Capital. It's been on the upswing since, with changes to the menu and how the chain's kitchens function being well-received by customers, according to a 2015 BuzzFeed report. There's no doubt that this focus on delivery and takeout is intended to further Red Lobster's recent advancements — and odds are it's likely to succeed. After all, who doesn't love Cheddar Bay Biscuits?
To find out whether your local Red Lobster will be available for delivery, head to DoorDash and pop in your address. If you come up empty now, fret not; as the company has noted that the goal is to have delivery for those 300-plus locations available by the middle of July, you might just need to check back in a few weeks. In the meantime, may your dreams be full of all the lobster you desire.