Red Wine Beauty Products Let You Have Your Cabernet & Slather Yourself In It Too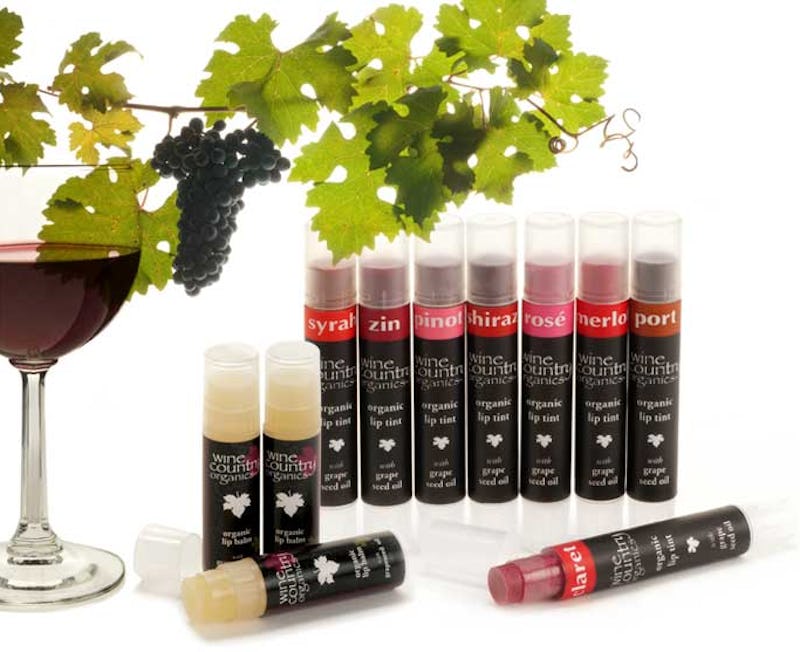 Wine Country Organics
They say a glass of red wine a day keeps the doctor away. It looks like juice of the vine may keep the bad hair day vibes away, too. Red wine beauty products are trending, and it's the best news of the new year.
Fermented grapes are some pretty powerful stuff. Believe it or not, wine can reduce cholesterol and studies have shown that one glass can equate to an hour of exercise. As if a glass of cabernet couldn't get any more magical than it already is, red wine has been popping up in a range of beauty products, from lipsticks to hair masks to bar soap.
Scientific evidence proves red wine may be the key ingredient your beauty routine has been missing. It's rich in antioxidants known for fighting skin deterioration, and it's loaded with vitamins and omegas with hydrating benefits. So, it's no wonder brands like HASK just released a full line of wine-inspired haircare, as highlighted by Refinery 29.
As it turns out, HASK isn't the only brand hip to the benefits of a good 'ol glass of merlot, however. Every hour is happy hour with these 15 beauty products that prove red wine infused hair and skin care are absolute must-haves.
1. Red Wine Spritzer
Unwined Red Wine 10 In 1 Leave-In Spray, $9, Ulta
This wine extract infused leave-in comes packed with antioxidants that help rejuvenate, strengthen, and soften your dehydrated strands. Packed with 10 benefits from mending split ends to eliminating frizz to providing thermal protection, this spritzer is all you'll need to revive your tresses.
2. Pinot Noir Deep Conditioner
Unwined Pinot Noir Deep Conditioner, $4, Ulta
Resveratrol, found in the skin of grapes, helps restore hair as grapeseed oil, rich in vitamin E, smooths your cuticles and prevent frizz in this moisturizing deep conditioner. It's also available in sauvignon blanc, Provence rosé, brut rosé, cabernet sauvignon, and pinot grigio versions, so there's sure to be a red (or white) wine mask to suit you hair needs.
3. Wine Face Mask
Arcona Wine Hydrating Mask, $78, Nordstrom
A hydrator that stimulates cell renewal, reduces wrinkles, and firms skin, this mask provides defense using grapeseed, wine extracts, and resveratrol. Added ingredients like vitamin E, shea butter, and macadamia nut oil make it the ultimate moisturizer, too.
4. Red Wine Cream
Red Wine Resveratrol Cream, $15, 100% Pure
Designed to aggressively protect against signs of aging, this antioxidant and vitamin rich resveratrol cream keeps skin looking youthful. Free of synthetic chemicals, harsh detergents, and other toxins, it features a vegan formula your skin is sure to love.
5. White Wine Leave-In
Unwined White Wine 10 In 1 Leave-In Spray, $9, Ulta
Detangle, smooth, add shine, and more with this white wine infused leave-in, packed with some of the most hydrating natural ingredients like grapeseed, sweet almond, and olive oil.
6. Wine Lipstick
Chateau Labiotte Wine Lipstick, $10, Amazon
As it stains your lips with beautiful shades of bordeaux, this tint moisturizes your pout with hydrating extracts from France premium wine.
7. Wine Bar Soap
Harvest Crush Syrah Wine Bar Organic Soap, $9, The Grapeseed Company
If you love wine so much that you've thought about bathing in it, this bar soap is the cleanser for you. It's made with natural grape seeds recycled from wineries, so you know it's the real deal.
8. Vino Serum
Caudalie Vinoperfect Radiance Serum, $79, Sephora
It's not just the fact that this serum fades dark spots and boosts radiance that makes it a must-have for evening skin tone. Featuring a high concentration of viniferine, an ingredient from grape vine sap that's proven to be more effective than vitamin C, it's a beauty-obsessed wine lover's dream.
9. Wine Lip Tint
Organic Grapeseed Oil Lip Tint, $8, Wine Country Organics
These sheer lip colors add subtle shine as they moisturize with organic beeswax and grapeseed oil. Collect all of the wine-inspired shades of zin, claret, merlot, pinot, shiraz, and rosé if you're a true fan of fermented grape juice.
10. Cabernet Scrub
Caudalie Crushed Cabernet Scrub, $38, Sephora
Let this wine-inspired body scrub be your solution for dryness and loss of firmness. It exfoliates, refines, and softens skin, leaving your body feeling silky-smooth.
11. Red Wine Sheet Mask
Tony Moly I'm Real Red Wine Mask Sheet, $3, Ulta
A glass of wine can really do wonders for your facade, and this sheet mask is all the proof you need. Formulated with red wine extract to reduce the appearance of enlarged pores, while tightening and purifying the skin, this face mask can give you a healthier looking complexion in a matter of minutes.
12. Wine Peel
Neogen Bio-Peel Gauze Peeling Wine, $27, Soko Glam
These exfoliation pads combine red wine and K-beauty secrets for the ultimate facial peel. Resveratrol is the star ingredient, with naturally occurring AHAs that help with the exfoliation process and prevent skin impurities.
13. Wine-Infused Pigments
Fruit Pigmented Sex Kitten Palette, $46, 100% Pure
Drink your wine and make yourself over in it, too, when you use this resveratrol-infused multi-purpose palette. It features shades for the eyes and cheeks, to give your facade allover shimmery flushes of color.
14. Wine Extract Shampoo
Age Defying Noir Shampoo, $35, Vine de la Vie
Repairing each hair shaft through the strength of red wine extract, this organic cleanser restores your mane with powerful antioxidants. Radiant, voluminous hair is your end result when you work this gem into your haircare routine.
15. Wine Primer
Luminous Primer, $37, 100% Pure
Antioxidants from red wine offer an added skincare element to this makeup primer. It fills fine lines for smoothness as light-reflective pigments diffuse flaws to illuminate your complexion, so it's quite a must-have for longer-lasting, flawless makeup.
This wine-infused beauty trend is giving you every excuse to keep happy hour going all day long. With such amazing benefits from wine extracts, there's no reason not to start your day and end it with a glass of the good stuff.