Jay & Bey's New Music Video Is Full Of References About Him Cheating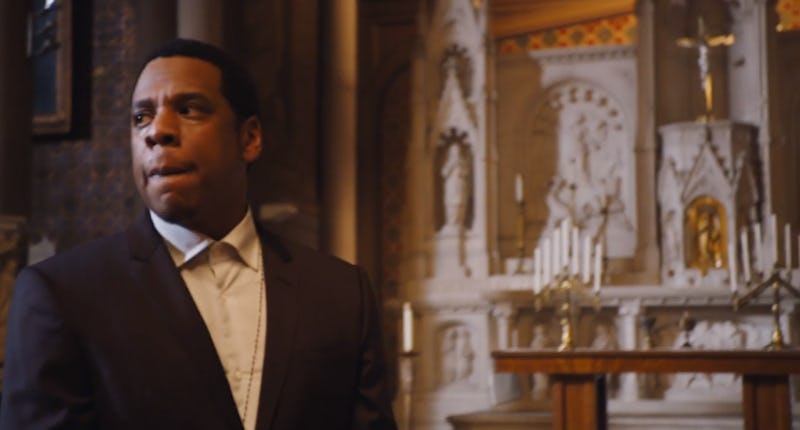 Tidal
JAY-Z dropped the visuals on Friday for "Family Feud", which features Beyoncé and their daughter, Blue Ivy. Though Hov has confirmed he was unfaithful to Beyoncé, the visuals in "Family Feud" contain other references to JAY-Z cheating. The near eight-minute video (available in full on Tidal) starts with an epic introduction that spans time and generations, and later lands on Jay and Bey together at a church along with Blue.
While JAY-Z has since admitted to being guilty of "infidelity" in a New York Times interview, it was long rumored by gossip columns before. A leaked security video of Solange Knowles going after her brother-in-law in an elevator added to fuel the speculation in 2014. Then Mrs. Carter seemed to all but confirm the stories with lyrics in her 2016 tour de force album, Lemonade.
Beyoncé told a complete story with Lemonade about betrayal and forgiveness. While the album was not necessarily a straight autobiography, some lyrics certainly strongly hinted at cheating. In her song "Sorry" she sings, "Looking at my watch, he shoulda been home/Today I regret the night I put that ring on/He always got them f*cking excuses/I pray to the Lord you reveal what his truth is."
She also sang in "Hold Up," "Something don't feel right/Cause it ain't right/Especially comin' up after midnight/I smell your secret, and I'm not too perfect."
Likewise, Hov addressed the rumors with his most recent album, 4:44, notably in "Family Feud," a song the features Beyoncé's vocals. While the lyrics seem like damning evidence enough, the video, featuring his wife and daughter, really brings the point home.
Here's some of the cheating details from the song and visuals:
The Whole Video Starts With A Person Being Unfaithful
Though the woman (played by Thandie Newton) who starts off in bed is accused of being unfaithful to her family's reputation, for Hov not being committed 100-percent to the fam is a sin. Later, when the music kicks in he raps, he raps, "A man that don't take care his family can't be rich/I'll watch Godfather, I miss that whole sh*t." Though the Godfather's Michael Corleone wasn't much of a cheater romantically, he did let his family's crime syndicate get in the way of his immediate family's happiness and it seems that Hov is arguing that by shirking his duties as a husband and father he made his life poorer.
"You Don't Deserve To Be The Head Of The Family."
Michael B. Jordan tells Newton, "You don't deserve to be the head of this family. You're a disgrace." This seems to echo a line JAY-Z raps in "4:44." "Look, I apologize, often womanize/Took my child to be born, see through a woman's eyes...Took me too long for this song, I don't deserve you."
There's A Literal Back Stabbing
Sure she murders her lover for the sake of power ("It's not his, it's not yours, it's my throne"), but cheating is also a form of back stabbing.
"Nobody Wins When The Family Feuds"
Adult Blue Ivy, who is leading a bunch of women played by famous actors you probably recognize to write a new constitution, says, "It's like I remember my father saying when I was a little girl, 'Nobody wins when the family feuds.'" A family that sticks together, staying faithful, wins.
Real Blue Ivy Is There
Is this JAY-Z confessing to his mistakes to his daughter? They are in a church and it could be a reference to "4:44," in which Hov raps, "And if my children knew, I don't even know what I would do/If they ain't look at me the same/I would prob'ly die with all the shame."
JAY-Z Raps From A Confessional Booth
Hov spends a lot of the time in a confessional cabinet, where his lyrics seem to reveal an infidelity. At one point he raps, "Yeah, I'll f*ck up a good thing if you let me/Let me alone, Becky." The lyrics seem to be directly responding to Beyoncé's song "Sorry," in which she sings, "They sneaking out the back door/He only want me when I'm not there/He better call Becky with the good hair." JAY-Z seems to be saying that he wants to do better, and not fall back on cheating on Beyoncé with "Becky," or any other woman.
Beyoncé Is A High Priestess
Beyoncé seems to be something of a high priestess at the pulpit. If Hov is one of her congregants is he admitting his sins to her? After boasting about how his wife was "feedin' the kids liquid gold", he admits that he needed faith or extra guidance to put his mind on the right track in regards to his relationship. "I told my wife the spiritual sh*t really work/Hovi's home, all these phonies come to a halt/All this old talk left me confused."
It good to see Hov and Bey working together again — as JAY-Z says, "Nobody wins when the family feuds."