Regina Hall's 'Homecoming' Parody At The BET Awards Will Make Beyoncé Proud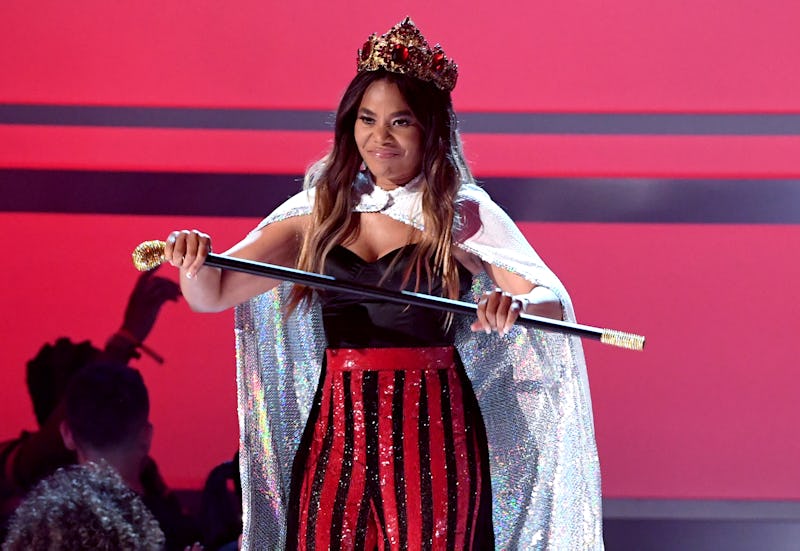 Kevin Winter/Getty Images Entertainment/Getty Images
An awards show can have all the elements of an entertaining night like great performances, inspiring speeches, and funny sketches, but it can still be ruined with a terrible host. Thankfully, the BET Awards chose actress Regina Hall to lead this year's festivities and she started her gig off right with a creative and awesomely hilarious opening sequence. Regina Hall's Homecoming parody at the 2019 BET Awards was the perfect nod to Queen Bey, as well as the D.C. music scene.
Each year, the BET host opens up the show with their own performance that ties into their professional background, affinity for a certain artist, or personal roots in some way. Hall decided to combine all three starting with a skit that parodied Beyonce's Netflix documentary Homecoming with her hilarious "Homegrown" skit, as she started to whip her performers into shape at several practices leading up to the BET Awards show.
In a voice-over, she talked about how she wanted to bring a piece of her beloved city to this year's festivities. "When BET asked me to host this year's BET Awards, I immediately thought 'no,'" said Hall. "But then I thought about it. Why not? It would be a chance for me to teach people, especially the younger generation, about Washington D.C. The Washington D.C. that I grew up in."
Per IMDB, Regina Hall was born and raised in D.C., so it was hilarious to see her question the dancers in the video about the city and feature funny quotes from natives like Blac Chyna. The clip ended with a prayer based on The Junkyard Band's "Sardines" before Hall jumped into action at the show. She showed her hometown pride by hitting the stage in the style of Beychella with a distinctive D.C. spin as James Funk from Rare Essence, a popular go-go band from the area, joined her early in the performance.
Hall got into full character donning sparkly pants and wielding a baton as she strutted down the catwalk to Experience Unlimited's (EU) club hit "Da Butt." Go-go music fans were thrilled to see Funk as well as EU members Gregory "Sugar Bear" Elliot and Jonathan McReynolds.
The stage eventually opened up to high rise stage similar to Queen Bey's complete with performers while Regina rocked the floor with a few moves of her own. So, Offset's dance routine wasn't the only surprise of the night.
Then, just when viewers thought the performance couldn't get any more D.C., Hall brought out her fellow hometown friend Taraji P. Henson to help hype up the crowd.
It's no small feat to take on a Bey-inspired routine and make it your own, but Regina managed to do that and pay homage to the music and prominent acts from the nation's capital with a feel-good and upbeat performance.
Regina Hall's Beychella and Homecoming inspired performance with a Washington, D.C. twist cemented her status as a solid BET Awards host. The lively celebration of go-go music and what it means to be a Black D.C. native will be memorable moment in the show's history. And will hopefully lead to Hall coming back to lead the show in the future.