This Is Why You'll Be Seeing Republican Women In Red, White, & Blue At Trump's SOTU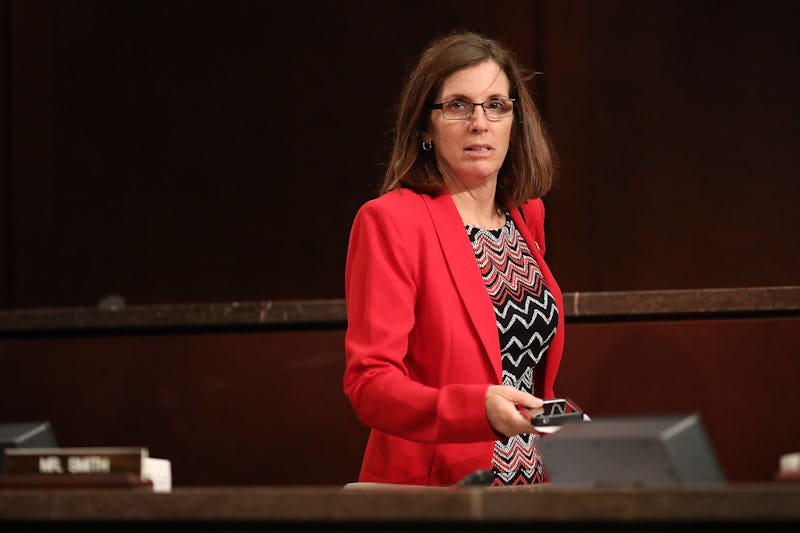 Chip Somodevilla/Getty Images News/Getty Images
It seems that almost everyone attending Tuesday's State of the Union (SOTU) address intends to make a statement, and Republican women in the House of Representatives will be no exception. At the SOTU, female GOP representatives wearing red, white, and blue will do so in support of the military.
Rep. Martha McSally told USA Today that a woman in the House sent out an email encouraging the plan, and attributed the idea to a constituent. According to McSally, the uniform color palette is intended "to show our support for the flag, and the country and the troops and to be a contrast." The idea was reportedly passed along to other women in the Senate and the executive branch.
The bright colors will be a notable contrast to Democratic women, many of whom plan to wear all black in solidarity with #MeToo and #TimesUp. Rep. Lois Frankel, chair of the Democratic Women's Working Group, told Vox that the goal is to send "a message of solidarity with those who are seeking economic security and a cultural shift that enables men and women to work side by side, in safety and dignity, free of sexual harassment, and be paid fairly for the value of their work."
Racked reports that while the Democratic Women's Working Group is leading the #MeToo and #TimesUp protest, they have extended the invitation to all members of Congress. Some men and GOP members will reportedly also be participating, but their names have not been released.
"We're not trying to make this partisan," Frankel said. "Sexual harassment knows no party."
Participants will be following in the footsteps of women in Hollywood, many of whom recently wore all black to the Golden Globes. According to Variety, approximately 300 women in the entertainment industry organized the #TimesUp movement.
Quiet messages will be flying all over the place on Tuesday night, as members of Congress fight to get messages across to their opposite parties, the president, and the American public. Aside from specific attire, guests are expected to garner an exceptional amount of attention.
On Monday, Trump announced his personal guest list. Those whom he invites will sit with the first lady, Melania Trump. Among those attending on behalf of the president are an ICE agent, a police officer, first time homebuyers, and a U.S. Coast Guard technician lauded for saving dozens of Americans during 2017's devastating hurricane season. He also will be bringing family members of victims killed by the MS-13 gang, small business owners, and a fire prevention technician who saved 62 people during a California wildfire.
"Some of these individual stories are heroic," Press Secretary Sarah Huckabee Sanders said at a press briefing on Monday. "Some are patriotic. Others are tragic. But all of them represent the unbreakable American spirit and will inspire our nation to continue growing stronger, prouder and more prosperous."
But the president and the first lady aren't the only ones bringing political guests. A slew of Democrats, in particular, are bringing individuals with them that represent their own legislative agenda. Sen. Elizabeth Warren, for example, is bringing the first Haitian-American to hold elected office in Massachusetts. His presence will be a distinct rebuttal both to Trump's anti-immigration rhetoric, and particularly his reported comments that characterized Haiti, El Salvador, and African nations as "sh*thole" countries.
Similarly, House Minority Leader Nancy Pelosi, along with approximately 29 other congresspeople, will be bringing people personally affected by immigration legislation. The majority of these guests will be Deferred Action for Childhood Arrival (DACA) recipients, the program which Trump plans to end in March if Congress doesn't act first.
Trump will have the microphone Tuesday evening, but he certainly won't have all of the attention. While congresspeople may be required to sit quietly, they'll be sending messages loud and clear.