Denise Richards Addressed The Rumors About That Photo Of Her & 'RHOBH' Star Dorit Kemsley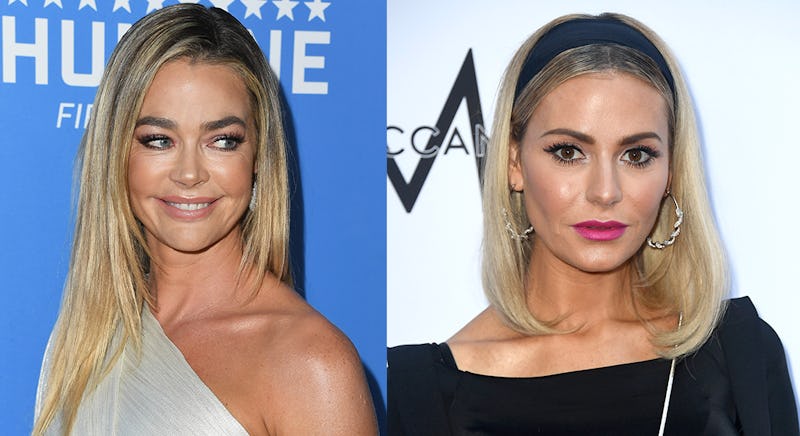 Jon Kopaloff/Getty Images Entertainment/Getty Images; Frazer Harrison/Getty Images Entertainment/Getty Images
Dr. Christmas Jones has set the record straight about what was actually going on in those wedding reception pictures. In a recent interview, Denise Richards said she and Dorit Kemsley did not fight at her wedding, contrary to what some photos might've suggested. While speaking with Entertainment Tonight at American Humane Hero Dog Awards on Saturday, Sept. 29, Denise explained the Dorit photos that led some to suspect the RHOBH Season 9 co-stars had drama at the wedding reception were actually snapped while the pair was in the middle of a happy conversation. So uh, there's one The Real Housewives of Beverly Hills feud rumor you can cross off your Real Housewives feud rumor list. (Who among us doesn't keep a Real Housewives feud rumor list?)
On Sept. 8, Denise married Aaron Phypers in a beachside ceremony in Malibu. At some point during the event, Denise and Dorit were photographed while they were in the middle of a conversation. It is unclear as to what is being discussed, but both parties appear to be extremely locked in. Dorit uses her hands to express her point, Denise clutches her shoes and the train of her gown, and there's no shortage of eye contact. As the photos made the internet rounds, some members of the Real Housewives fandom began to wonder if Dorit and Denise got into an argument on Denise's wedding day.
Denise said that couldn't be further from the case. She told Entertainment Tonight,
"Someone had said, 'We heard you were fighting,' and I was like, 'No!' Then someone showed me the picture. In that moment, she was like, 'You're married!' and I'm like, 'I know!' And someone said we were fighting? Anyway, I love her. She's amazing."
There you have it, Housewives heads. Dorit and Denise did not butt heads at Denise's wedding; this isn't some heated conversation that'll eventually morph into PantyGate 2.0 or PillBagGate 2.0 or WrongWineGlassGate 2.0. Rather, those candid photos captured a pleasant moment between two Bravolebrities who, by all accounts, really seem to get along. You can get back to dissecting any and all scoops concerning Lisa Vanderpump possibly feuding with, like, everyone else on the RHOBH roster now.
Oh, but don't look to the newest Beverly Hills Housewife for any scoops. When ET brought up LVP's rumored beef with the rest of the Beverly Hills Housewives, the Drop Dead Gorgeous actor replied, "This is my first season, I ain't saying a word."
RHOBH veterans Erika Jayne and Lisa Rinna, on the other hand, will definitely say a word. As they revealed on Instagram Live last month, one of their co-stars apparently refused to participate in a photo shoot with the rest of the cast. And when E! News's The Daily Pop asked Erika if LVP was indeed the Real Housewife who would not take part in the shoot, she replied, "Facts are facts … That's a fact."
Oh, man. Denise Richards, a surprise wedding, a photo shoot debacle, and facts? The premiere hasn't even aired yet, and Season 9 has already given us so much.