Here's How Denise Richards' Co-Stars Feel About The 'RHOBH' Newcomer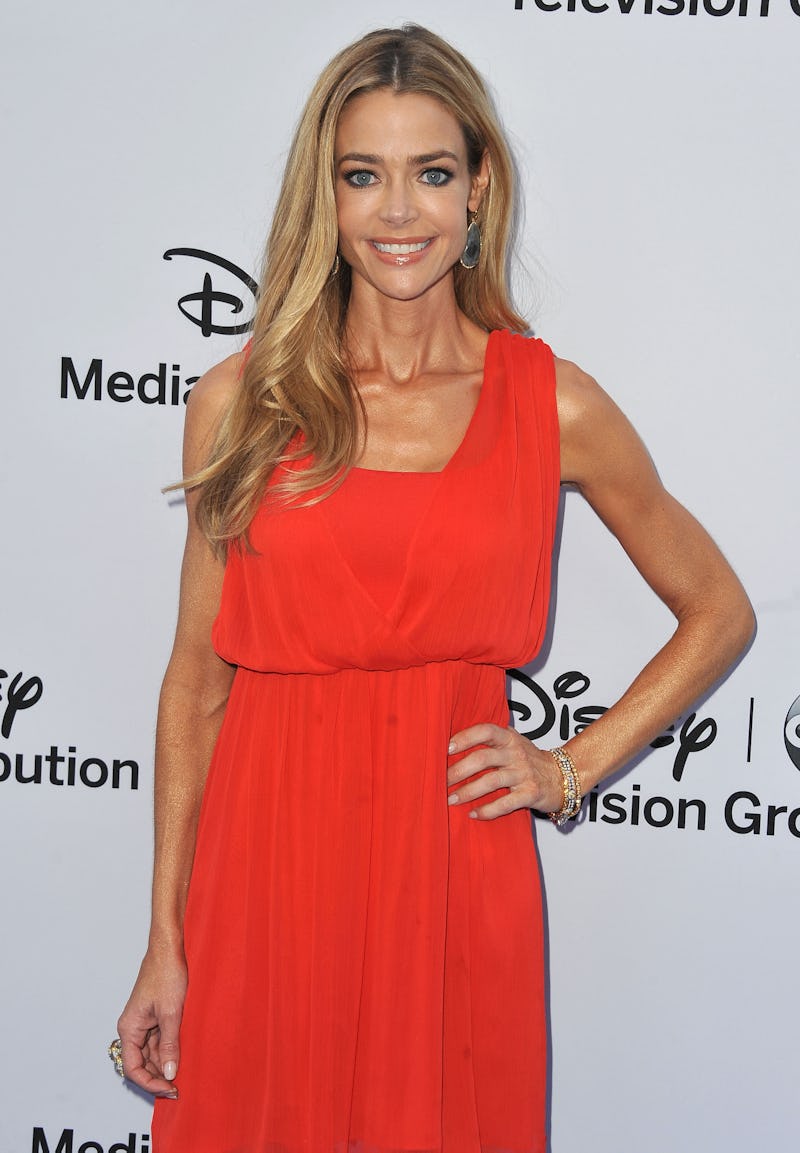 Angela Weiss/Getty Images Entertainment/Getty Images
As the season of summer winds down, the season of waiting for Denise Richards' Real Housewives of Beverly Hills debut continues to wind up. And the Beverly Hills Housewives are oh-so happy Denise is a part of the RHOBH cast now. When speaking with Us Weekly at the premiere of Denise's new horror movie,The Toybox, last Friday, RHOBH's Erika Girardi, Dorit Kemsley, and Camille Grammer had only kind words for the movie star. Denise may be making waves with her surprise oceanfront wedding, but apparently, she isn't making gnarly drama waves on RHOBH.
While some Real Housewives choose to come in hot their first season (love you forever, Kelly Dodd), Denise apparently opted to take a different route. Camille told Us Weekly that Denise is "really chill and down to earth," adding that the Denise Richards: It's Complicated star "will stand up for herself" and "won't start the drama." Huh, it looks like Denise has left the pot stirring to Dorit and Lisa Rinna, the Real Pot Stirrers of Beverly Hills.
Erika Jayne seems pretty taken with the Wild Things star, too. The "Xxpen$ive" singer told Us Weekly that Denise is "very cool.' She added,
"I think you'll see her as very levelheaded. And actually very bright. Because she says some things sometimes that are very unexpected that sum up ideas very quickly. I think you'd be surprised at some of the insights she really has."
Dorit echoed her castmates' assessments of Denise, calling her "a cool girl" and "so down to earth." And if you think you're going to see something other than beauty in her, think again. As Dorit told Us Weekly, "I'll be honest, I haven't seen anything but beauty in her."
Denise's RHOBH co-stars seem to really dig her, and Denise seems to really dig her co-stars. At last week's Toybox premiere, she told Entertainment Tonight that she not only loves all of her fellow Beverly Hills Housewives, but has yet to butt heads with any of her co-stars.
She told ET,
"I definitely formed a lot of good friendships with these women, and of course I've known Lisa Rinna forever, before the show and now, of course, we're even closer. A lot of these women, I'll continue friendships with them. They're amazing."
You know what? The rumors are true: Denise is getting on with the rest of the cast like a rhinestone-encrusted goblet full of rosé.
For years, there have been rumblings regarding Denise possibly becoming a member of the Real Housewives universe, but those rumblings were shut down over and over again. And every time one of those rumors was swatted away, we mourned the dream of seeing the Drop Dead Gorgeous twirl and deliver a catchphrase in the RHOBH opening credits.
But then, it happened. The longtime RHOBH fan confirmed to People on Aug. 8 that she is now part of the RHOBH family. We will finally get to hear Denise deliver zingers in her RHOBH talking heads. We will finally get to watch Denise bring the heat to a RHOBH reunion. And, of course, we will finally get to see Denise twirl and deliver her tagline in the RHOBH opening credits.