This New 'RHOBH' Midseason Trailer Finally Puts Erika Front & Center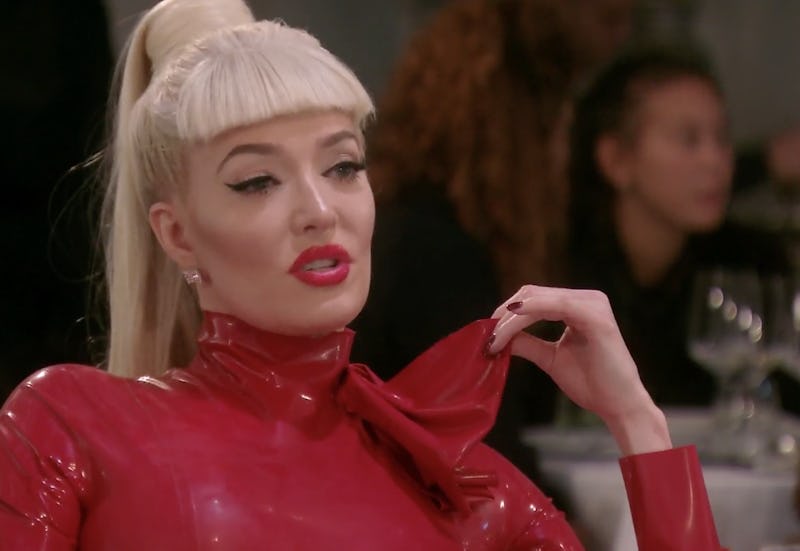 Bravo
This season of Real Housewives of Beverly Hills has featured the expected amount of arguing and based on the Real Housewives of Beverly Hills Season 8 midseason trailer there's going to be even more drama — and a lot of crying. Fans anticipate yelling and tears every time they turn on Housewives, but what makes this particular teaser for the remainder of the Beverly Hills season spectacular is it finally puts Erika Jayne front and center.
Of course, Erika has had her shining moments this season. From working with esteemed Bravo recapper and ghostwriter Brian J. Moylan on her book to her unexpectedly getting along with Dorit Kemsley to playing the peacemaker between Dorit, Kyle Richards, and Lisa Vanderpump, she's left quite the mark in Season 8.
However, compared to past seasons, she's also been somewhat under the radar, save for that debacle of her leaving Teddi Mellencamp's beach house to stay at hotel. If anyone deserves to have a season without being in the middle of the drama, it's Erika. Fans remember how Season 7 went down with Erika, Dorit, PK, and "Pantygate". But, when she shuts down the BS and channels that bluntness all Erika fans worship, what's not to love? When this happens, she makes RHOBH even more amazing that it already is.
As showcased in the trailer for the remainder of the eighth season, honest Erika is in full force. During a dinner with the other women (possibly while they're vacationing in Berlin, Germany), Erika declares, "I have one issue: pretend amnesia." It's unclear to who or what she is referring, but viewers know how often Housewives forget what they've said (ahem, Lisa Rinna). "Pretend amnesia" seems to be a go-to defense mechanism for many of them.
Then, Erika gets real upset and says to someone: "Don't ever, ever do that to me." Who she is speaking to remains unknown, but based on her expression and the way she utters those words, the "Pretty Mess" singer is very unhappy. At one point she also has a deep conversation with Vanderpump. LVP says to Erika, "It's taken me two f*cking years to get close to you." The performer's response isn't shown, but she's seen staring at the SUR owner.
Oh, and if that's not enough, the midseason trailer ends with Teddi storming out of somewhere, LVP chasing after her, and Teddi saying through tears, "Just leave me alone!" Segue to Erika, who is seen saying in her private interview: "Miss cry baby." Erika might not be referring to Teddi, but they haven't really bonded and have had some uncomfortable moments. So, Erika calling Teddi "miss cry baby" is possible.
There are some lighter moments with Erika in the sneak peek, too, like her performing "XXPEN$IVE" and saying while winking, "We're going to work later at a sex place." The women also meet up with a psychic (not Allison DuBois) and it seems like Erika might be making fun of her when she says: "I was once kidnapped as a boy who lived in the bottom of a shoe." Who knows what she means by this, but it doesn't matter, because Erika's proven once again she will continue to kill it with her frankness.
When you're not busy bowing down to Erika, be sure to enjoy the rest of the dramatic midseason teaser, but especially Rinna riding a horse. Did it make you think back to an unforgettable moment? Maybe a particular Real Housewives of New York City star? A RHONY Season 4 moment involving Luann de Lesseps in Morocco, perhaps? Yes, that time she rode a camel. The Housewives probably should avoid animals, unless they're saving them like LVP.