Lizzie From 'RHOC' Is Asking For A Divorce After 8 Years Of Marriage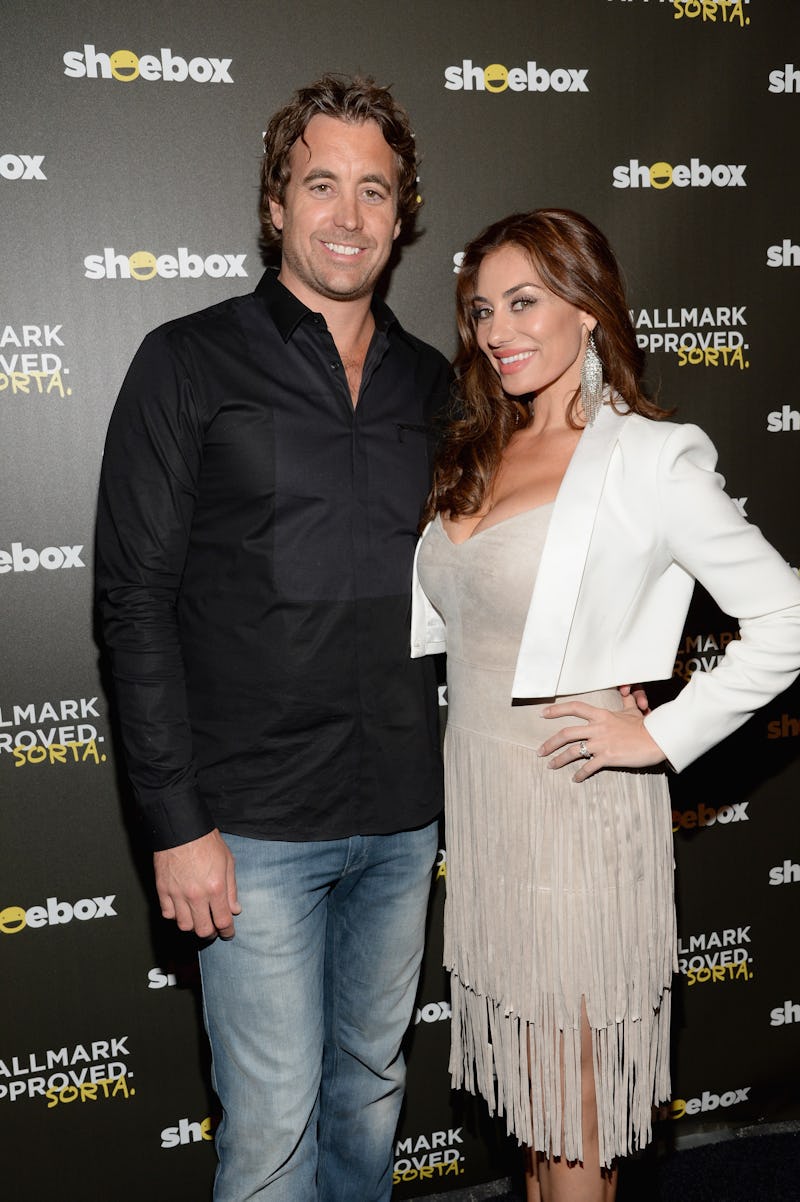 Michael Kovac/Getty Images Entertainment/Getty Images
Another Real Housewives of Orange County couple is calling it quits. According to a report from Page Six on Tuesday, Lizzie Rovsek is divorcing Christian Rovsek, her husband of eight years. They're also parents to sons Kingston and Preston. Per court documents obtained by Page Six, Lizzie served Christian divorce papers on July 16. The Blast also reported the same thing on Tuesday.
Lizzie's rep released the following statement to Page Six:
"Christian and Lizzie are doing their best to walk through this deeply personal and painful situation with as much grace as possible. They would ask for your prayers and privacy for their family during this deeply personal matter."
Back in December 2017, People reported that court documents stated Lizzie filed for divorce from Christian and filed a petition for the dissolution of their marriage in October 2017. According to The Blast's new report, the court notified Lizzie that her divorce case would be dismissed if she didn't take the next rights steps to move along the case. Unlike before, she has now served Christian with divorce papers.
The former couple released a joint statement to The Blast. It reads:
"We have been struggling in our marriage for years and have decided to seek divorce. While we wanted to keep this situation as private and quiet as possible for the sake of our children and family, we no longer feel we can keep this situation hidden from the public eye. We have known each other since we were 22 years old and we have the utmost respect and love for each other. We are trying to navigate this as gracefully as possible. We will continue to have the best interest for our kids and for each other."
(Bustle reached out to Lizzie's rep for comment and was directed to the same statements given to other publications.)
In April, there were also reports that Lizzie and Christian appeared to be reconciling, based on Instagram. As reported by Bravo's The Daily Dish, Lizzie posted an Instagram (that has since been deleted) of the two in Paris and kissing Christian's cheek. She reportedly captioned the image with "#cityoflove," "#magic," and "#anythingcanhappeninparis."
Lizzie first joined the Housewives franchise in Season 9 as a full-time Housewife and returned in Season 10 as a friend. As fans probably recall, she made a brief appearance in Season 12 and caused a stir alongside former RHOC star Gretchen Rossi.
In addition to Lizzie, most recently, former RHOC stars Alexis and Jim Bellino are divorcing after 13 years of marriage, and Season 13 newbie Gina Kirschenheiter has split from her husband of seven years. They also have three children. At the time of Alexis and Jim's announcement in July, they told Us Weekly in a statement, "It is with heavy hearts that we inform the public of our mutual decision to end our marriage — but it's important to us that you know we made this choice together, with love, and as the best decision for our children's future." They also "agreed on 50/50 custody" of their three children.
Gina made her divorce announcement in July. "After careful consideration and deep thought, we have decided to end our legal marriage," she told Us Weekly in a statement. "With that said, we will never end our friendship and will forever remain family. We are dedicated to raising our children together in a happy, healthy loving environment. We will be navigating this difficult process with respect and grace for one another. We kindly ask for others to treat us with this same respect and grace at we move through this family adjustment."
Hopefully all of these Housewives couples can move forward in positive ways — not only for themselves, but also their children.