Richard Madden Gets Why 'Game Of Thrones' Fans Are Still Heartbroken By The Red Wedding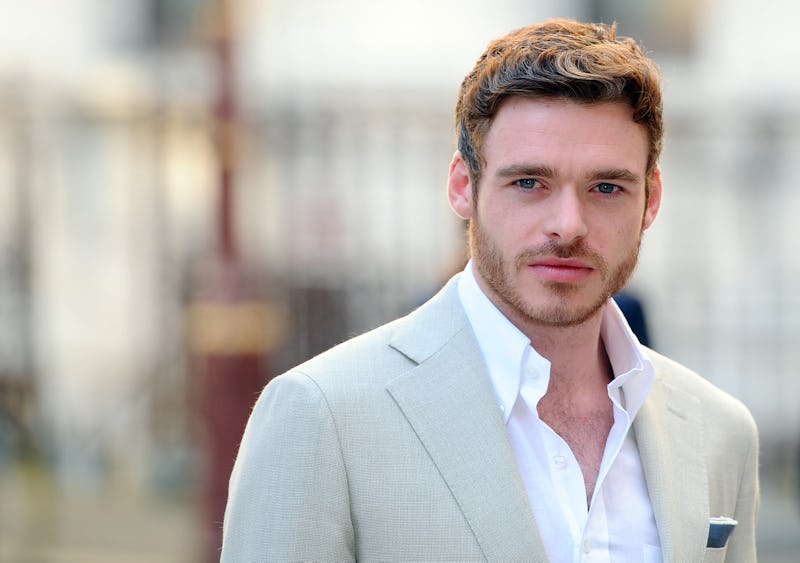 Stuart C. Wilson/Getty Images Entertainment/Getty Images
Being a cast member on Game of Thrones is kind of like being captain of the varsity football team in high school: It doesn't have to dominate the rest of your life forever, but in a way, it absolutely will. Like how Richard Madden's Game of Thrones comments seem to promise a series finale less traumatic than the Red Wedding genuinely feel significant. While discussing his Netflix series Bodyguard with Variety, the actor gamely fielded questions about the series that made him famous.
Once you've been a part of Game of Thrones, you're a part of it for life. Fortunately, the cast seems to be aware of that. In fact, they're more than happy to discuss it — especially with a prompt.
When asked if the responses to Bodyguard compared to Game of Thrones, Madden offered:
People are really engaged with me on Bodyguard, which is interesting, and people are heartbroken for this man and where he was in his life. I suppose nothing is going to be the same as the reaction to the Robb Stark death, which is a great way to die, and a lot of people are still very heartbroken by that.
Extremely true. Too true. Borderline "this is something fans should see a doctor about, considering how fresh it feels," true, TBH.
Since Madden's character on Game of Thrones was murdered at his own wedding long before viewers were accustomed to that kind of thing, it's understandable that fans still care about his opinion. Apparently, he either knows how the series ends — or knows about enough of Season 8 to feel comfortable about how it gets there:
"There's nothing I want to see [from the show]", said Madden, adding:
"I think they've done it so well, in terms of the amount of time we've had Game of Thrones and are sitting with it. I think it's great to come to a great end on this and not run it out [for] another five years — as much as I could watch another five years of it."
Considering how much of a non-answer answer that is, it totally sounds like he knows how the show ends. On the other hand, there's so much secrecy surrounding this final season, there's no way to know for sure. After all, Madden left the show more than five years ago. Also, he was being interviewed about a completely separate project at the time. Like Oprah once asked, What is the truth?
Still, Madden insisting that no show can inspire a fan reaction like the one to Robb Stark's tragic death seems like a good thing. The Bodyguard twist is one thing, but Game of Thrones is so much bigger!
It's easy to be lulled into a sense of security. Madden's comfortable with how the show ends! Would the actor really promise there's no Red Wedding-style horror in the future if he couldn't guarantee it? Maybe. Probably. Or not. After all this time and misdirection, trying to figure out what's really up with the end of Game of Thrones Season 8 is enough to turn anyone into Pepe Silvia. At any rate, Richard Madden swears there's a satisfying finale to the show. And with so little information out there, that's enough for now.