These 'Game Of Thrones' Actors Were Snubbed By The 2018 Emmys & Twitter Is Not Happy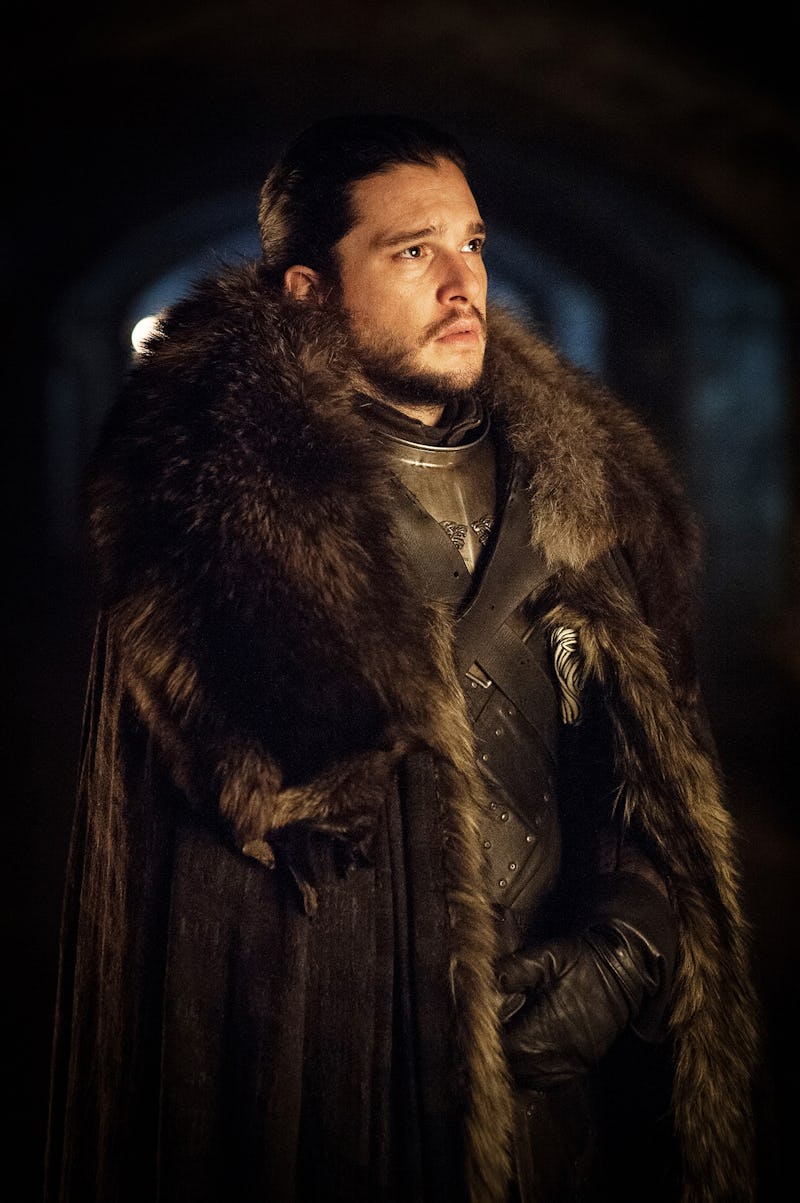 Helen Sloan/courtesy of HBO
This year, the Emmy won't go to any of Game Of Thrones leading actors. That's because the 2018 Emmys snubbed Game Of Thrones stars including Kit Harington — Jon Snow himself. The HBO series, which was ineligible for the 2017 Emmys, got zero nominations in the categories of Lead Actor and Lead Actress in a Drama Series, which is a bit surprising, but not totally unexpected. After all, this was a year where Game Of Thrones had stiff Emmy competition in the drama categories.
While those two categories were GoT free, Game Of Thrones was in no way shut out from the competition. It led all shows with 22 nominations, just slightly besting Westworld and Saturday Night Live, which both received 21 nods each. This included a nomination for one of the night's biggest awards, Best Drama Series, where Game Of Thrones will go up against last year's winner The Handmaid's Tale, as well as This Is Us, The Crown, The Americans, Stranger Things, and Westworld.
The supporting actors of the ensemble cast of Game Of Thrones also squeaked out a few nominations. It's safe to say it was a good day to be a Lannister. In the Supporting Actor in a Drama Series category Nikolaj Coster-Waldau, who plays Jaime, and Peter Dinklage, better known as Tyrion, were both nominated. They'll go up against The Handmaid's Tale's Joseph Fiennes, Stranger Things' David Harbour, Homeland's Mandy Patinkin, and The Crown's Matt Smith.
In the Supporting Actress in a Drama Series, Queen Cersei herself, Lena Headey was the only Game Of Thrones woman nominated this year. She'll compete against Stranger Things' Millie Bobby Brown, Westworld's Thandie Newton, and three women from The Handmaid's Tale: Alexis Bledel, Ann Dowd, and Yvonne Strahovski.
The last time Game Of Thrones was eligible in 2016, it was also the most nominated show of the year, earning 23 nominations and taking home the award for Best Drama. However, those nominations did not include nods in the leading actor or actress category. In fact, Game Of Thrones has never received a nomination in those categories — not one single nomination in its seven seasons.
With such a big ensemble cast it's often hard to pick a lead actor who deserves the nomination, which has meant the show's stars like Harington, Heady, Dinklage, and Emilia Clarke, who plays Daenerys Targaryen, are often relegated to the supporting categories. In seven seasons, the show has earned six nominations for Supporting Actor and eight noms for Supporting Actress, but they haven't taken home much gold.
The show's actors have only won twice, and both times the Emmy went to Dinklage, who has received five of GoT's nominations in that category. Harington received a nomination in 2016, which is why it's such a surprise that he didn't get one this year, especially following a season in which it was finally revealed that Jon Snow is really a Targaryen. Most fans would say Game Of Thrones Season 7 focused heavily on Jon Snow, who was figuring out how to stop the white walkers with help from Dany. But, the Emmys seemed to disagree.
It's also surprising that Clarke wasn't nominated this year, being that her journey was so closely connected to Jon Snow's. Clarke has been nominated three times, but it's Headey who's the most nominated out of the women on Game Of Thrones with four nominations.
While it may be disappointing to see that Game Of Thrones was shut out of the leading actor and actress categories again, there's still a whole lot of chances for the show to take home an Emmy. Also, let's not forget, there's still one more season of Game Of Thrones, which means another chance to end this unfortunate Emmy streak.