Rihanna Just Wore Unreleased Fenty Beauty On The Red Carpet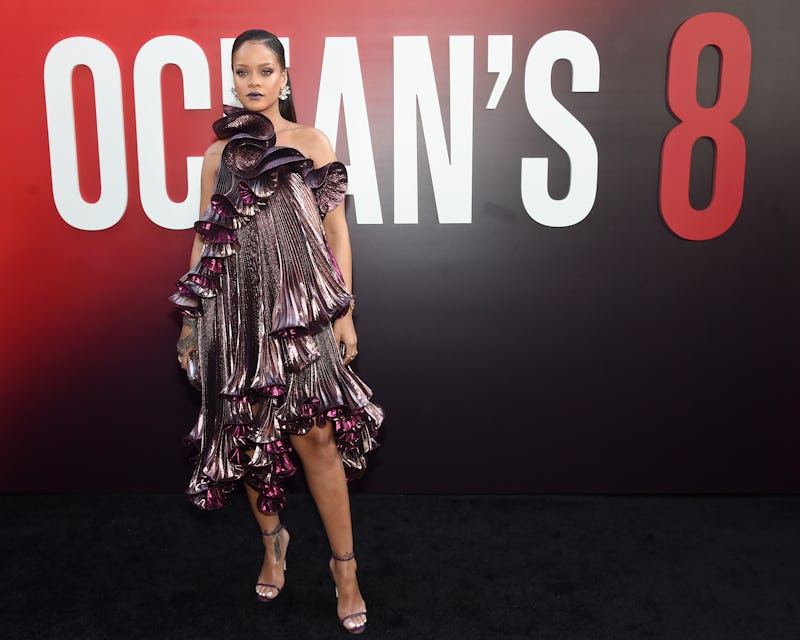 Jamie McCarthy/Getty Images Entertainment/Getty Images
Is there anything Rihanna can't do? The multi-talented actor, singer, and now, beauty mogul walked the premiere of her new film Ocean's 8, last night looking flawless. Her look may have held a bit of a secret, though. For the black carpet, Rihanna may have worn new Fenty Beauty products, and it's got the internet's ears (or eyes) perked up about what's coming from the brand.
On Tuesday, Rihanna hit the black carpet with the other members of her star studded cast such as Sandra Bullock and Cate Blanchett. Of course, she totally crushed it. The singer wore a pleated and ruffled metallic Givenchy dress with an asymmetrical hemline that looked stunning on her. Some fans on Twitter were even quick to point out that the actor was also probably wearing Body Lava. If she was wearing the shimmering body glitter, it wasn't her only Fenty Beauty product.
On the brand's Instagram page, global makeup artist for Fenty Priscilla Ono detailed each of Rihanna's Fenty products that she rocked on the red carpet for the film. Her base, including foundation, primer, blush, and highlighter, were entirely Fenty. After all, the brand is known for their Fenty Face, and Rihanna is their creator.
Two products, however, were missing from Ono's description, and the internet took notice.
The gorgeous metallic plum shade on Rihanna's lips was notably missing from Ono's rundown of products as were the shadows she used on the Fenty founder's eyes. The monochromatic plum look is a dream, and obviously people were curious about the more colorful parts of the look. Soon, that curiosity turned into skills of deduction when fans began to wonder if the missing products could actually be new Fenty Beauty potentially coming in Fall 2018.
After all, the Ocean's 8 premiere wouldn't be Rihanna's first time wearing pre-launch products to a red carpet even. When Fenty Beauty released their full Beach Please collection, the lineup included gorgeous new foiled Killawatt highlighters in seriously stunning hues of purples and orange. As it turns out, that Mimosa Sunrise/Sangria Sunset dual pan Killawatt highlighter had hit the red carpet of the Met Gala a year early.
During the Rei Kawakubo Commes de Garçon themed gala, Rihanna stunning in a Kawakubo design and also took the beauty game to the next level with a gorgeously draped highlight and blush look. That look was all Fenty Beauty.
Fenty fans on Twitter have certainly caught on to low key reveals from the brand, and they're both suspicious and excited about what could be coming next.
The metallic, plum hued lip she's wearing seems to be of particular interest to fans online.
They're actually taking notes about how to get that lip look, and who can blame them?
Some are just waiting in anticipation knowing that this could very well be Rihanna's next launch.
Hey, at least she's giving fans some time to save up their cash before things actually drop, right?
Rihanna may be personally victimizing your piggy bank, but if it's Rihanna, does it even matter?
As of press time, Rihanna nor Fenty Beauty have taken to social media to announce any new products. That, however, doesn't mean that they're not coming. After all, Fenty fans on Twitter seem pretty convinced that Ono's omission of Rihanna's eye and lip products at the Ocean's 8 premiere is suspect. Plus, this wouldn't even be Rihanna's first rodeo wearing something before its debut.
Now, it's just time to sit back, save your cash, and wait for Rihanna to blow beauty fans away once again with whatever bomb thing she's got coming next.