Rihanna Wore Her New Highlighters On The Red Carpet Over A Year Ago & You Didn't Even Notice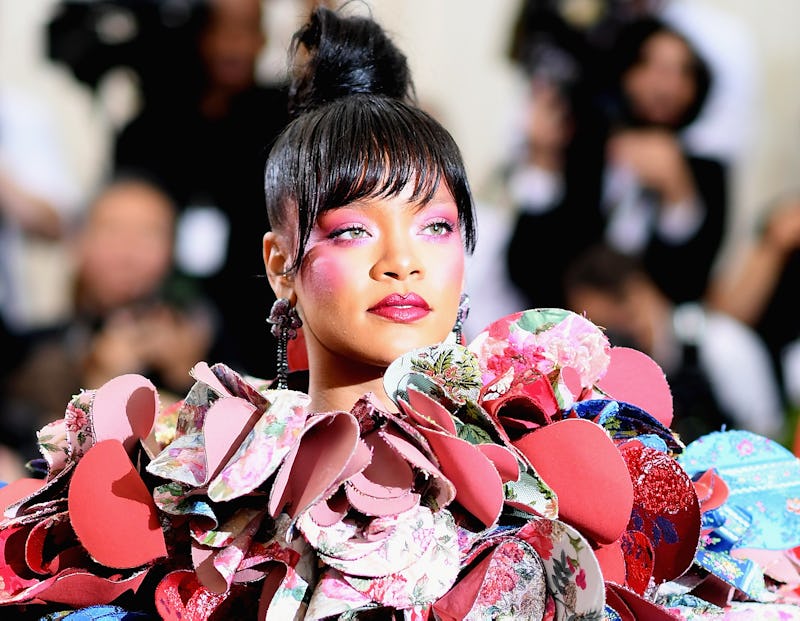 Dimitrios Kambouris/Getty Images Entertainment/Getty Images
In case you hadn't heard yet, Rihanna is taking over the world. Okay, maybe not the entire world, but definitely the fashion and beauty ones. Her latest venture? The new Beach Please collection which includes new Fenty Beauty Killawatt Foiled highlighters. As it turns out, the world actually show the brand new launch from the brand over a year ago, and no one even knew. That's how innovative Rihanna is. She's creating banging, vibrantly highlighters before the trend even really took off (in case you needed even more proof that she's ahead of her time).
According to a post on the Fenty Beauty Instagram account, Rihanna wore one of her new Foiled Killawatt highlighters to the Met Gala all the way back in 2017. If you remember, the 2017 Met Gala was easily one of the actor and singers most iconic looks. For the fundraising event, the theme honored Commes de Garçon designer Rei Kawakubo, and while many celebrities didn't abide by the theme (though, it's not required), Rihanna was one of the few who did. In fact, she was dressed in one of Kawakubo's own designs for the occasion. While the multi-patterned, structural ensemble was a total show stopper, her makeup was as well. Turns out, it was Fenty Beauty all along.
Just how iconic is the look? Well, Global Makeup Artist for Fenty Beauty Priscilla Ono calls it that for starters, but there's also the fact that even a year after Rihanna wore the look to the Met Gala, the brand has uploaded a YouTube video to their channel to show fans how to get the look.
If you have seen the newest Killawatt Foils, you probably recognize the purple hue on Rihanna's face. If not, the product Ono uses in the video is the dual compact of Mimosa Sunrise and Sangria Sunset. She starts using a draping technique around her model's eye, but Sangria Sunset isn't the only shade she uses.
Ono reveals that there are actually several Killawatt highlighters (including Ginger Binge and Fire Crystal as well as Sangria Sunset's paired shade Mimosa Sunrise) included in the look. She further explains that the Killawatts are formulated to be used this way so that users can build depth and color into their look. Talk about gorgeous innovation, right?
While the fact that fans now know how to get Rihanna's look is exciting in and of itself, there's also the realization that Killawatts that have just debuted from the brand were actually in production back in 2017. What does this mean? It means that Rihanna seems to care deeply about the quality of her product. By formulating and wearing the foiled Killawatts before their sale date a year later, Rihanna clearly didn't just want to craft a product that had her name on it. She put her makeup where her...well, cheeks are.
If you want to experiment with Rihanna 2017 Met Gala look, there's good news. The Killawatt Foil highlighters are now officially available on Sephora's website and in-store as well as on the Fenty Beauty website. The compact duos retail for $36, but given Ono's tutorial, it's clear that this isn't just a highlighter, but a product that can be used as a blush and eyeshadow as well. Seems like a pretty good deal, right?
With Rihanna's latest Fenty Beauty collection, she yet again proving that she cares deeply about the brand and it's products. From wearing them to fashion's biggest night to crafting an inclusive range of goods, Fenty Beauty is definitely a brand that should be added to your makeup collection.