Rihanna Awesomely Has A Flask At The Grammys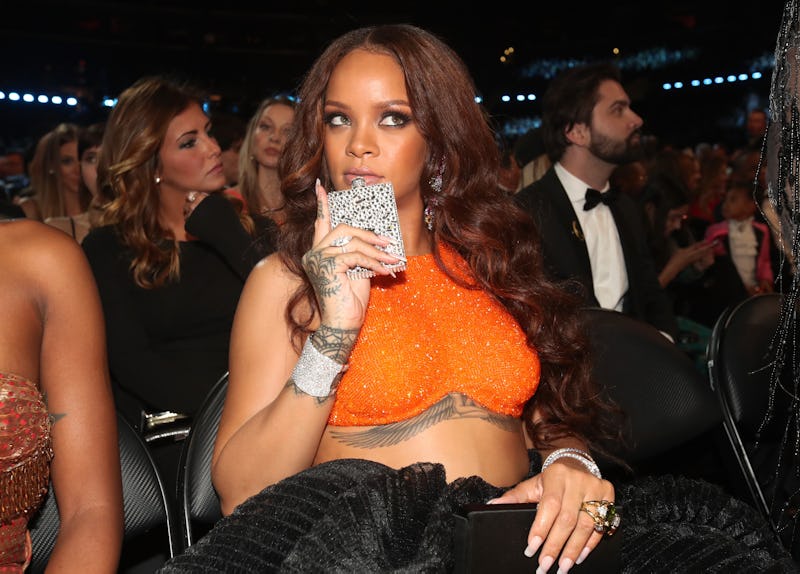 Christopher Polk/Getty Images Entertainment/Getty Images
For a show that gives out very few awards on air, the Grammys sure run for a long time. Whether the moments are epic or cringe-worthy, you sometimes need something to help you through. Even the star-studded audience feels you. Rihanna's sparkly flask at the Grammys had everyone talking and relating as the night went on and on.
With eight nominations, Rihanna was well-placed in the audience and seen throughout the night. However, it was the flask that got everyone talking. You don't need to have a speech or an epic performance to turn heads at the Grammys, that's for sure. At the end of the night, she didn't even take home a single award — but still managed to be the talk of the show.
I don't think she was bored. I think Ri-Ri was living her absolute best life. The Grammys are not a particularly serious or formal awards show and everyone knows it. Bring a flask! Flaunt it! I mean, it was covered in diamonds. I would have been offended if she had hidden something that beautiful for the entire night. Here are some of the best tweets and jokes about Rihanna's buzzed about accessory.
Her swigging became a bit of a meme.
She stopped trying to hide the flash after a while.
Rihanna's Grammy appearance was just about fun. I think we can all appreciate that, and love her even more for it.