Rihanna Is Putting Work First Right Now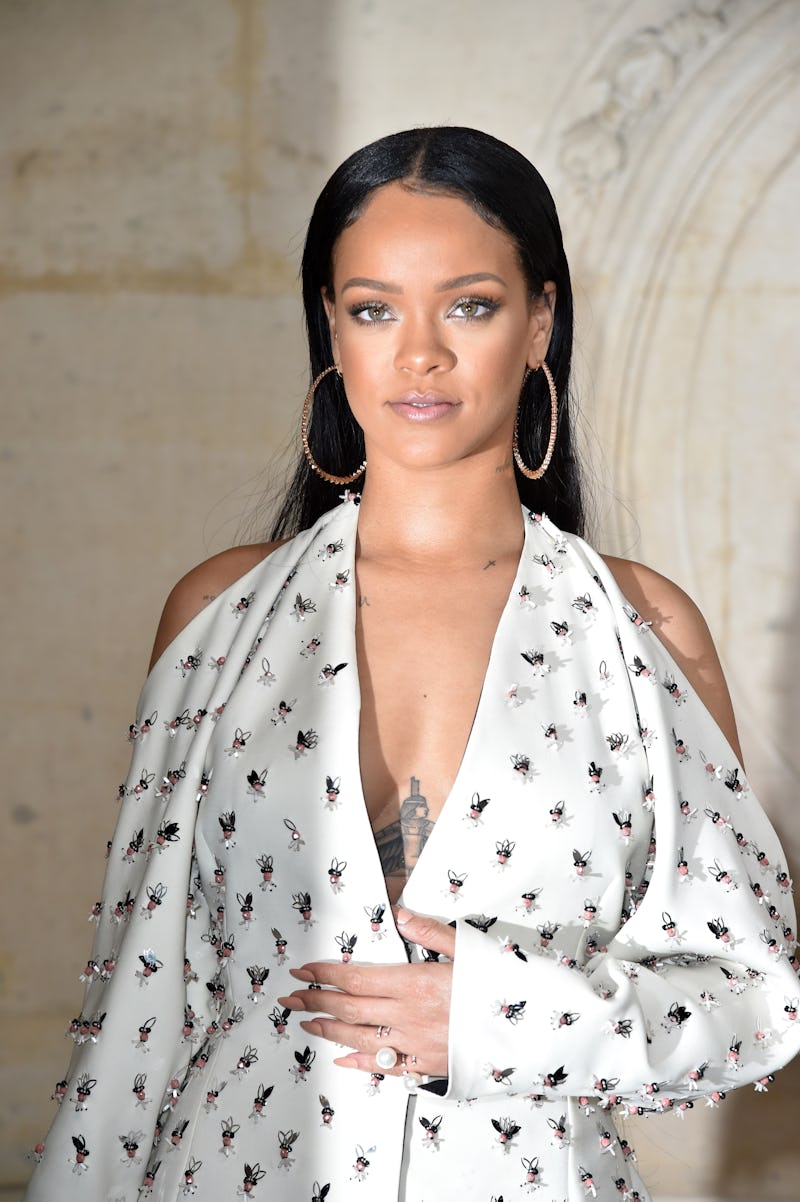 Pascal Le Segretain/Getty Images Entertainment/Getty Images
Few celeb couples have ever been quite as entrancing or confusing as Rihanna and Drake. It wasn't long after the star-crossed maybe-lovers declared themselves sort of official, that they went their separate ways, romantically speaking. Now, Drake might be dating Jennifer Lopez, but who is Rihanna dating? If there is a man in her life, he is taking a backseat to RiRi's career and invaluable charity work.
The singer is not going to allow herself to be defined by who she is dating. While she and Drake were undeniably cute together, Rhianna's life is crazy-busy. Not only does she have the Grammys coming up, where her album Anti is nominated for multiple awards, she is also killing it in the fashion scene. Her new line Fenty x Puma is taking the fashion world by storm, and has established her as not only an iconic singer, but a savvy business woman as well.
If that wasn't enough to keep her busy, Rihanna recently met Prince Harry at the Toast to the Nation event in Barbados, to celebrate the country's 50 years of independence. According to the Daily Mail, during a charity trip to Malawi, RiRi met with students as part of her work as a Global Ambassador for Education, and even shared a photo of the amazing kids on Instagram. As an ambassador for charities Global Citizen and the Global Partnership, and the creator of the Clara Lionel Foundation's Global Scholarship Program, the musician is always giving back. Oh, and she made time to attend the Women's March in New York City, too.
The "Work" singer seems to be taking her anthem to heart. Since her split from Drake, her life has been full of charity trips, fashion projects, and, of course, music. While many are wondering who Rihanna will take to the Grammys, I'm willing to bet she's not half as worried about it as her fans.
I know it's easy to forget because RiRi seems so together, but she's only 28 years old. Don't let the lifetime achievement award from MTV confuse you, the singer is young and has way more going on than just a love life. If she is dating, then good for her, but if she's taking some time to enjoy being single while she conquers the world, that is equally amazing.
Rihanna's life is only going to become busier this year. With filming for the all-female Ocean's 8 underway, RiRi is preparing to return to the big screen, and she has taken on the key role of Marion Crane in the final season of Bates Motel. Her most recent foray into awesomeness came in the form of a photo shoot for Harper's Bazaar where she channeled her inner Amelia Earhart. Seriously, forget about who RiRi may or may not be dating and bask in all of the artistry and positivity she is putting out into the world.
Right now, Rihanna's attention is on her red hot career and giving back to the world as much as possible. Who needs a man on your arm when you are totally ruling the world all by yourself?