Rihanna Raps On The New N.E.R.D. Song & The Internet Cannot Handle It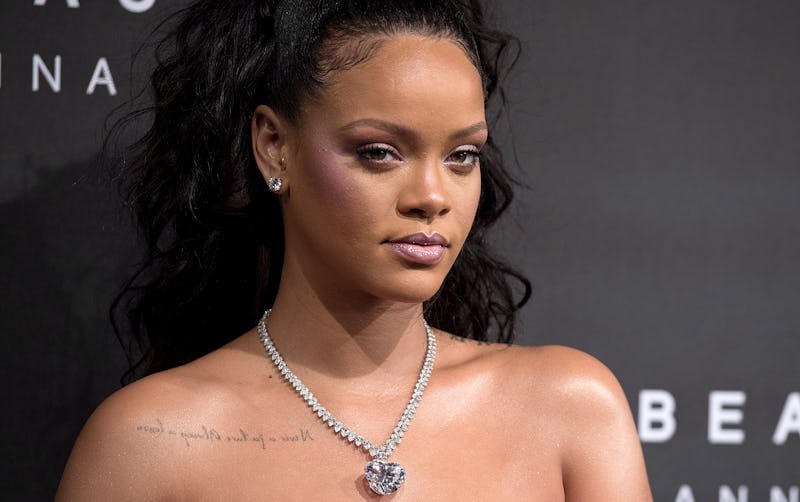 Chris J Ratcliffe/Getty Images Entertainment/Getty Images
None of us mortals have ever been on the same level as Rihanna a day in our lives. But if you were one of those people who thought you were getting close, there's some bad news about those aspirations: Rihanna raps on N.E.R.D.'s "Lemon," the newest track from the funk trio made up of Shay Haley, Chad Hugo, and Pharrell Williams. And the worse news? It is very, very good. Because, of course, it is. Even if this means you won't be on her level, that doesn't mean you can't appreciate her talent. All of the 29-year-old's success comes from the fact that she knows who she is and puts the hard work in. Still, sometimes it can feel like everything she touches turns to gold. Or in this case, bright yellow lemons.
The track in question dropped on Nov. 1, and if you were expecting one of Rihanna's first forays into rap to be a tentative one, guess again. She's already proven her dominance in acting, singing, modeling, producing, fashion designing, feminist mic drops, dating your crush, and pretty much every other venue she's dabbled in, but somehow, she raps like she has nothing to lose. The Barbadian didn't just dip a toe in the water with these bars; she just jumped right on in. And let it be known — she hits the ground running:
"I get it how I live it
I live it how I get
Count the mothaf*ckin' digits
I pull up with a lemon
Not 'cause she ain't livin'
It's just your eyes get acidic"
Rihanna comes in so cleanly and crisply with the chorus that you don't worry about her for a second. Even though she isn't known for rap first and foremost, she more than holds her own with Pharrell, who opens the track with the first two verses and the refrain. But even with her verses following so closely on the heels of his, she isn't imitating his style.
Her flow is all her own, her timing is impeccable, and every word comes through crystal clear. And not like you were ever worried about whether she could come through with the swagger. But FYI? She can.
"And this here ain't a scrimmage
Mothaf*cka, we ain't finished
I told you we won't stop
A n*gga 'bouta business
Like yours, but you rent it
Wave hello to the top"
You heard the woman. This isn't a scrimmage — it's a real game, and Rihanna came to win. On her first try, she has the perfect dose of confidence and cockiness, and she throws her weight around like a pro on "Lemon." Take a listen for yourself.
It's a hugely successful return to the spotlight for the funk trio, who have been largely silent for the past few years. Although they contributed three tracks to the soundtrack for The Spongebob Squarepants Movie: Sponge Out of Water, their last album, Nothing, was released all the way back in 2010. But there is one member of the group who has stayed the public eye, of course. That member is Pharrell Williams, who's been releasing music independently in a steady stream even as the group stayed on the back burner.
He's also well known for his collaborations, having worked with everyone from Daft Punk to Miley Cyrus to a rumored upcoming album with Solange Knowles. But Rihanna is a new collaborator and a huge get for the artist, and a great way for N.E.R.D. to make their long-awaited return to the scene. Returning to the public eye with their first new music in seven years would have been enough for a lot of groups to grapple with. And snagging Rihanna for a collaboration would've been a way to ease that transition, because she pumps out danceable hits like some sort of magical superwoman. But having her rap on the track was a calculated risk, and one that really appears to have paid off here.
Just one more thing that The Goddess Who Walks Among Us can do to perfection without breaking a nail, and all the proof that you didn't need that the rest of us will never be worthy.