Rihanna's Feminist Outfits Sent A Powerful Message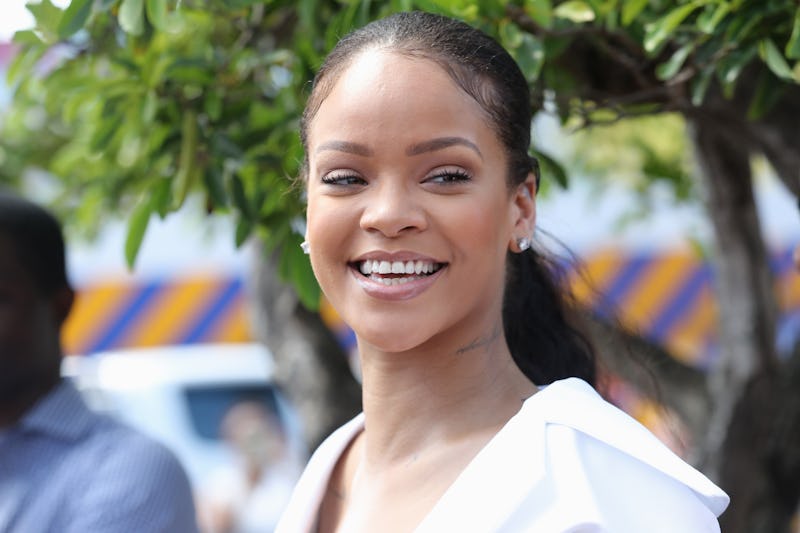 Chris Jackson/Getty Images Entertainment/Getty Images
The Women's March on Washington on Jan. 21 was a historic moment in US history, as it was the biggest protest our country has experienced to date. The women, men, and non-binary people there made it epic — but one celebrity really nailed it. Rihanna's feminist outfits from the Women's March weekend drove home overall mood of the protest: When feminists from different orientations, creeds, races, and genders rally together, they become a powerful force that cannot be ignored.
And of course, Riri made this statement simply by posting her outfits on Instagram. In her first look, we see Rihanna showing that to be girly is powerful. Some would argue that it's "unfeminist" to be overtly feminine — meaning that to dabble in pink, tulle, and glitter is to uphold gender stereotypes and expectations that are pinned onto women.
But all this really does is hint at the notion that something that's feminine is less respected than something that's masculine or gender neutral. It's why some people are proud when little girls ditch princesses for Iron Man, or throw shade at a CEO conducting a meeting with a sparkly hair clip. Rihanna's pink tulle Women's March outfit dispels that theory.
Dressed in a pink cap, a pink hoodie that with the words "This p**** grabs back," a pink tulle skirt, and pink high heels, RiRi proved that feminism comes in all different looks and forms — and if you want to dress up like a pretty ballerina, that does not mean that you're any less serious or strong than those that don't.
For her second look, she went in the opposite direction and sported jeans and a sharp pin-striped blazer, giving off a working woman vibe with the boardroom staple. Underneath the designer jacket she has a simple white tee that says, "We Should All Be Feminists," which she paired with Timberland boots.
Both looks are dramatically different from each other, but in a way, that's what makes them so powerful. Whether intentional or not, they allude to the fact that there isn't one right way to be a feminist, and there's no particular "look" that is ascribed to us. Whether you want to dress up in tulle or blazers, high heels or Timberlands, we're all welcome.
And trust Rihanna to show us that.