Rihanna Just Got Very Serious About Trump Not Playing Her Music At Rallies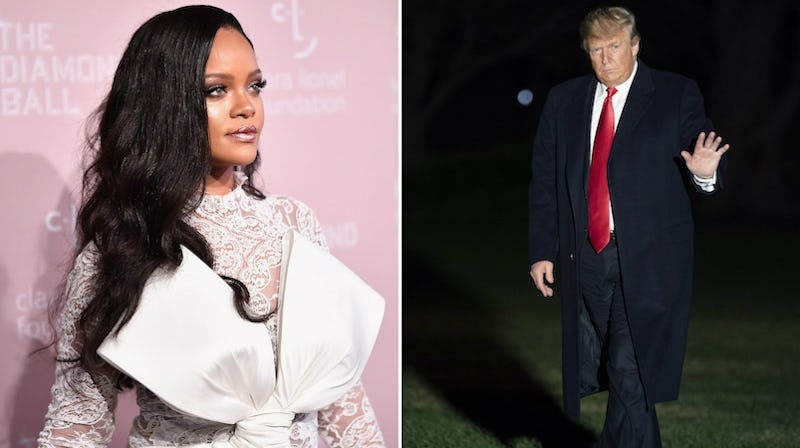 Dimitrios Kambouris/Getty Images Entertainment//Getty Images Pool/Getty Images News/Getty Images
Rihanna doesn't want President Donald Trump playing her music at his rallies — and she's serious enough about it that a comment on Twitter apparently isn't enough. Instead, she's adding in a legal element. Rihanna served Trump with a cease-and-desist letter after Trump played her song "Don't Stop the Music" at his rally in Tennessee on Sunday.
"It has come to our attention that President Trump has utilized [Rihanna's] musical compositions and master recordings, including her hit track 'Don't Stop the Music,' in connection with a number of political events held across the United States," read the letter from Rihanna's legal team, according to Rolling Stone.
"As you are or should be aware, Ms. Fenty has not provided her consent to Mr. Trump to use her music. Such use is therefore improper," the letter said, according to Rolling Stone, referring to Rihanna by her legal name, Robyn Rihanna Fenty.
This whole thing began on Sunday, when Trump held a rally for Tennessee's Republican Senate candidate, Marsha Blackburn. While there, Trump's team made the mistake of playing Rihanna's "Don't Stop The Music," and The Washington Post's Philip Rucker tweeted about it.
"Currently, Rihanna's 'Don't Stop the Music' is blaring in Chattanooga as aides toss free Trump T-shirts into the crowd, like a ball game," Rucker wrote on Sunday.
Rihanna retweeted Rucker's description and made it clear that she wasn't happy to hear of her music's involvement.
"Not for much longer...me nor my people would ever be at or around one of those tragic rallies, so thanks for the heads up philip!" Rihanna tweeted on Sunday.
Rolling Stone reported that Rihanna's legal team sent the letter directly to the White House Counsel, but the White House hasn't commented publicly on the matter. This isn't the first time that Trump — or another Republican candidate — has come up against a similar problem, though. The same day that Rihanna unleashed her fury in a tweet, Guns N Roses' Axl Rose announced on Twitter that he and his band had also attempted to stop Trump from playing their "Sweet Child o' Mine," another song that Trump frequently plays at his rallies.
"GNR like a lot of artists opposed to the unauthorized use of their music at political events has formally requested r music not b used at Trump rallies or Trump associated events," Rose wrote on Sunday. Rose also explained, however, that it may not be so easy to stop Trump from playing the songs in question.
"Unfortunately the Trump campaign is using loopholes in the various venues' blanket performance licenses which were not intended for such craven political purposes, without the songwriters' consent," Rose wrote. "As a band we felt we should clarify r position."
Numerous other artists have also told Trump to stop using their music, including Adele, Elton John, Pharrell Williams, and George Harrison's estate, according to Vulture. Perhaps Trump's team should have seen it coming with Rihanna, though, since she already publicly endorsed Florida gubernatorial candidate Andrew Gillum, whom Trump has baselessly called a "thief." As The New York Times explained, it might be difficult for Rihanna and her fellow annoyed artists to actually prevent Trump from playing their music, but they apparently believe that it's still worth trying.