Rihanna Just Gave Her Younger Self The Absolute Best Advice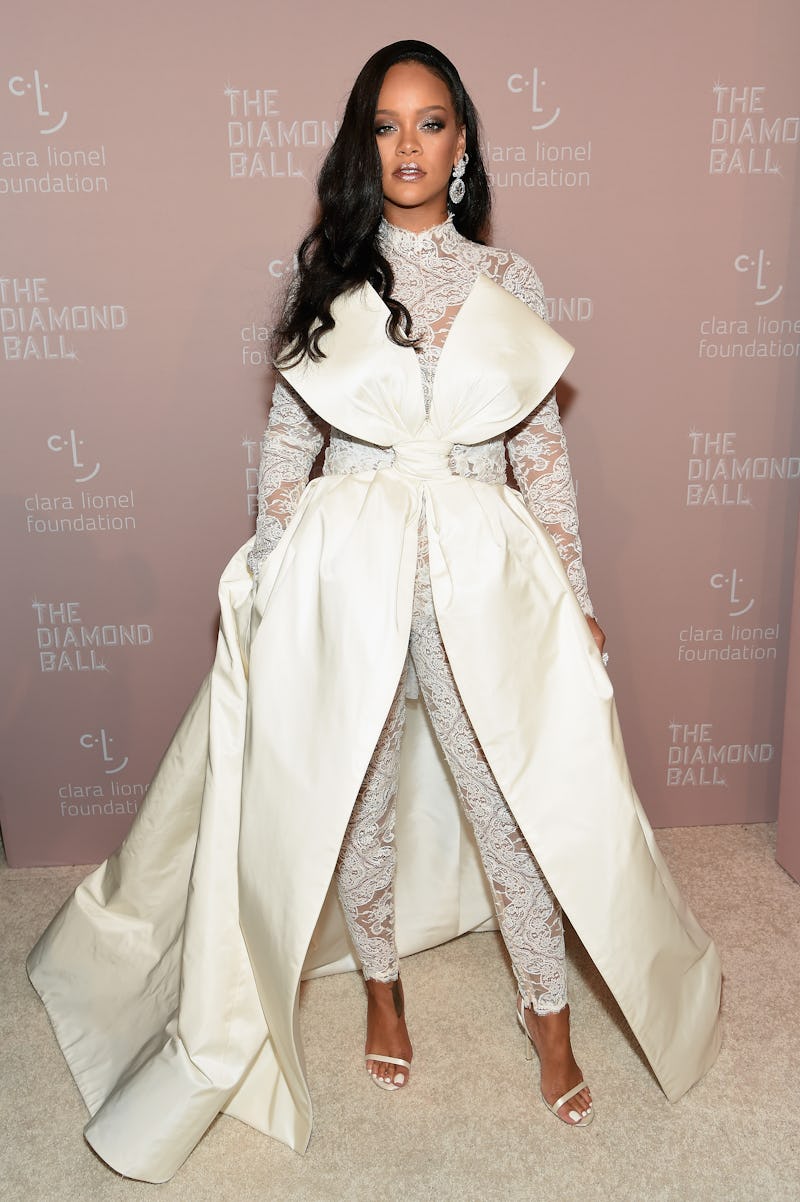 Dimitrios Kambouris/Getty Images Entertainment/Getty Images
Sometimes celebrities can feel so far removed from normal life that it's easy to forget that once upon a time they were clueless young adults just trying to make it. But even Rihanna has advice for her younger self, because while she's a fashion and music icon now, she understands that everyone can benefit from hearing valuable life tips and tricks from time to time. And RiRi's advice is definitely valuable.
At the 2018 Diamond Ball for Rihanna's Clara Lionel Foundation, E! News caught up with the "Umbrella" singer, and she revealed the sage advice she'd give to her younger self. She told the outlet that she would tell young Rihanna to just sleep. She explained,
"Because you're not gonna get to do it in your twenties or your thirties, the way my thirties are starting out."
Rihanna turned 30 back in February, and has been going nonstop thanks to her new clothing releases and makeup launches. Fans just can't get enough of the singer. "It's been hectic but I love it," Rihanna told E!. "I love to do stuff. I get bored otherwise, so I like to keep myself busy."
The Diamond Ball took place on Sept. 13 in New York City, and it's clear that Rihanna was speaking from recent experience about the need to take time to sleep, because she had her share of long days planning the event.
When asked by E! News if she had any involvement in planning the SavagexFenty NYFW show, Rihanna replied: "If you know me, you would never ask me that question." The fashion show was a success, with many different models taking the spotlight and showcasing Rihanna's line of lingerie. (The new arrivals are dropping every month until December, so save accordingly.) The singer explained:
"I'm up every night 'till seven am, depending on the time difference, just to make sure that I'm involved and giving answers and approvals."
That's the level of commitment that Rihanna puts into all of her endeavors. But it seems that the lack of sleep involved with her latest endeavor made her think back to the days when she had the time to rest more, but didn't.
The Clara Lionel Foundation, which the Diamond Ball is a benefit for, was established in 2012 by Rihanna, and was made in honor of her grandparents, Clara and Lionel Braithwaite. The foundation funds "groundbreaking and effective education, health and emergency response programs around the world," according to the website. They advocate for the improvement of "the quality of life for young people everywhere" through scholarships, constructing health centers, and more.
It's clear that Rihanna is already doing her part for the next generation, and her life advice is just an added bonus. While advising her younger self to get more sleep sounds simple enough, actually getting enough rest is easier said than done for many people. In June, sleep scientist Daniel Gartenberg told Quartz that most people actually need eight and half hours of a sleep at night to feel rested. That's all the more reason to heed Rihanna's sage advice and get those 40 winks in while you can.