Rihanna Is Making History As The First Black Woman To EVER Cover British 'Vogue'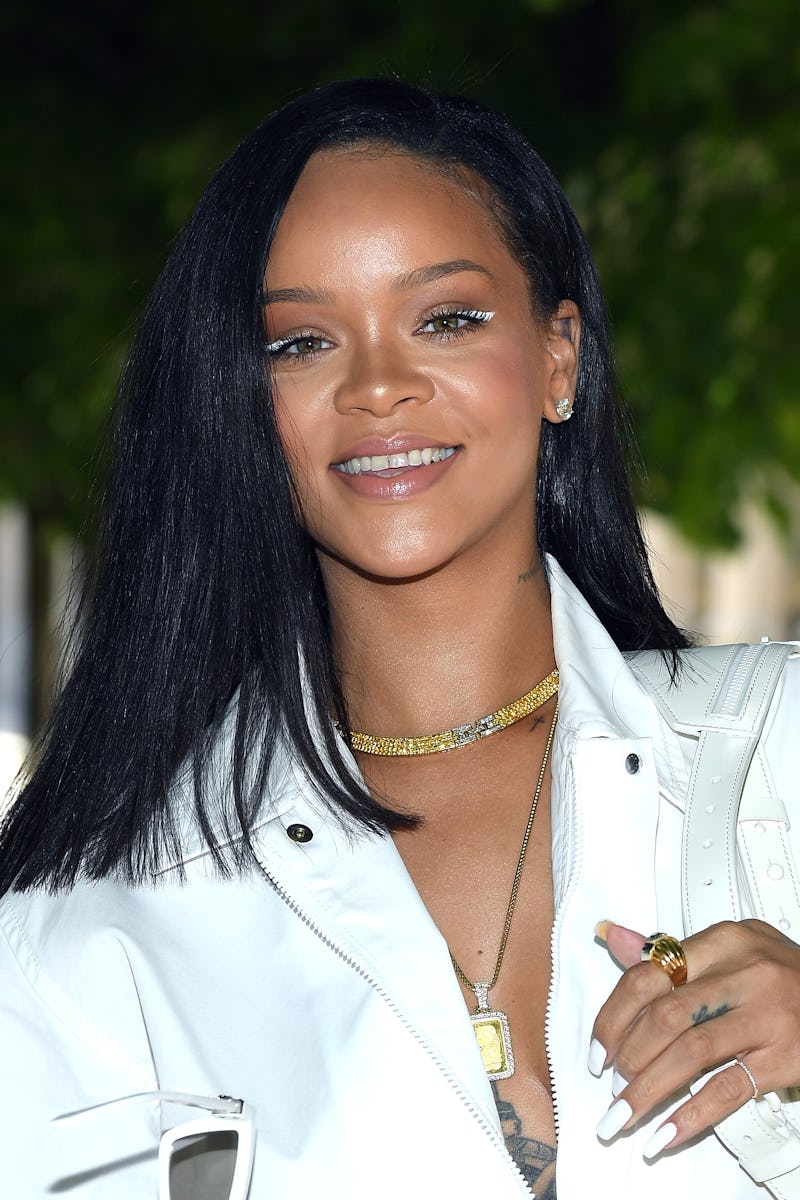 Pascal Le Segretain/Getty Images Entertainment/Getty Images
It's shaping up to be quite the exciting September. According to the the cover star's social media, Rihanna is the first black woman to ever be featured on British Vogue's September Issue. The photos are epic in more than just one way. From the images to the meaning behind the shoot, this is one heck of a way to head into fall.
Rihanna is no stranger to magazine covers. She's starred in 12 Vogue covers alone, not to mention the countless other publications that she's had. But none of them have been September Issues, which is what makes this time so much different. In the publication's 102 year, there has never been a black September Issue cover star — until now.
Rihanna seems to be pretty excited about it, too. "SEPTEMBER ISSUE," she wrote in the Instagram caption. "I'm so honored to be on the cover of your first September issue with British Vogue @edward_enninful Thank you for considering me!"
The singer also seemed equally as excited to work with photographer Nick Knight for the first time as well. You'll be able to own this historical issue for yourself when it hits newsstands on Aug. 3. Until then, there are tons of gorgeous images to gawk over.
The issue makes quite the statement. Besides the obvious bright colors and gorgeous lip, Rihanna is up-close and personal in the shot. She just happens to be missed her typical thick browns for some drawn-on lines instead. The entire look was styled using Fenty Beauty makeup too, so this is a pretty major moment for Rihanna and her beauty brand.
This isn't the only shot from the issue that Rihanna shared with her friends, either. The signer posted two other photos, which both consist of her twisting her body into different positions and wearing oversized outfits and flower crowns.
This isn't the only September Issue worth stocking up on, either. While Vogue has already had a September cover star, the publication has never had a black photographer — until now. According to previous Bustle coverage, Vogue's September Issue will feature Beyoncé shot by the 23-year-old Tyler Mitchell.
If true, this marks the first time that the brand will have September Issue shot by a black photographer. Just to point out how major this moment is as well, this has never happened in the publications 126 year history. According to numerous publications, this issue will make all the editorial decisions of the cover.
Basically, this is the year to go out and buy all the September Issues that you possibly can. Beyoncé is not the first black woman to hit the cover of Vogue's September Issue though. Niomi Campbell holds that title for her September Vogue cover in 1989.
Scrape your pennies together, because this is one fashion moment that you're definitely going to want to be a part of. If this is the way that fall is going, it's bound to be once heck of a season as far as fashion inclusivity goes.