Rihanna Just Savagely Called Out Another Makeup Brand's Shade Range & Fans Are Here For It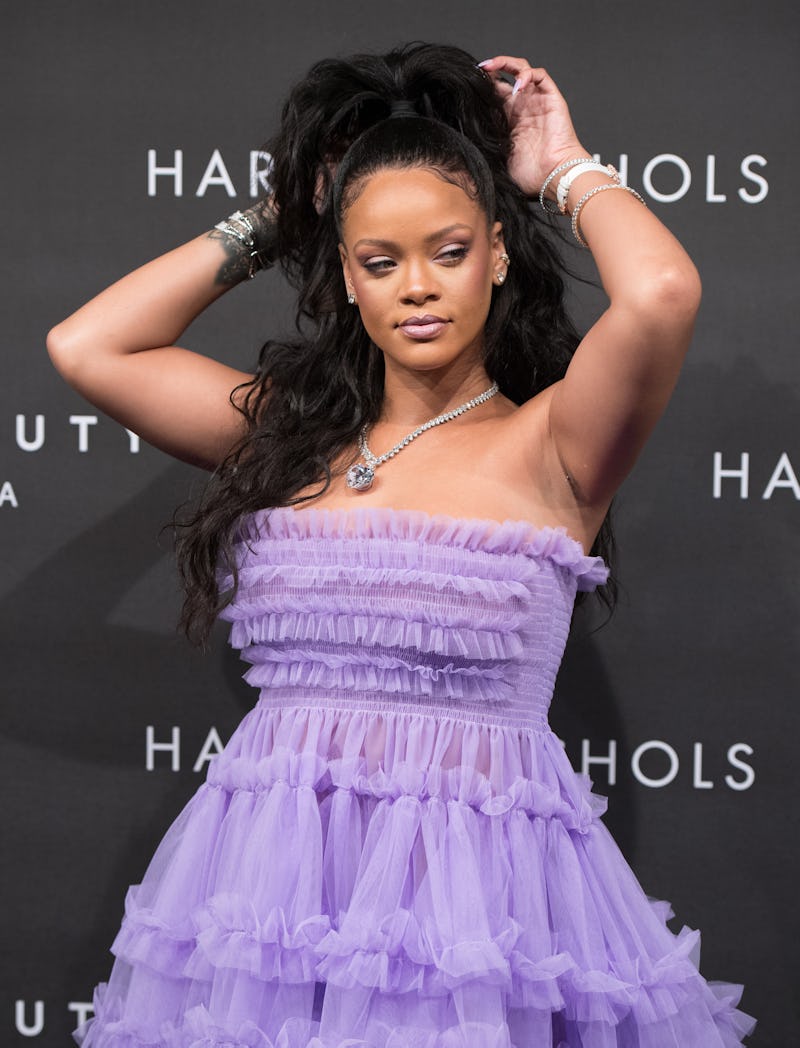 Chris J Ratcliffe/Getty Images Entertainment/Getty Images
Fenty Beauty has built a brand off radical inclusion. Most notably, the Rihanna-owned line created a whopping 40 shades of foundation for their very first launch. Since Fenty's release, more brands have been stepping up to the plate to expand their respective ranges. Make Up For Ever took to Instagram, however, to show off their already existing 40 shades of foundation — and RiRi herself was not having the comparison.
On Sept. 26, Make Up For Ever posted an Instagram photo of their foundation shades with a caption that seemed to throw some shade at Fenty Beauty.
"40 shades is nothing new to us," the MUFE caption reads. "Since 2015, the #ultraHDfoundation released 40 shades for everyone's unique skin tone, understanding the difference between red and yellow undertones. With expertise, time and passion — we shall continue to develop and improve our products for pros, for you, for everyone. . ."
Despite the brand waiting two weeks after Fenty's launch to post the photo, the caption does seem to reference Fenty rather directly. The phrases "nothing new to us" and "with expertise, time and passion" are what particularly stuck out to fans as shady.
Apparently, Rihanna thought the brand was throwing shade, too. The singer commented, "lol. still ashy" on the post and a seemingly sarcastic "shook." And it didn't take long for fans to notice.
Bustle reached out to Fenty Beauty and Make Up For Ever for comment.
Fenty Beauty's launch was one of the biggest makeup launches of the year, and brought beauty's historic exclusion of women of color to the forefront of conversation in the beauty community. Makeup lovers have been reviewing and comparing Fenty to other brands on the market ever since its launch, and many brands responded by highlighting their own efforts to be inclusive.
While Make Up For Ever's Ultra HD Foundation does come in 40 shades, fans have pointed out that there aren't many options for dark skin. In fact, the majority of the foundation's shades appear to be made for lighter skin, if you look at the shades available on the Make Up For Ever website.
Here's a synopsis on the entire drama, in case you still don't get it.
Fans aren't very happy that Make Up For Ever doesn't appear to be cruelty-free. As of Sept. 27, the Make Up For Ever's website does not address whether or not they are cruelty-free, but Bustle reached out for comment.
Any brand can make 40 shades, but it's the colors that they choose that means the most.
Others criticized the brand for taking an apparent dig at Fenty.
Countless fans are saying the brand can't back up their shade with quality products for women of color.
Rihanna said she was inspired to create her 40 shade range by looking at the skin of women around her. She's even said more shades are on the way. That commitment to create a truly inclusive line will no doubt put pressure on other brands to do the same.