The 2017 Emmy Winners Are So Inclusive, So Good, So Deserved That I'm Pretty Sure We're Dreaming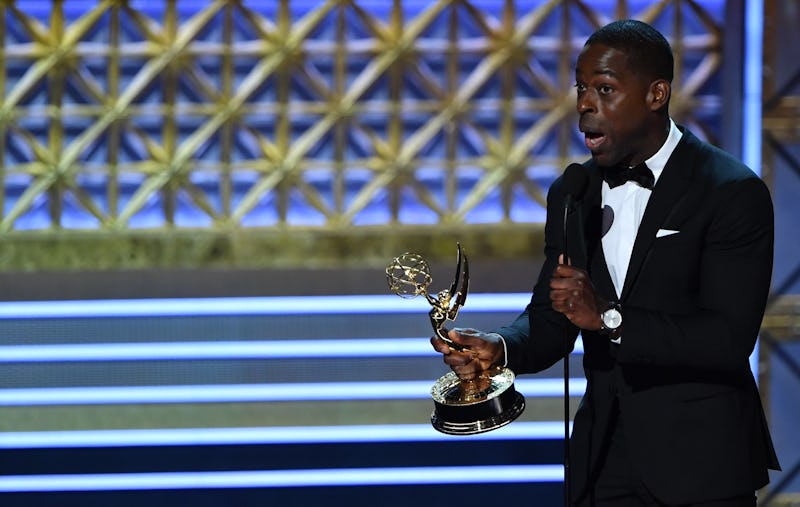 FREDERIC J. BROWN/AFP/Getty Images
After a truly awful, terrible 2017, the Emmy winners were the gift everyone needed and deserved. From record breaking wins for women, to record setting wins for actors of color, to the Emmys Best TV Movie being "San Junipero" — a Black Mirror episode about an interracial lesbian couple, everything was right in the world for one shining Sunday.
It helped that Stephen Colbert kicked the night off by absolutely roasting Donald Trump — the source of so many of our woes this 2017. And, he continued throughout the show, showing no mercy in his jokes about the president. But, while I'm sure we all love a good joke at Trump's expense — that wasn't even the highlight of the evening. Instead, it was as if the Emmy voters all came together and decided we've been through enough. It was time for us to get absolutely everything we wanted — and get it we did.
To start: There were the wins that felt like just plain fan service. Not that these people didn't really deserve the wins, it was just so nice to see your faves actually succeed. Ann Dowd won her first Emmy after years of hard work, finally getting the recognition she's long deserved. Black Mirror's "San Junipero" won Outstanding TV Movie, proving that love really does win. Big Little Lies and The Handmaid's Tale and their awesome casts of awesome women got all the recognition they deserved and more. Kate McKinnon won for playing Hillary Clinton, because the Emmys voters actually respect the former presidential candidate unlike some people these days. Melissa McCarthy won for making us all laugh week to week as Sean Spicer on SNL.
Then there were the wins that set or broke records. The milestone wins. These came out full force on Sunday. Julia Louis-Dreyfus became the winningest actor (male or female) who played a single character. Donald Glover became the first black man to win Outstanding Comedy Directing. Aziz Ansari and Lena Waithe won for writing in a comedy series, with Waithe becoming the first black woman to win in that category. Plus, Ansari helped bring another win for Asian actors/writers and Waithe also represented the LGBTQ community. Sterling K. Brown became the first black man to win the drama actor award in 19 years. And Riz Ahmed became the first Asian (and Muslim) person to win an acting award at the Emmys.
In short, it was a great night for women, for people of color, for the LGBTQ community, and for diversity overall. That cannot always be said about awards shows, but it just goes to show that TV is stepping it up right now. Hopefully shows continue that inclusive momentum, because people are clearly tuning in for it.
As such, many of the night's speeches touched upon these topics. Laura Dern acknowledged how few women she'd gotten to work with in her career — until Big Little Lies that is. Brown gave a shoutout to the last black actor to win the award, Andre Braugher for Homicide: Life on the Streets. Waithe dedicated her win to her LGBTQ family. Ahmed said that he hoped The Night Of, and his win, would help highlight "some of the prejudices in our society, Islamophobia, some of the injustice in our justice system." Glover joked about Trump's treatment of black people in a way that also highlighted the issues of this presidency saying, "I want to thank Trump for making black people number one on the most-oppressed list," he said. "He's probably the reason I'm up here."
Overall, it was just a great night for TV creatives and fans alike. The Emmys were the shining light in a year that has been so, so depressing. It certainly doesn't solve the world's problems to see your favorite actors win awards, but it helps make things a little less terrible if only for a moment — especially when those stars use their speech as a platform to talk about the issues that matter so much right now. Some night are just perfect, and a perfect night is what the Emmys gave to us on Sunday — a reason to be hopeful and happy in 2017, and to look forward to a future with even more inclusive shows, ceremonies, winners, and speeches.
Editor's Note: On Jan. 13, Ansari was accused of sexual misconduct by a woman who went on a date with him. Ansari has since responded to the claims, saying:
"In September of last year, I met a woman at a party. We exchanged numbers. We texted back and forth and eventually went on a date. We went out to dinner, and afterwards we ended up engaging in sexual activity, which by all indications was completely consensual.
The next day, I got a text from her saying that although 'it may have seemed okay,' upon further reflection, she felt uncomfortable. It was true that everything did seem okay to me, so when I heard that it was not the case for her, I was surprised and concerned. I took her words to heart and responded privately after taking the time to process what she had said.
I continue to support the movement that is happening in our culture. It is necessary and long overdue."