'Rob & Chyna' Season 2 Is Reportedly Suspended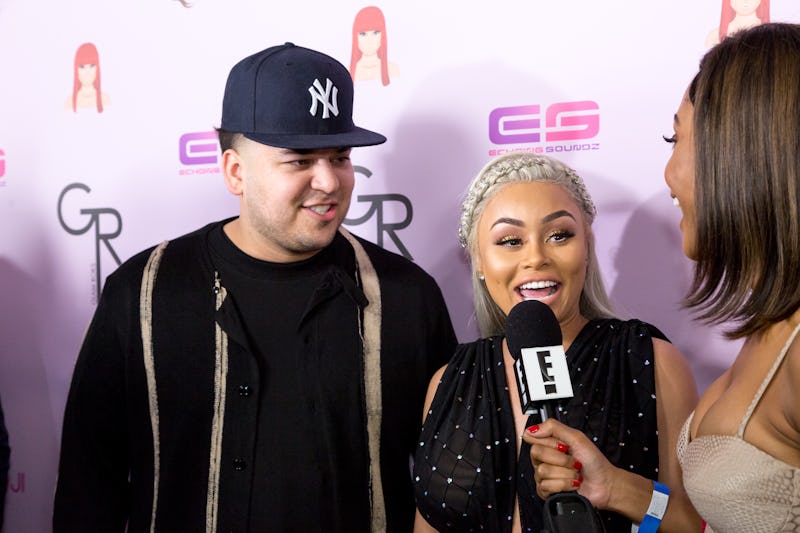 Greg Doherty/Getty Images Entertainment/Getty Images
Blac Chyna and Rob Kardashian are currently dominating headlines, but the status of their reality show is on hold. Rob & Chyna Season 2 is reportedly suspended, E! confirmed in a statement to Bustle. The full statement from E! reads:
"While filming on 'Keeping Up with the Kardashians' has been ongoing, spin-off 'Rob & Chyna' has not been in production for several months and the series is not currently on the E! schedule. As always, we follow the family's lead regarding their lives and relationships, and viewers saw firsthand as the family discussed putting 'Rob & Chyna' on hold in an episode of 'Keeping Up with the Kardashians' this spring."
Tracking the early months of Chyna and Kardashian's relationship, Rob & Chyna show first aired on E! in September 2016 as a spinoff of Keeping Up With The Kardashians. Notable moments from the show include Chyna revealing she was pregnant with their daughter, Dream, as well as Chyna assimilating into Kardashian's extended family. The show only ran for nine episodes and was capped with the baby special in mid-December, which was focused on Chyna giving birth to Dream.
In June, Kardashian posted a series of graphic photos, videos, and accusations against his former fiancée on Instagram (Instagram has since suspended his account), in retaliation for Chyna having allegedly cheated on him. In a July 10 statement to TMZ, Kardashian's lawyers said his now-deleted Instagram posts were a "spontaneous reaction that he regrets" and that they would not contest Chyna's restraining order. "Rob's only concern is for the well-being of baby Dream," the statement continued, referring to the former couple's eight-month-old daughter.
Also on July 10, Chyna was granted a temporary restraining order in California court. In an interview with Bustle, Chyna's attorney Lisa Bloom said:
"We had a total and complete victory in court this morning. So we are pleased that the judge agreed with us that cyberbullying is a form of domestic abuse and that he ordered Rob Kardashian to stay 100 yards away from Chyna or her vehicles or her home. In addition, he has to quit harassing her by posting personal information and photos of her online."
For now, this is a matter that will continue in a court of law and not on TV.