Blac Chyna's Lawyer Is Speaking Up On Her Behalf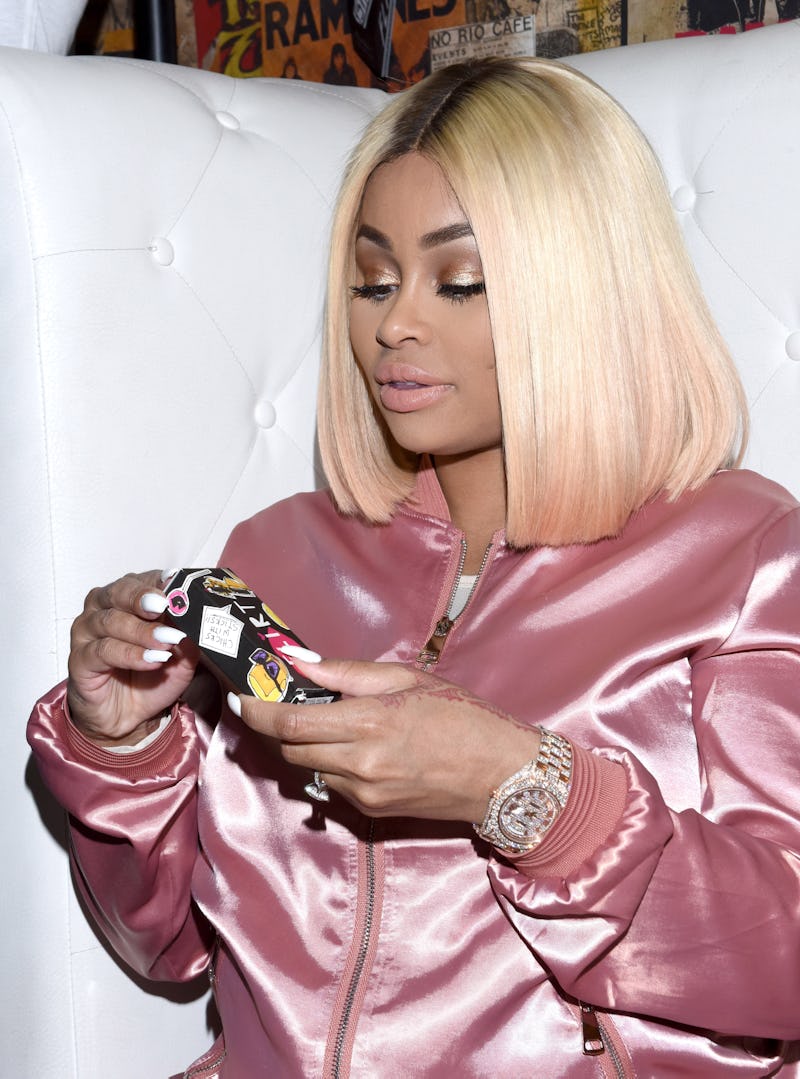 Vivien Killilea/Getty Images Entertainment/Getty Images
It was announced on Friday that Blac Chyna is seeking a restraining order against her ex, Rob Kardashian. And according to her lawyer Lisa Bloom's statement posted to Twitter, Chyna's case against Kardashian is a women's right's issue. (Bustle has reached out to Kardashian's rep for comment, but did not receive an immediate response.) Bloom's statement may be relatively short, but she does not mince words as she works to send a message to Kardashian, as well as those who may engage in what could be perceived as revenge porn against women: Don't. Do. It.
Bloom's statement makes this very clear from the get-go: "I am very proud of Blac Chyna as she stands up for her rights as a woman and as a mother against her ex, Rob Kardashian. Yesterday, Chyna retained me, and today we filed for temporary restraining orders to protect her rights."
From there, Bloom explained clearly why she is fighting to protect Chyna and the rights of women everywhere. Addressing Kardashian personally, she wrote,
"Mr. Kardashian, you are now on notice: revenge porn is illegal. Cyberbullying your ex is harassment. Chyna ended your relationship months ago and she has the right to live as she chooses, work as she chooses, dress as she chooses, date who she chooses, and be intimate with who she chooses. Chyna and I both believe that this is a women's rights issue, as too many women and girls have been slut-shamed by exes."
As you may recall, on Wednesday, Kardashian went on a tirade on his now-defunct Instagram account. There, he posted videos that he claimed showed Chyna in bed with another man and on a hospital gurney in what appeared to be a pre-op conversation. He also alleged that Chyna was using drugs and engaging in promiscuous behavior to the point the he was concerned for the safety of their young daughter, Dream. At one point during this event, Kardashian posted nude photos allegedly of Chyna, but they were quickly removed from his account. (At the time, Bustle reached out to reps for Chyna and Kardashian about all claims made on July 5, but did not receive an immediate response. Chyna did not respond publicly to Kardashian's many claims.)
To see Chyna's lawyer coming out so strongly in defense of Chyna's personal rights, as well as making it clear that she believes this matter should be pursued legally, is quite moving. While it may be atypical of legal counsel to do so, the fact that Bloom's official statement included comments that Chyna is allowed to live how she chooses and that it specifically used the term "slut-shamed" (something that is hard to misinterpret) puts Kardashian's action on display in an even more official capacity. And more importantly, the lawyer's statement makes it clear that even when it involves reality TV's most tumultuous couple, behavior like Kardashian's is completely unacceptable.