What Is Going On With Blac Chyna & Rob Kardashian?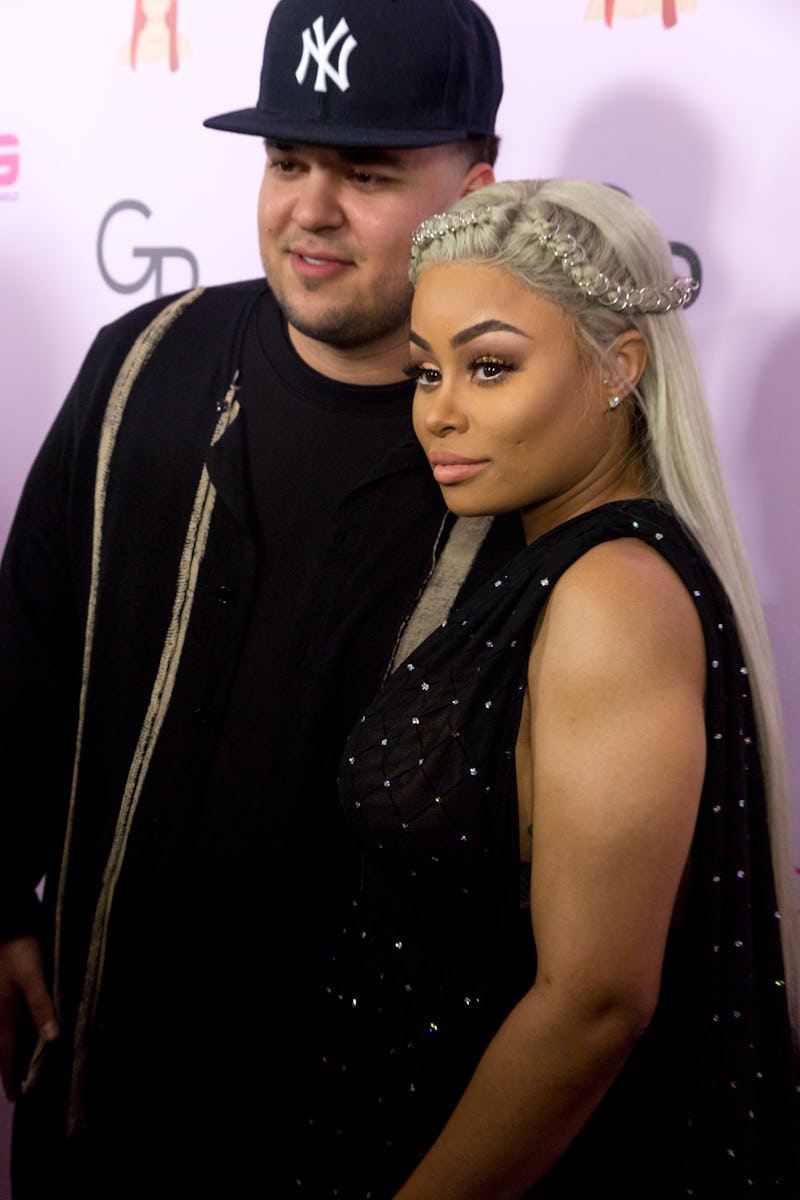 Greg Doherty/Getty Images Entertainment/Getty Images
Proceed with caution on Instagram today. Rob Kardashian and Blac Chyna are making allegations against each other that involve nude images posted by Kardashian. On Wednesday, June 5, the reality star posted a series of graphic photos, personal videos, and accusations about Chyna allegedly cheating on him. The 30-year-old entrepreneur's social media rampage started with him sharing a video of the 29-year-old model kissing another man. And things only got worse from there. Bustle has reached out to reps for Kardashian and Chyna for comment on both of their claims, but did not receive a response at the time of publication.
UPDATE: Blac Chyna's lawyer told ABC News in a statement "We are considering all legal options and recourses at this time." Bustle has reached out to Kardashian for comment, but did not receive a response at the time of publication.
UPDATE #2: Rarri True, who TMZ refers to as Ferrari, to the publication, "Rob's a good guy." And said, "I don't know. I feel good," in response to a question about whether he feels bad about the situation going on between Kardashian and Chyna.
UPDATE #3: Kardashian's lawyer told TMZ in a statement that Kardashian's actions were a "spontaneous reaction that he regrets" and that they will not be contesting the restraining order. "Rob's only concern is for the well-being of baby Dream," the statement finished.
EARLIER: Kardashian wrote:
"Hahahaha Chyna just sent me this video saying happy 4th what a crazy person. Come spend time with your daughter instead of f*cking me and then this dude right after. U need help."
The Keeping Up With the Kardashians star followed the video up with a photo of a man — rapper Rarri True — allegedly resting and taking selfies in Kardashian's bed. (Bustle has reached out to Rarri True for comment, but has not yet received a response.) Kardashian also claimed the rapper sent him texts about making money together. However, the businessman maintains that he never cheated on Chyna and spent millions to make her happy, while she allegedly drank and did drugs. He claimed in one post:
And this the dude that posted a pic in the same bed Chyna and I made our baby in. The house that I pay for. That robe i prob paid for. Imma send u messages from this dude asking to link with me or he gonna expose Chyna if I don't help him get money cuz he can't handle the bills to take care of Chyna. Lol. I pay lambo. Ferrari. Down payment on the rolls. Downpayment on your moms car. I pay your mother since u won't even call your own mother back in months. I prob spent a million alone in the past 2 months. 90K necklaces. 70K watch. The Ferrari that u pretend u got yourself. Chyna I hope U find help and to this corn ball , u thirsty as f*ck for hitting me and begging to link with me and if I don't help u get money then u gonna expose Chyna. Bro go back to your son who is at home instead u out here f*cking someone that everyone f*cks including me. Lol. Clown. She everybody's and it's been that way. The disrespect in the bed that my baby daughter lays in. Chyna u literally lost on this one.
As Kardashian continued sharing nudes Chyna allegedly sent him and videos of her in the hospital allegedly receiving plastic surgery that he claims he paid for, she went on Snapchat and claimed that she was the victim of domestic abuse in since-deleted snaps. "Rob u did all this but u beat me up and try act it never happen !!!!! U put hand on me I swear on god !!!!! On my kids but I'm supposed to be quiet because you're a Kardashian." She ominously ended her post by saying, "The light will come to the light."
After deleted those snaps, Chyna posted two videos flaunting a diamond-encrusted watch and rings with Drake's song, "Cameras" playing in the background. The lyrics go, "Don't listen to the lies, I swear they all lies." But it seems like Kardashian isn't hearing it. He has continued to allege on Instagram that Chyna cheated on him with "way too many fools at the same time," has repeated said he feels "disrespected," and jokingly vowed to produce his own version of Beyoncé's Lemonade. Only time will tell if this is the end of their posts about each other, but right now that seems unlikely.