Chyna Claims Rob Kardashian Allegedly Threatened To Kill Himself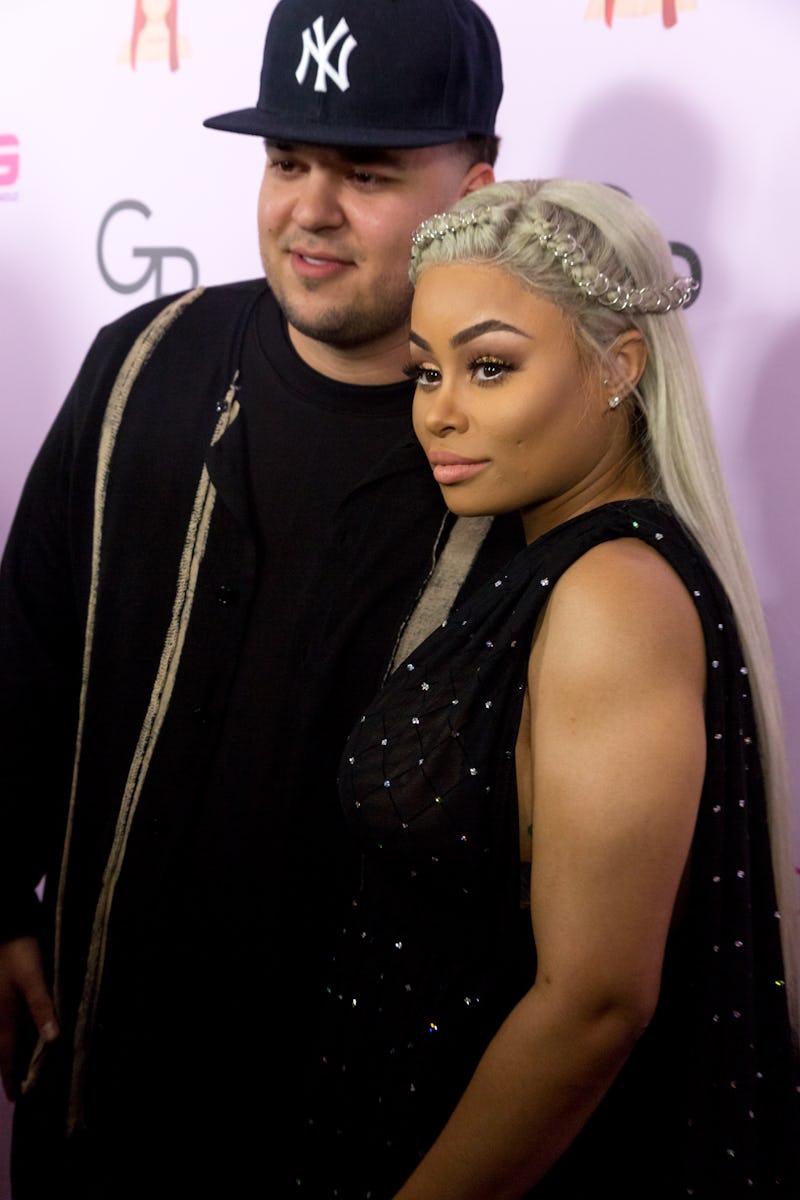 Greg Doherty/Getty Images Entertainment/Getty Images
According to a Monday report from TMZ, Blac Chyna claimed in court documents that she is "terrified" of Rob Kardashian partially because he has a gun and has threatened to kill himself with it. TMZ does not make clear when this alleged threat occurred. Bustle has reached out to Kardashian's lawyer and rep for comment, but did not receive a response at the time of publication. Chyna's lawyer, Lisa Bloom, confirmed to Bustle that Chyna did make this claim in the court documents.
On Monday, Chyna was granted a temporary restraining order against Kardashian after she and her lawyer filed a request at a Los Angeles courthouse. According to E! News, Kardashian did not make appearance in court, but his attorneys, Robert Shapiro and Sam Klein, showed up on their client's behalf.
E! News reported that in the court documents, Chyna also alleged that the former Rob & Chyna star had been physically abusive with her. "Rob has been violent with me in the past and I am afraid to be around him," she reportedly claims in the legal papers. Bustle previously reached out to reps for Kardashian and Chyna involving the allegations, but did not receive a response.
According to BuzzFeed News, Kardashian has been ordered to stay 100 yards away from Chyna, in addition to being prohibited from posting pictures of Chyna, their daughter, Dream, or Chyna's son, Cairo, until a hearing is held on Aug. 8. After the judge's ruling, Chyna said to reporters outside the courthouse, "I would like to first and foremost thank the judge for granting me this restraining order, for protecting me, and I am just going to get back to co-parenting."
Shapiro also spoke to reporters (via People) after the restraining order was granted and said, "Now we move forward to do one thing and one thing only — whatever is in the best interest of the child." This restraining order does not affect Kardashian and Chyna's custody arrangement involving Dream, as Bloom confirmed with Bustle.
Chyna opened up Monday morning to Good Morning America about the situation involving herself and Kardashian. Regarding the nude photos Kardashian posted on social media of his ex-fiancée and why she is taking legal action, the 29-year-old claimed, "I've talked to Rob, you know, about everything. I've talked to him. The moral of the story is, like, he doesn't respect me, so if you can't respect me, you have to respect the law." She added about the nude images, "I was devastated, of course. I'm like, 'How could somebody, like, post these pictures of me?' And I'm like, wow, OK, like, this is a person that I trusted. I just felt betrayed."
Shaprio spoke with TMZ Monday and said that Kardashian would not contest Chyna's request for a restraining order. He told TMZ that his client's actions were "a spontaneous reaction that he regrets" and that "Rob's only concern is for the well-being of baby Dream."