Rob Reportedly Claimed Chyna Tried To Choke Him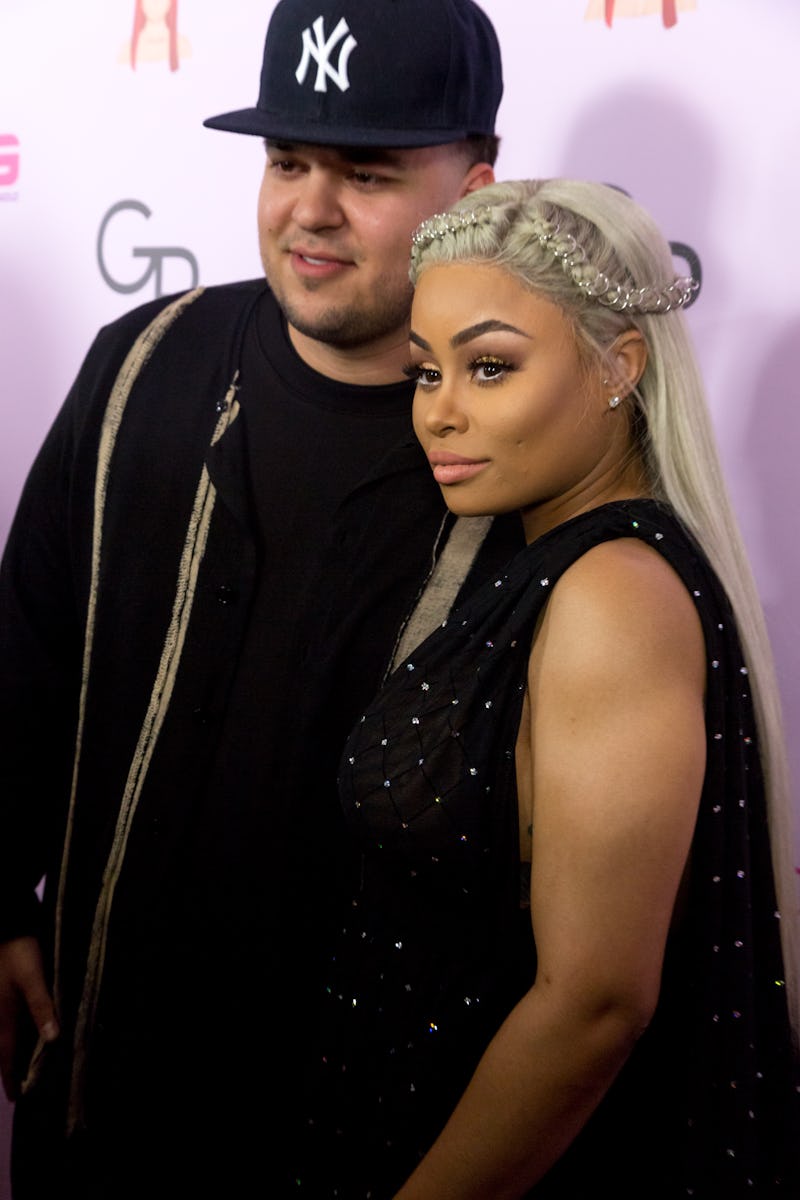 Greg Doherty/Getty Images Entertainment/Getty Images
More developments continue to surface in the ongoing clash between Rob Kardashian and Blac Chyna. According to TMZ, Kardashian claims that Chyna attempted to choke him with a phone cord when he moved out of their shared home in December. Bustle has reached out to both Kardashian and Chyna's reps and lawyers for comment, but did not receive an immediate response.
According to TMZ, Kardashian said that Chyna allegedly attempted to hit him with some sort of metal rod, and that she allegedly didn't stop physically attacking him until Kris Jenner's boyfriend, Corey Gamble, entered the home and pulled Chyna off of him. In addition to the alleged assault, Kardashian also claims that Chyna then went through the house and allegedly smashed a variety of objects — including both furniture and electronics — resulting in approximately $35,000 in damages. TMZ's sources claim that Kardashian has video evidence of this entire encounter.
However, Kardashian's accusations are only the latest in a series of assault allegations that have been ongoing between the former couple. Chyna has previously accused Kardashian of domestic violence — and in fact, both parties were due in court on July 10 regarding a restraining order that Chyna took out against her ex. According to Chyna's court documents, her claim is that Kardashian allegedly hit her and she fell to the ground, and that when she ran into her bedroom, he allegedly broke down the door.
These claims of abuse are just the latest in a series of reports that began in June, when Kardashian posted a series of graphic photos, videos, and accusations against his former fiancée on Instagram (Instagram has since suspended his account), in retaliation for Chyna having allegedly cheated on him. Chyna was granted a temporary restraining order in California court on July 10. In an interview with Bustle, Chyna's attorney Lisa Bloom said:
We had a total and complete victory in court this morning. So we are pleased that the judge agreed with us that cyberbullying is a form of domestic abuse and that he ordered Rob Kardashian to stay 100 yards away from Chyna or her vehicles or her home. In addition, he has to quit harassing her by posting personal information and photos of her online.
In a July 10 statement to TMZ, Kardashian's lawyers said about the Instagram posts that they were a "spontaneous reaction that he regrets" and that they would not contest Chyna's restraining order. "Rob's only concern is for the well-being of baby Dream," the statement continued, referring to the former couple's eight-month-old daughter.
While the results of the July 10 hearing are not yet known, they may shed some light on the facts in this dispute, and hopefully justice will be handled accordingly.