Rob Kardashian Makes Accusations About T.I.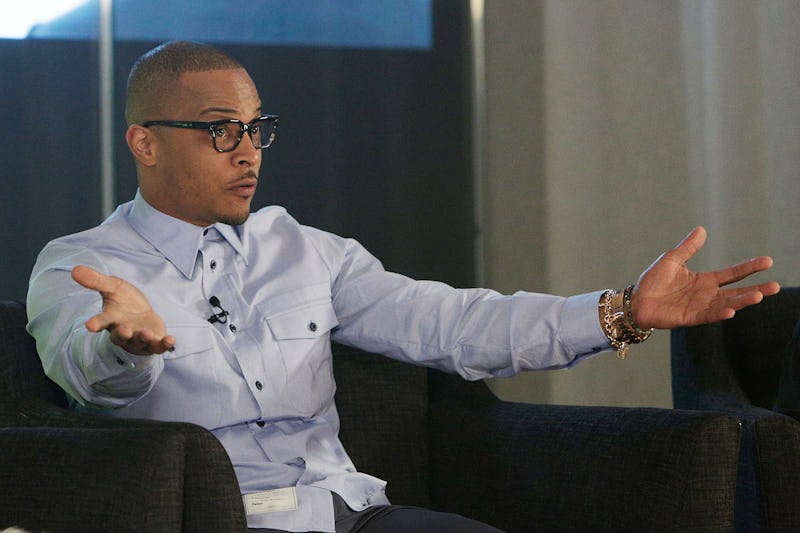 Lars Niki/Getty Images Entertainment/Getty Images
For those of you who are just now joining us, Blac Chyna has been accused of infidelity and so much more on Instagram today, by her on-again-off-again fiancé, Rob Kardashian. However, Kardashian is now upset with rapper T.I., who allegedly told the reality star he shouldn't be posting so much personal business on Instagram.
UPDATE: Blac Chyna's lawyer told ABC News in a statement "We are considering all legal options and recourses at this time." Bustle has reached out to Kardashian for comment, but did not receive a response at the time of publication.
EARLIER: The hip-hop artist, whose real name is Clifford Harris, not only allegedly chastised the reality star for sharing so much on social media, but also referred to him as a "duck," according to an alleged screenshot of a comment he wrote.
T.I. wrote, according to a screenshot posted on the account @teezyvision:
"Why bring ya business to IG tho? Look,You got worked bro....but at least keep it to yourself, you letting the world you know a duck. I mean a BIG DUCK, a mighty duck, Ronald McDonald the Duck,Scrooge McDuck,Howard the Duck, Huey Dewy & Lewie... save the #DuckTales Just hold this L,kiss ya kid & cut ya losses& move on...u got no moves bro."
According to Urban Dictionary, a "duck" is "a gullible or easily fooled person; an easy target for any kind of trickery." In response to T.I.s' alleged comment, Kardashian posted the screenshot and claimed that T.I. not only hooked up with Blac Chyna, but also had a threesome with her and his wife, Tiny. Bustle reached out to reps for T.I., Tiny, and Chyna regarding the alleged comment and Kardashian's claims, but has not yet received a response.
Kardashian wrote, before his Instagram account was deleted,
"Since TI wanna chime in on business that don't concern him let's talk about the threesome you had with Chyna and your baby mama Tiny. Don't speak on my daughter when u having threesomes with young Chy and Tiny ::: and I put that on my daughters life since u wanna speak on my daughter,,, damn shame. Chyna told me everything about your threesomes with you and her and Tiny. U got no moves bro ;;; Correction ::: TI paid Chyna to have sex with Tiny and him"
T.I. then posted a photo on Instagram of the late boxer Muhammad Ali dodging a punch from opponent Michael Dokes in 1977. The rapper captioned the post, "And duckin these ducks."
Chyna, meanwhile, has only commented via Snapchat and not in direct response to Kardashian's claims. In since-deleted posts, Chyna alleged that Kardashian abused her. Bustle reached out to a rep for Kardashian for comment on this claim, but has not yet received a response. Chyna later posted two videos of a diamond watch and rings to the social media platform.