Here's Why Rob Kardashian & Kylie Jenner Are Suing Blac Chyna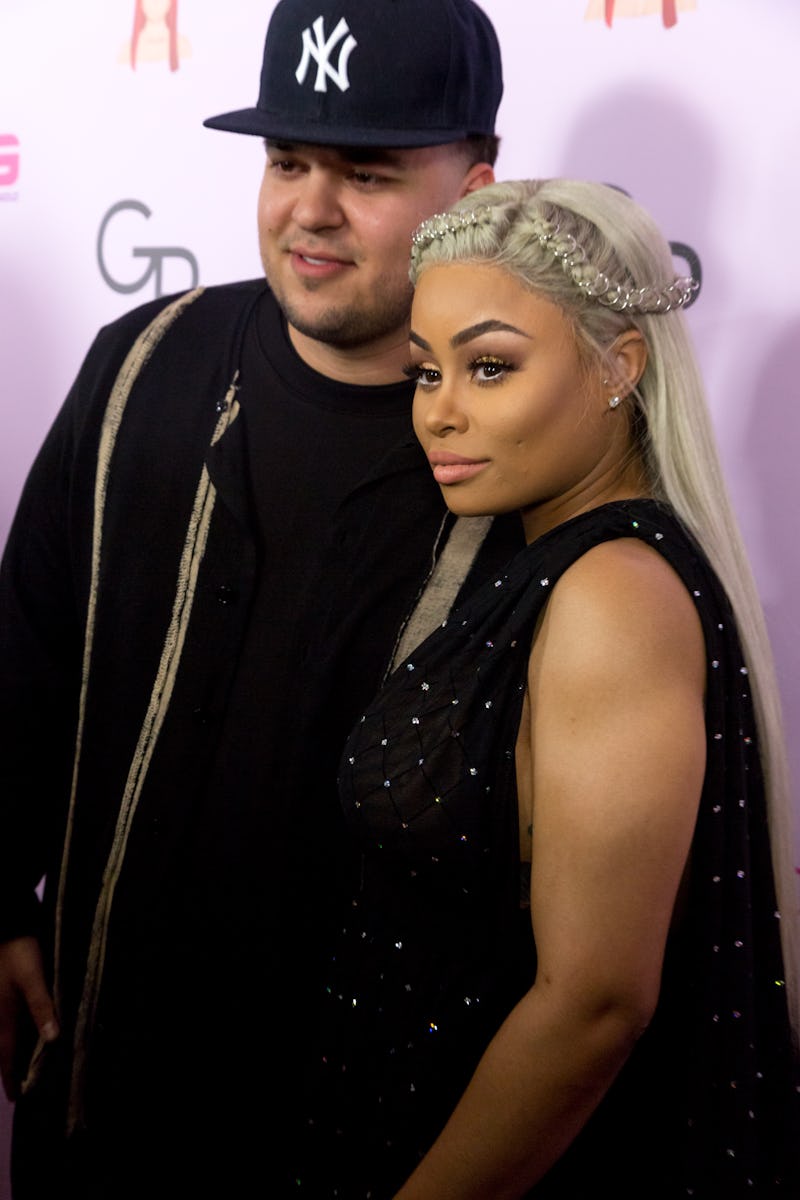 Greg Doherty/Getty Images Entertainment/Getty Images
It's been several months since Rob Kardashian and Blac Chyna officially called it quits, but the legal issues between them continue. According to multiple sources, Kardashian is suing Chyna for alleged assault and battery, claiming that she tried to strangle him last year while they were still in a relationship, just a little over a month after their daughter, Dream, was born. Bustle has reached out to both Kardashian and Chyna's reps and lawyers for comment. Chyna's lawyer had no comment at this time; none of the other contacts have responded.
According to court documents obtained by Entertainment Tonight, Kardashian alleges that on the night of December 14, 2016, Chyna was playing with his gun while talking to Kardashian's friends on FaceTime. Then, later that same night, she allegedly tried to strangle him with an iPhone cord. Kardashian claims that she was under the influence of drugs and alcohol at the time, and that she chased him, allegedly hitting him in the head and face. As a result, the Rob & Chyna star alleges he suffered tears to his shirt, as well as neck injuries. TMZ reported these claims back in July, around the time that Kardashian shared nude photos of Chyna on his social media accounts, but Kardashian was not yet suing.
The lawsuit — which was first reported by The Blast — isn't limited to Kardashian alone; his sister, Kylie Jenner, is also reportedly suing Chyna for allegedly trashing the house she rented to them. Jenner and Kardashian are reportedly suing for alleged assault and battery, conversion, and declaratory relief for Jenner's damaged property, which includes phones and a TV, that was allegedly destroyed by Chyna. Bustle has also reached out to Jenner's rep for comment, but has not yet received a response.
People, which also obtained the court documents, reported that the complaint was filed Wednesday, and in it Kardashian and Jenner accuse Chyna of a "deliberate attempt to extort the Kardashian family for her own monetary gains" and that her relationship with Kardashian was "nothing short of an outright fraud to shake down the Kardashian family."
The magazine also reports that when Kardashian tried to leave the house night of their fight, Chyna allegedly tried to hit him with a metal rod and threw a chair at his Bentley, damaging the vehicle. The complaint also claims that Chyna threatened to beat up Kardashian's sisters.
In the suit, Jenner claims that Chyna caused $100,000 worth of damage to her house, and that she allegedly "terrorized Kylie by telling her to get tests for sexually transmitted diseases, because Kylie was dating Tyga who was the father of Chyna's first child, King Cairo."
In an April episode of Keeping Up With the Kardashians, Jenner addressed the alleged damage to her house and her TV, calling Chyna actions "disrespectful" and adding that she thought her relationship with Kardashian was unhealthy.
This is not the first time Chyna has been accused of domestic violence. Last December — around the time the alleged incident in this new lawsuit would have taken place — Chyna allegedly beat Kardashian before leaving their home and taking daughter Dream with her, according to an E! News report. At the time, Chyna allegedly got physically violent with Kardashian until Kris Jenner's boyfriend, Corey Gamble, reportedly arrived and broke up the fight.
Earlier this month, Kardashian and Chyna reached a custody agreement that would allow them joint custody of Dream, who will turn one in November. Chyna's lawyer, Lisa Bloom, released the following statement to People:
"Chyna is pleased that Rob has agreed to peacefully coparent Dream with her, as she has been requesting all along. Because Rob agreed to continue to stay away from Chyna and not contact her, Chyna has agreed to take the domestic abuse hearing scheduled for Monday, Sept. 18, off calendar. She will always have the right to go back into court if further incidents of domestic abuse occur."
So far, Chyna and Kardashian have yet to comment themselves on this new lawsuit.