Rogelio's Baby Dreams May End On 'Jane The Virgin'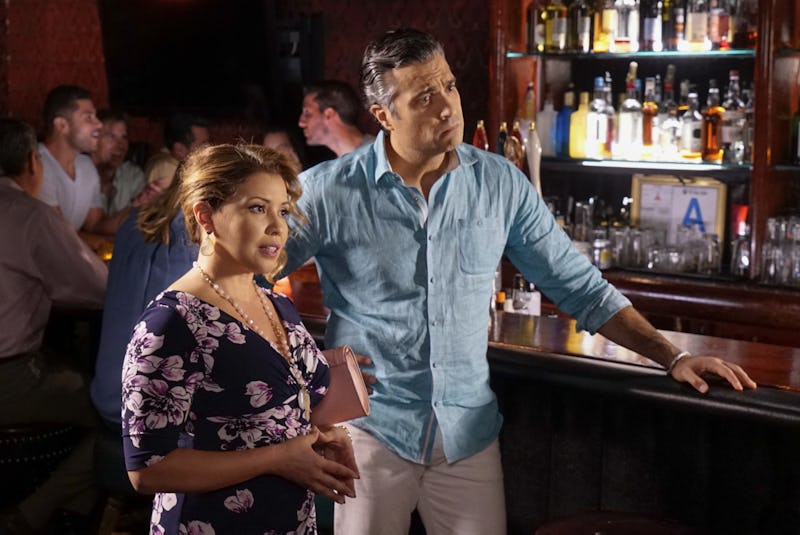 Robert Voets/The CW
The plan to have a platonic baby with Darci was going perfectly for Rogelio on Jane the Virgin — well, at least, for part of an episode. Rogelio had decided to move forward with having a child with his celebrity matchmaker Darci Factor before Season 3 of Jane the Virgin went on a break for the winter. When it returned on Jan. 23, Rogelio and Darci seemed to be on the same wavelength with all of the details on how to raise their child. (Private school, of course.) Yet, Rogelio's feelings got in the way at the most inopportune time. Let's just say his budding indie film career may be on pause, as well as his plan to become a father again.
Despite the show highlighting a few of Rogelio's harebrained ideas, his plan to have a child with Darci seemed to actually be coming together — even if Xo initially disapproved. However, it started to unravel before the insemination could take place, thanks to Rogelio's highly-anticipated nude scene.
Rogelio decided to do a nude scene for an indie film previously in Season 3 and "Chapter 52" was his big reveal. Unfortunately for him, moments before he was to drop trou, Rogelio realized that he had romantic feelings for Darci. Yes, he admired her for being relentlessly practical, but he also started to care for her when she showed how supportive she could be.
Darci was on set when he undressed and his feelings for her (uh, in the words of the narrator) came up during his nude scene, in true Rogelio fashion. Not only did it not leave the greatest impression on the film crew since Rogelio could not control himself, but it also made it quite clear to Darci that Rogelio is sexually interested in her.
The fate of Baby de la Vega Factor is in jeopardy as Darci told Rogelio he will need to get over his feelings if he wants to have a child with her. The preview for the Jan. 30 episode appeared to show Darci and Rogelio on a date, so the baby could still be on the way, but Rogelio's fatherhood dreams may have hit a major roadblock. While this will devastate Rogelio on the show, it does work logistically in real life. After all, showrunner Jennie Snyder Urman confirmed to Rotten Tomatoes that Darci actress Justina Machado will not be on Jane the Virgin for much longer, which makes sense considering how Machado stars on the Netflix show One Day at a Time (with Rita Moreno no less, who plays Rogelio's mom). If Machado can't be a regular character on Jane the Virgin, then Darci may end this baby-making business with Rogelio before it starts.
If that makes you sad, at least you have one consolation — no baby with Darci may mean that Rogelio and Xo could get back together sooner rather than later. However, we'll have to see how Rogelio's dinner with Darci goes during "Chapter 53" before Rogelio and Xo 'shippers can start dreaming of a reunion. And if Darci and Rogelio do move forward with having a child, at least Baby de la Vega Factor will have two awesome parents.