'Jane The Virgin' Season 3 Started Off With A Bang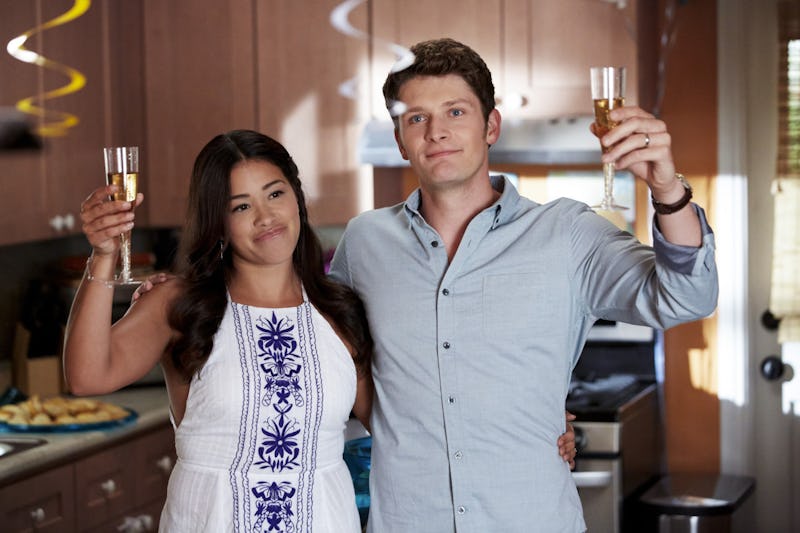 Tyler Golden/The CW
As with any season of Jane the Virgin, the first part of Season 3 solved many mysteries for fans, but also added even more intrigue. Life is never boring for Jane Villanueva and the first half of Season 3 of Jane the Virgin more than proved that. While some major cliffhangers from Jane the Virgin Season 2 were resolved, new characters and new revelations for the existing characters meant that Jane's life will continue to be complicated when Season 3 returns on Jan. 23.
With only seven episodes of Season 3 airing so far, you might not think you need a recap of what already happened this season of Jane the Virgin. However, the last time viewers saw Jane was during the Nov. 28 episode, "Chapter 51." That means two months have passed since Rafael learned about a family secret and Jane's cousin proved to be untrustworthy. In order to adequately prepare for the rest of Jane the Virgin Season 3, I'm here to remind you of the major moments that have already gone down in the third season.
Jane the Virgin Season 3 continued to balance telenovela levels of drama with honest storylines about some of the most sensitive topics ever to grace TV with all the humor, class, and skill that fans have come to expect. So, be like Jane and study up on what went down in Season 3 so far before the series returns for "Chapter 52."