Rosé Cookie Dough Exists & It Actually Tastes Amazing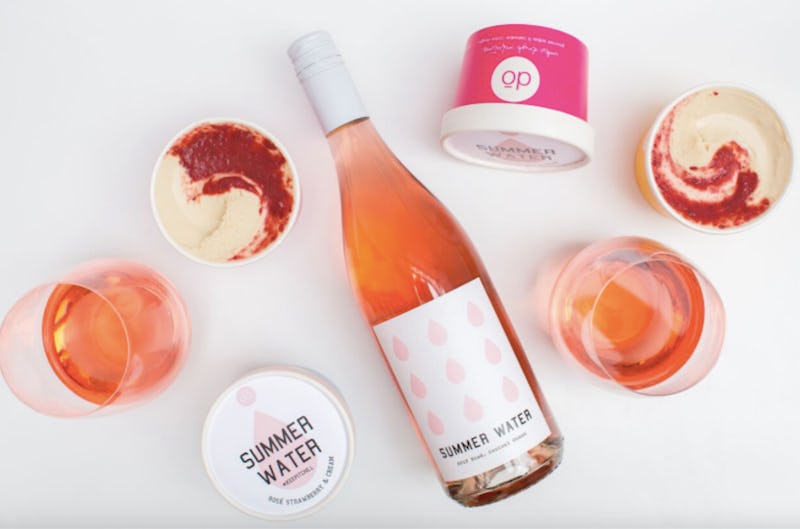 Summer Water/DO
It's safe to say that the rosé trend isn't going anywhere anytime soon — in fact, with every summer that passes on this mortal plane, the powers that be only make rosé STRONGER. In case you weren't living and breathing the all day rosé life, it may have escaped your notice that there is even a National Rosé Day dedicated to the drink on June 9. And in anticipation of it, several new desserts have launched — including a rose cookie dough, a rose sorbet, and rose popsicles.
In celebration of the Week of Pink — aka, the week leading up to National Rosé Day — Winc, the people behind that viral Summer Water you've been seeing on Instagram, has partnered with three different dessert brands to gift you with what may be the most deliciously extra collabs to date. Brace yourselves, friends. Rosé mash-ups are coming.
First on the roster is the rosé cookie dough, a collab with everyone's favorite popular edible cookie dough shop DŌ. The flavor, made with Summer Water, is Rosé Strawberry & Cream. Scoops will be available for $4 and grab-and-go 8 oz. containers for $9 at their New York storefronts from June 4 through June 9, and on June 9 the first 50 customers through the door will get their scoop for ~free~.
The Bustle office had a chance to try out this new flavor before it hit stores, so trust that this one's worth the wait — it may sound like it's at risk of being overly-sweet, considering most cookie dough is (not that I'm complaining), but it's very balanced by the distinct dryness of rosé in the batter and just enough of the strawberry filling on top. Warning: it will fill you up FAST, so come hungry. (And preferably with a stomach full of rosé, for, uh, preparation.)
Also on the rosé roster is Tipsy Scoop, who collaborated with Summer Water to create Summer Water Sorbet, available at their New York "Barlour". It comes in sundae form for $9.50 a pop, and this one, at least, you have a bit more time to sample — it will be available to 'gram-and-go throughout the month of June. Like its cookie dough cousin, the first 50 customers on National Rosé Day will earn themselves a free scoop of sorbet.
Last but certainly not least is a collab with People's Pops, which has gifted upon us the Summer Water popsicle, a Strawberry Rosé Verbena, available at Brooklyn Barge from June 4 through June 9. You can enjoy the booze-y popsicle on its own for $8, or go full Loopy-Doopy and get a glass of Summer Water Rosé to serve the popsicle upside down in. (Upside down popsicles in alcoholic beverages always taste better, I assume because science.)
The bottom line is that there is no shortage of options for your rosé tooth and your sweet tooth in the next week — and if you live in New York or Los Angeles, no shortage of convenient rosé options, either. While the Summer Water Societé delivery service sold out before the summer even began, Winc partnered with Postmates and is offering delivery of four-packs of their iconic Summer Water droplets for $24 each, from June 7 through June 10. You just have to use the code SUMMERWATER, and boom — rosé straight to your door, the way the rosé deities surely intended for it to be.
So go forth, my friends, and sample the full rosé array while you still can — it's officially Rosé All Week, while all of these delicious collabs are underway.