Roseanne Barr Is Reportedly Creating Her Own Talk Show, Because Of Course She Is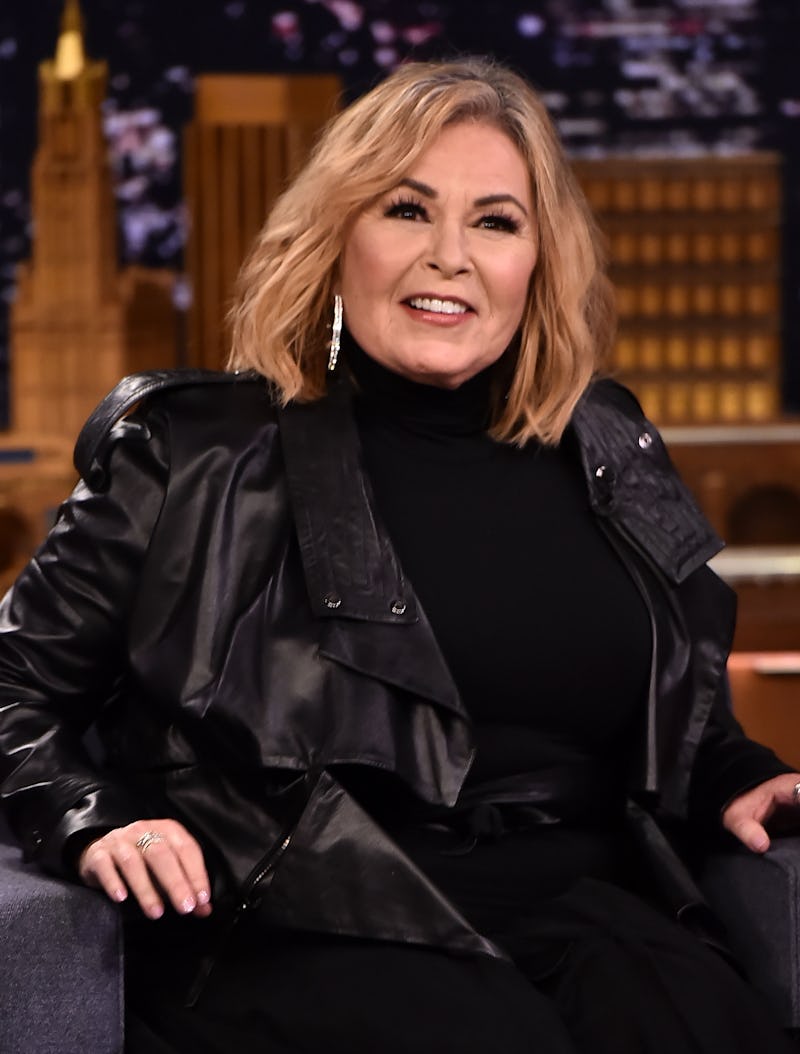 Theo Wargo/Getty Images Entertainment/Getty Images
Roseanne Barr might be coming back to the small screen — on YouTube, that is. Following the release of a video in which the comedian defended her racist tweet about Valerie Jarrett, TMZ reports that Barr is creating her own talk show, which she plans to release on her YouTube channel. Bustle reached out to Barr's representative for comment but did not receive an immediate response.
Barr's son, Jake Pentland, reportedly told the site that Barr had been working out of Pentland's Full Moon & High Tide studio in El Segundo, California for the past week, shooting interviews with various guests, including himself, her boyfriend, Johnny Argent, former Roseanne crew member Allan Stephan, and Thomas Muhammad, who was Barr's campaign manager when she ran for president in 2012 and who is black and Muslim, according to Deadline.
After Barr tweeted a racist remark about Jarrett, a former adviser to President Obama, ABC canceled her hit sitcom, Roseanne, and the comedian has been staying off of television ever since. While ABC announced in June that the show will continue without its namesake star as a spinoff called The Conners, Barr reportedly wanted to avoid working with any major networks on the show. Instead, per TMZ, she wants to release the content herself, because Pentland says it allows Barr to be herself with no filters.
The news comes on the heels of a bizarre video Barr uploaded to her YouTube channel Friday, defending her tweet about Jarrett with a string of expletives. In the video, Barr can be seen sitting in a chair, being directed by an unidentified man behind the camera who likens the video to a presidential address in the wake of a scandal. Visibly frustrated, Barr takes a drag her cigarette and musses her hair, and states, "I'm trying to talk about Iran. I'm trying to talk about Valerie Jarrett wrote the Iran deal. That's what my tweet was about." The producer attempts to appease her, but she screams, "I thought the b*tch was white!"
Barr previously offered similar explanations for her comment about Jarrett, which, according to The Root, she wrote in response to claims that Jarrett had helped with Obama-era cover ups, stating in a since-deleted tweet, "Muslim brotherhood & planet of the apes had a baby=vj."
The comment was met with immediate backlash, and the comedian apologized, but later stated that the tweet was really about the anti-semitism of the Iran deal, and that she'd been misunderstood, and also blamed the remark on her use of the prescription sleep aid Ambien.
Her cast mates on the show quickly denounced her remarks, with Sara Gilbert, who played Darlene Conner on the show, tweeting on May 29: "Roseanne's recent comments about Valerie Jarrett, and so much more, are abhorrent and do not reflect the beliefs of our cast and crew or anyone associated with our show. I am disappointed in her actions to say the least."
In a second post she continued, "This is incredibly sad and difficult for all of us, as we've created a show that we believe in, are proud of, and that audiences love— one that is separate and apart from the opinions and words of one cast member."
Michael Fishman, who played D.J. Conner, also condemned the remark and Wanda Sykes, who served as a consulting producer announced she'd be leaving the show shortly before its cancellation was confirmed by ABC Entertainment Group President Channing Dungey.
Dungey issued a statement to Bustle at the time that said, "Roseanne's Twitter statement is abhorrent, repugnant and inconsistent with our values, and we have decided to cancel her show."
Barr may not be a part of The Conners when it premieres this fall, but with her reported talk show — which, according to TMZ, does not yet have a title or premiere date — it's clear she's found another outlet. Who knows how long this one will last.