Roseanne Barr's Reaction To Her Character's Death On 'The Conners' Is Straight To The Point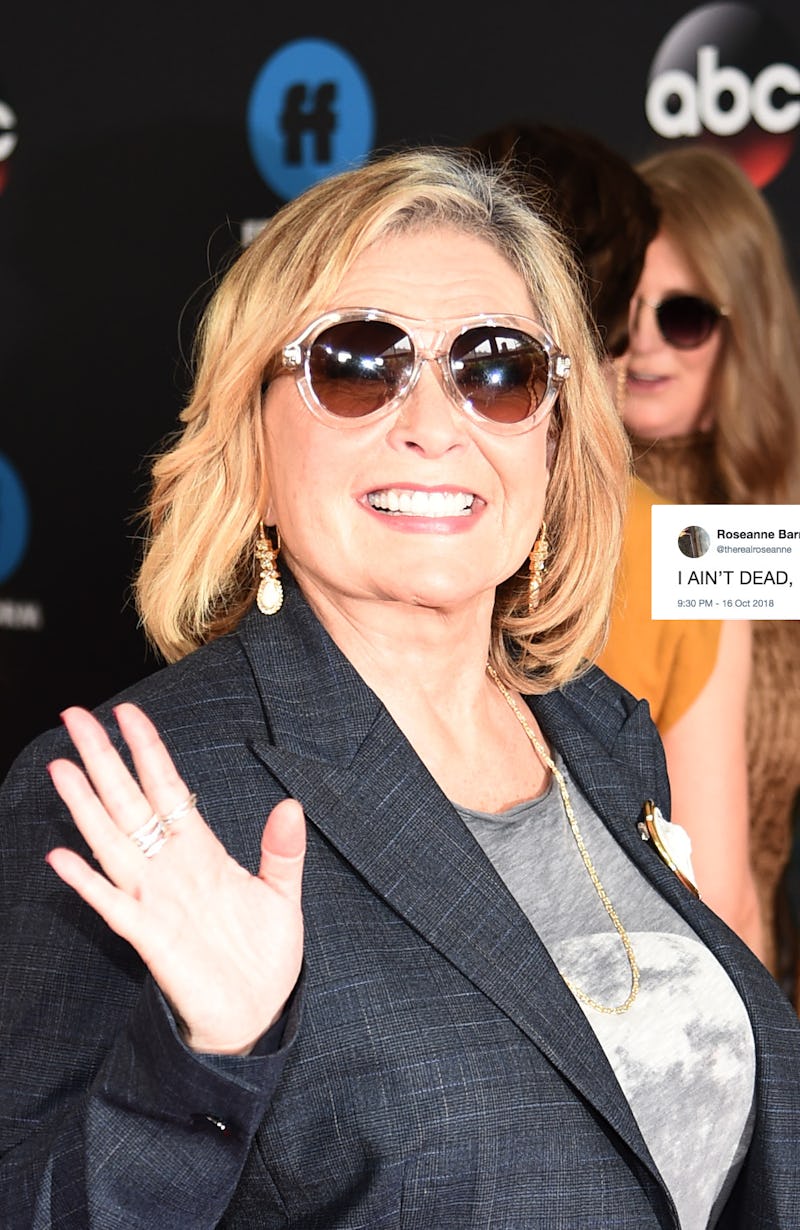 Dimitrios Kambouris/Getty Images Entertainment/Getty Images; Roseanne Barr/Twitter
Her character's fate was finally revealed, but Roseanne Barr's reaction to The Conners premiere and her character's death proves that she's hardly planning to go quietly. Shortly after the Tuesday, Oct. 16 episode revealed Roseanne Conner's death by opioid overdose, Barr took to social media to respond to her character's unceremonious exit. Hours after The Conners' much-anticipated premiere, the 65-year-old informed her nearly one million followers on Twitter, "I AIN'T DEAD, BITCHES!!!!" via an all-caps tweet. And just in case that message wasn't clear enough, Barr clarified it in a lengthy statement released in conjunction with World Values Network founder and vocal advocate Rabbi Shmuley Boteach.
In that statement, obtained by Bustle on Oct. 16, Boteach and Barr take issue with everything from Barr's initial firing, to ABC killing off the character, to the manner in which it was done. The statement begins:
"While we wish the very best for the cast and production crew of The Conners, all of whom are deeply dedicated to their craft and were Roseanne's cherished colleagues, we regret that ABC chose to cancel Roseanne by killing off the Roseanne Conner character. That it was done through an opioid overdose lent an unnecessary grim and morbid dimension to an otherwise happy family show."
After the retooled, more family-centric series was announced following Barr's firing from the Roseanne reboot in May, there was much deliberation about how to explain the disgraced comedian's absence on The Conners.
Rumors had been swirling for weeks that Roseanne would be killed off via an opioid overdose — rumors that seem to have originated with the comedian herself. But there was no confirmation from the network until the first episode of The Conners actually aired, at which point Barr officially made her displeasure known. The statement continues:
"[Roseanne's death by overdose] was a choice the network did not have to make. Roseanne was the only show on television that directly addressed the deep divisions threatening the very fabric of our society. Specifically, the show promoted the message that love and respect for one another's personhood should transcend differences in background and ideological discord."
The statement goes on, noting the diversity of "political persuasions and ethnic backgrounds" and highlighting how rare it is for a show to portray such a wide swath of beliefs "in one, unified family." Particularly a family that's headed by a "strong, matriarchal woman in a leading role," something that the statement urges "we need more of in our country."
But for all the discussion and self-congratulation in the statement relating to Roseanne's message of "love and respect" in the face of fundamental disagreement, scant mention is made of the reason Barr was removed from the reboot in the first place. As you may recall, the series' former star was fired after directing a racist tweet at former Obama administration member Valerie Jarrett, which was hardly the first — or last — time that Barr would offend her audience. But the statement omits the details of the actor's bad behavior, skipping over the acknowledgement of the hurt she's caused in favor of a plea for forgiveness.
"Through humor and a universally relatable main character, [Roseanne] represented a weekly teaching moment for our nation. Yet it is often following an inexcusable – but not unforgivable – mistake that we can discover the most important lesson of all: Forgiveness. After repeated and heartfelt apologies, the network was unwilling to look past a regrettable mistake, thereby denying the twin American values of both repentance and forgiveness.
It's natural for Barr to feel overwhelmed and upset at her removal from a show over which she once had so much creative control. But until she can stick to one viewpoint instead of muddying the water with mixed messages, it might be better for everyone if she kept her opinions to herself and let The Conners go.