These Are The 10 Most Popular Royal-Inspired Pet Names Right Now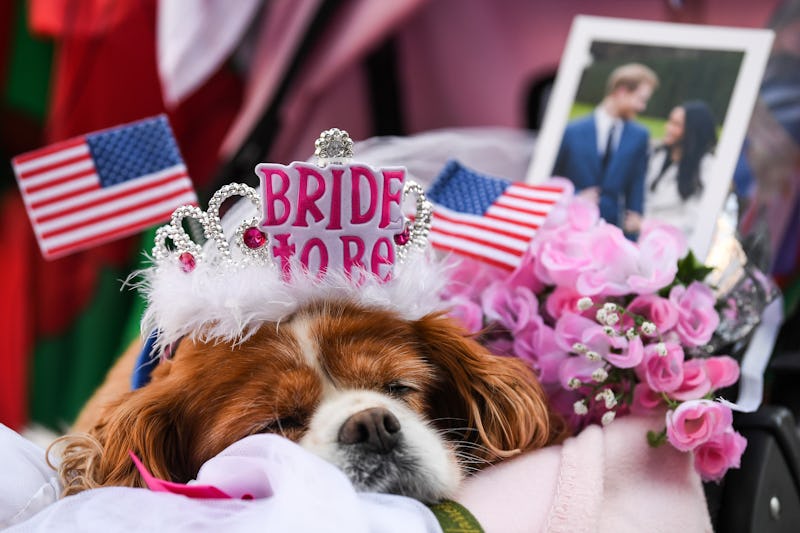 Jeff J Mitchell/Getty Images News/Getty Images
Everyone is so enamored with everything royal that many pet parents are naming their four-legged fur babies after the royal family. Banfield Applied Research & Knowledge (BARK), a division of Banfield Pet Hospital, tells Bustle that it pulled from its extensive database of pet patients to identify the royal-inspired pet names that are beginning to trend — and while I'm not surprised people are naming their pets after royals, I was a bit surprised by the top pick.
Of course, the most popular princess in history continues to provide inspiration for pet parents, a representative from Banfield tells Bustle. "Diana, Prince William and Prince Harry's late mother, has been popular with pet owners as 43 percent more dogs and 54 percent more cats were named after the princess [in 2017]."
So, Princess Diana was the 10th most popular royal-inspired pet name in 2017 — but the rest of the list remained mainly inspired by the modern royal family. According to Banfield, the top 10 names are as follows:
George
Charlotte
Harry
Charles
Kate
William
Meg
Elizabeth
Camilla
Diana
While Prince George is an absolute star, it's rather surprising that the top pick wasn't Harry — especially considering his wedding to Markle is just around the corner.
Of course, this list could change for 2018 with the recent birth of the new royal baby, though. "Two names to keep a watch for in 2018 are Louis and Lupo," Banfield tells Bustle. "Louis, the newest member of the royal family, will climb the rankings and may be crowned as top dog in the future [...] Lupo, Prince William and Kate's English cocker spaniel, has steadily been on the rise, and will be sitting pretty on the throne in upcoming years."
And, if you're in London and looking to adopt a royal pup of your own, dogs from the Battersea Dogs and Cats Home are getting decked out for the royal wedding in hopes of finding their furever homes. It's also been reported that Prince Harry and Markle are even considering adopting their own dog from Battersea — which is supported by Prince Charles' wife Camilla Parker Bowles — to join Markle's beagle, Guy.
A new royal dog will likely inspire as much of a frenzy as the new royal baby because for millennials, pups are the preferred way to parent. And, dogs are just as excited for the royal wedding as their human parents. According to the Daily Mail, eight corgis appropriately named Prince Harry, Meghan Markle, Prince William, Duchess Catherine, Prince George, Princess Charlotte, Prince Charles and, Queen Elizabeth II descended on New York City for a red carpet event to promote the new Lifetime movie Harry and Meghan: A Royal Romance.
It's no secret that pet parents tend to name their four-legged friends after people they admire and look up to. And, this means you can expect to see animals, and children, donning royal names in the coming year. Because, let's be honest, pets are pretty much royalty in the eyes of their humans no matter where they come from. While the new generation of the royal family leads the pack in royal-inspired pet names, it's not just the younger generation inspiring pet names fit for royalty.
According to Banfield, 92 percent more cats were named Camila (a variation of Camilla) in 2017 while 16 percent more dogs and 10 percent more cats were named Charles in 2017. Because all generations of the royal family appear to be devoted to animals, naming your pet after a member of the royal family is a fitting tribute. According to the website Royal UK, the royal family's devotion to their dogs dates back hundreds of years, and "Queen Victoria became fond of smooth haired Collies — she owned 88 in her lifetime." Seriously, the royal family is totally #PetParentGoals.