Prince Harry & Meghan Markle Will Get Some Surprising Wedding Gifts From These World Leaders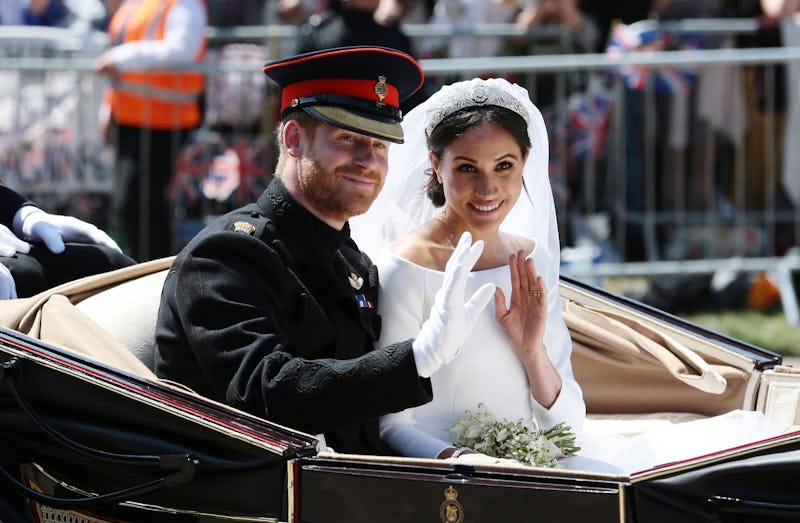 WPA Pool/Getty Images Entertainment/Getty Images
While all the world is abuzz with post-royal wedding glee, commentary, and virtual social media frenzy, you may also be left wondering what sorts of gifts the newly made Duke and Duchess of Sussex might receive on their special day. It's no secret that Harry and Meghan have chosen to forge their own trail and break with tradition in some key ways, so it's not surprising that the couple have requested no royal wedding gifts in lieu of contributions to their seven favorite charities, including Chiva Projects, an organization that helps kids living with AIDS, and Wilderness U.K., which provides access to nature and the great outdoors to urban youth. Regardless of their request, however, wedding presents are still rolling in, and gifts from world leaders include some surprises to boot, TIME reports.
Even as the guest list for the royal wedding was kept firmly under wraps, Meghan and Harry's roster didn't require the inclusion of as many international leaders as Prince William and Kate Middleton's did in 2011. Still, TIME reports that many political figures and international dignitaries have revealed their wedding gifts to the couple, and some are even a little surprising. Here's what we know so far about some of the gifts on route to the royal newlyweds, and who is giving what.
Jacinda Ardern
On behalf of the government and people of New Zealand, Prime Minister Jacinda Ardern is giving a charitable donation of NZD 5,000 in honor of Harry and Meghan's marriage, TIME reports. The contribution will go to the New Zealand charity Pillars, which supports children of prisoners. Even though the charity wasn't listed as one picked by the couple, according to TIME, Ardern said that "the couple are both very interested in initiatives that support vulnerable children and young people," and are happy that their marriage will be celebrated by the donation.
Malcolm Turnbull
The International Business Times says that the Australian prime minister will present the newlyweds with two special gifts; the first is a donation in an undisclosed amount to one of the charities preferred by the couple, and the second is only said to be "very Australian," and appealing to the royal pair's interests, though no further information was given, the Times further reports.
The Prince And Princess Of Lesotho
Princess Mabereng and Prince Seeiso of Lesotho were expected to attend Saturday's nuptial ceremony, and announced that they'll be giving the royal couple custom-made Wonderbags as gifts, TIME reports. A portable slow cooker that operates sans electricity, Wonderbags address many needs for women and children in South Africa, like freeing up time to pursue education and employment, and combating deforestation while circumventing fuel shortages, TIME further states.
Emmanuel Macron
French President Emmanuel Macron is gifting the royal newly weds a sleek bespoke pen and heritage lighter from luxury French fashion brand, S.T. Dupont, TIME reports. A traditional choice for royal wedding gifts past, Queen Elizabeth received a bespoke travel case from the luxury brand at her wedding in 1947, and former French President Nicolas Sarkozy presented the Duke and Duchess of Cambridge with a travel case for their wedding in 2011, TIME further notes.
Donald And Melania Trump
While the U.S. president and first lady were not invited to the royal nuptials, TIME reports that White House Spokesperson Lindsay Walters confirmed that a donation is being given to a charity chosen by Meghan and Harry, in honor of their wishes.
The Queen Of The United Kingdom
And what, you might be left wondering, will the Queen be giving her grandson and his new bride in honor of their marriage? Well, that would be an entire house from her Sandringham Estate, thank you very much — otherwise known as York Cottage. According to Harper's Bazaar, the Queen has a "habit of giving property" to her family as wedding gifts, and the sprawling Norfolk property northeast of Kensington Palace is expected to go to Meghan and Harry, according to Harper's Bazaar.